Boho Dread Fall Dark Gipsy Spirit
Delivery time:
Category 2: I am handmade to order esp. 4 U! Europe & UK: 8-12 BD, USA: 10-16 BD, CA/ AU/ NZ: 12-18 BD, BD=business days, applies only if you pay & note hair color details promptly with your order. Ordering 2 or more items? Please check info in policies!
Model: Dark Gipsy Spirit dreadlocks have a wonderful mix of earthy and bright colors and some black to put in some more contrast!
Dreads Ø 0.5 - 1.3 cm/ 0.2-0.5''
Choose between different lenghts and sizes in the overview below this description!  The pictures in most listings show size L, because this is the most wanted size and it is great for all the different stylings!

This hair fall is made of special dreadlock yarns (wool-synthetics mixture) which are yarns which look like dreadlocks but are way more lightweight than dreads made of hair or hand-felted wool dreads. Wrapped and pinned up these dreads make a gorgeous huge bun, also great when you leave a few strands out to hang down! Braid them to a large braid and pin the braid up into a chignon, too! A pair of size S or M falls is great for pigtails. If you love lush and pompous looks, you can also use a pair of size L falls as pigtails. This looks great with goth, steampunk, larp and cosplay outfits!


Every single lock is sealed at its end, to avoid fringy or dissolving ends and guarantee a long-life item!


Attachment:
The fall comes on a strong, elastic hair tie and is added to your own ponytail. Very simple attachment which can easily be hidden and be used for updos/ dread buns and a large dreadlocks braid, too!
Step 1: Make a ponytail.
Step 2: Pull dread fall over it.
Step 3: Wrap hair tie of dread fall around your own ponytail for 1 or 2 more times to secure the fall.
Step 4: Pull the dreads over your own ponytail's hair.




Attachment option:
If you wish to secure your fall even more, braid your own ponytail and wrap it around the hair tie attachment. Secure with hair pins. This prevents the fall from slipping down and your own hair from sticking through the dreads. Or braid some dreads of the fall together with your own hair and wrap the braid around the attachment. If you have longer hair than the doll, you can also make two braids and wrap one around clockwise and the other counter-clockwise to get an even finish! This option provides a super strong hold and is excellent for stage performances!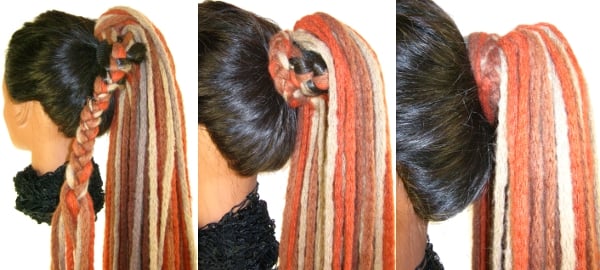 Each dread fall is delivered with detailed instructions for use and care!

This item is hand-made to order especially as per your specifications concerning size and length! Please understand that hair pieces cannot be returned for these and for hygienic reasons as well.


Please contact us for any questions about super lightweight dreadlocks and dread falls!
Jana Posted on 22 August 2017 at 11:04
Ein tolles Haarteil für den Sommer, ideal für mich als Brünette, sehr gut verarbeitet und leicht mit den Fingern auszukämmen. Ich trage sie über dem Pferdeschwanz, die hellbraunen und orangen dreads sehen natürlich aus zusammen mit meinem Echhaar, da auch nougatbraune dreads dabei sind. Ideal zum Hippie-, Zigeuner-, und Flamencolook! Ich habe mir das gleiche Haarteil nochmals in der Farbe Dark Mermaid bestellt, ebenso wunderbar.