Delivery time:
Category 2: I am handmade to order esp. 4 U! Europe & UK: 8-12 BD, USA: 10-16 BD, CA/ AU/ NZ: 12-18 BD, BD=business days, applies only if you pay & note hair color details promptly with your order. Ordering 2 or more items? Please check info in policies!
Model: Black Dreadlocks with wine red highlights, made of super soft yarns, very comfortable to wear. These yarn dread falls look very natural and realistic, see also the close-up in the item pictures! The close up with the unbraided dreads has been lightened up for you to see the texture better. All other pictures show the deep and gorgeous colors of these dreadlocks.


Dreads Ø 0.5 - 1.3 cm/ 0.2-0.5''
Choose between different lenghts and sizes in the overview below this description! The pictures in most listings show size L, because this is the most wanted size and it is great for all the different stylings!

This hair fall is made of special dreadlock yarns (wool-synthetics mixture) which are yarns which look like dreadlocks but are way more lightweight than dreads made of hair or hand-felted wool dreads. Wrapped and pinned up these dreads make a gorgeous huge bun, also great when you leave a few strands out to hang down! Braid them to a large braid and pin the braid up into a chignon, too! A pair of size S or M falls is great for pigtails. If you love lush and pompous looks, you can also use a pair of size L falls as pigtails. This looks great with goth, steampunk, larp and cosplay outfits!
 
Every single lock is sealed at its end, to avoid fringy or dissolving ends and guarantee a long-life item!


Attachment:
The fall comes on a strong, elastic hair tie and is added to your own ponytail. Very simple attachment which can easily be hidden and be used for updos/ dread buns and a large dreadlocks braid, too!
Step 1: Make a ponytail.
Step 2: Pull dread fall over it.
Step 3: Wrap hair tie of dread fall around your own ponytail for 1 or 2 more times to secure the fall.
Step 4: Pull the dreads over your own ponytail's hair.




Attachment option:
If you wish to secure your fall even more, braid your own ponytail and wrap it around the hair tie attachment. Secure with hair pins. This prevents the fall from slipping down and your own hair from sticking through the dreads. Or braid some dreads of the fall together with your own hair and wrap the braid around the attachment. If you have longer hair than the doll, you can also make two braids and wrap one around clockwise and the other counter-clockwise to get an even finish! This option provides a super strong hold and is excellent for stage performances!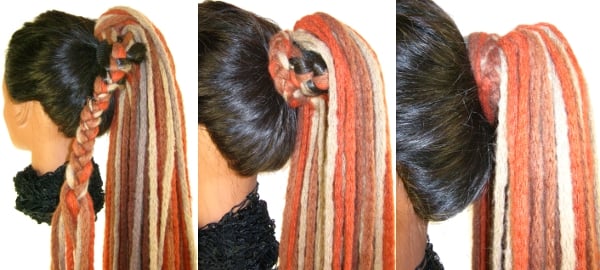 Each dread fall is delivered with detailed instructions for use and care!

This item is hand-made to order especially as per your specifications concerning size and length! Please understand that hair pieces cannot be returned for these and for hygienic reasons as well.

Please contact us for any questions about super lightweight dreadlocks and dread falls!
Reviews are published only upon authentication. Reviews which cannot be linked to an order are not published, so please insert the mail address of your order with your review! Naturally your mail address won't be published. All details here!
Violet Posted on 2 March 2020 at 02:11
I bought these with additional colours added. Melanie was fantastic throughout the process taking personal interest in matching the colours and getting as natural blend as possible.

The falls I have received blend very well with the tones of my own hair and will probably be my everyday dreads from now on. They are incredibly versatile and the only limit to the styling is your own imagination. As always with magic tribal hairpieces of this type they are wonderfully light to wear and very secure when plaited in.
Silvia Kirschbaum Posted on 6 September 2018 at 18:43
Ganz-ganz tolles Haarteil! Ich bin so froh, mir diese leichte Variante der klassischen Goth-Haarteile zugelegt zu haben! Man kann es bequem den ganzen Abend und die ganze Nacht tragen, ohne dass einem wegen des Gewichts irgendwann die Kopfhaut unerträglich weh tut. Gerade wenn man auch zwei davon trägt... Die Verarbeitung ist toll, die weinrote Farbe dezent aber präsent.Es lässt sich super über einen oder zwei kleine/n Dutt/e wickeln und mit Haarschmuck festmachen. Diese schwarz-rote Farbvariante passt eher zu eleganteren Outfits, Trad goth, Victorian aber auch zu Steam punk Styles. Ich habe noch die schwarz-weiße Variante, die trage ich auch tagsüber in der Freizeit, die schwarz-türkise ist eher was für abends für die Industrial/Cyber-Dancefloor mit den entsprechenden türkisen Kontaktlinsen und anderen Cyber Goth-Accessories. Alles in allem bin ich super zufrieden!