2 hair flowers/ flower hair clips with 2 lilies and a dark red rose each, attached to professional metal hair clips for very strong hold (minimum hair length: 5 cm/ 2 inches). The colors are just wonderful!
Size: about 11 cm/ 4.3 inches long and 7 cm/ 2.7 inches wide.
Some pictures show one clip only, but you will get two pieces per purchase!

Lilies match many styles and are wonderful for formal occassions like proms and weddings and for alternative outfits like fantasy, tribal fusion belly dance, boho & gipsy style and Goth & cyber looks, too!



Magic Tribal Hair exclusively uses strong, professional hair clips which provide very strong hold. Moreover these clips do not have any teeth, so they can be worn on all fabrics without pulling threads.
This means you can wear all our flower hair clips as shoe clips, brooches on a collar or shoulder strap, as bag clip and even on flat jewelry like larger earrings and flat rings as well - hair flowers by Magic Tribal Hair are many in one items! And last but not least, the clip is alway entirely covered by the flower, so it does not shine through, see the picture below for details. 

Some pictures show this item in combination with further hair jewelry, hair pieces etc.. These other items are not part of this offer but can be found in different ones in our shop!

All hair flowers are hand-made to order.

Hair jewelry cannot be returned for hygienic reasons. 
Contact us for any questions about our hair flowers/ flower hair clips!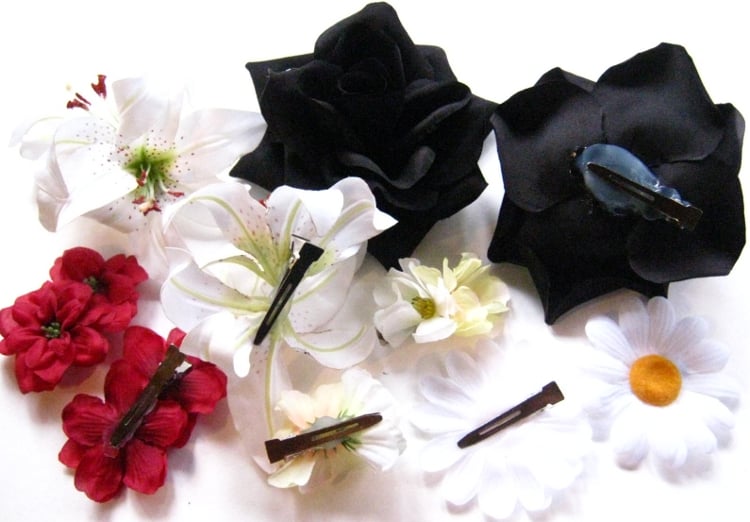 Ich liebe die Qualität , das Aussehen und Material der Blüten. Dank dem Clip sehr vielseitg einsetzbar. Z. B. im Haar, am Kostüm oder auch als Accessoires für den Alltag.
Dieses Bouquet ist mein absolutes Lieblingsteil und in fast jedem meiner "Hairgarden" zu finden. Die Farben sind einfach brilliant und leuchtend. Oft benutzt, nie verrutscht.