Steampunk gypsy hair flower clip "Gypsy Flower" - antique brass filigree flower attached to a professional metal hair clip for very strong hold (minimum hair length: 5 cm/ 2 inches). We cover each hair clip with black velvet before we attach the hair flower. This makes this piece of hair jewelry more solid and prevents the silver-colored clip from shining through.
Size: about 6 cm/ 2.4 inches diameter

Our steampunk hair jewelry clips are gorgeous litte eye-catchers for every day, steampunk & Goth look and for costuming!
Magic Tribal Hair exclusively uses strong, professional hair clips which provide very strong hold. Moreover these clips do not have any teeth, so they can be worn on all fabrics without pulling threads. This means you can wear all our hair clips as shoe clips, brooches on a collar or shoulder strap, as bag clip and even on flat jewelry like larger earrings and flat rings as well - steampunk hair clips by Magic Tribal Hair are many in one items! And last but not least, the clip is always entirely covered by the decoration, so it does not shine through, see the picture below for details. 

Some pictures show this item in combination with further hair jewelry, hair pieces etc.. These other items are not part of this offer but can be found in different ones in our shop!

All steampunk hair jewelry is hand-made to order.
Hair jewelry cannot be returned for hygienic reasons.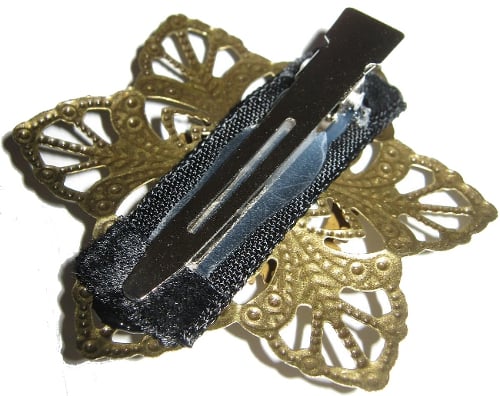 Reviews are published only upon authentication. Reviews which cannot be linked to an order are not published, so please insert the mail address of your order with your review! Naturally your mail address won't be published. All details here!
Spangen halten sowohl im zusammengebundenem Haar, als auch am Haartuch wunderbar.
J'adore ces clips, ils sont vraiment beaux et exactement comme sur la photo du site. On peux les mettre autant dans les cheveux que pour décorer une tenue! C'est top !
Ich war lange auf der Suche nach Haarblumen, die ich an meinem Kopftuch befestigen kann, wenn ich Feuershows mache. Diese sind einfach ideal. Sie sehen super aus und können nicht in Flammen aufgehen.

Anmerkung von Melanie - Magic Tribal Hair: Bitte dennoch Vorsicht! Feuerfest sind auch unsere Metallblumen nicht, der Kleber kann schmelzen und der Samt unter der Blume ist schon brennbar. Aber natürlich sind diese Haarblumen für Feuerkünstler deutlich sicherer/ geeigneter als Stoffblumen, aber ich sehe mich in der Pflicht darauf hinzuweisen, dass hier keine 100 % Sicherheit besteht!