Part 1: Make gorgous hairstyles with simple dread falls or pimp your dreads for Goth, steampunk, boho and tribal fusion belly dance styles with these quick tips & tricks!
Did you know that dread fall ponytails give you many more styling options than just long dreadlocks? In the following I'll show you the classic ones, a few special styles and great dreads & acccessories combinations for fantasy, Gothic, steampunk, boho and tribal fusion belly dance hair styles!  

All stylings below are made of a super lightweight dread fall (ponytail attachment) with 112 single dreads in 60 cm/ 24 inches length if there isn't any other note on length and number of dreads with the picture. Here's where you find these dreadlocks hair pieces in my shop!


Tip 1, classic style: Long, open dread falls - simply a match to any outfit or costume!





Tip 2: Add colorful or fancy accents using hair jewelry
Like for example hair flowers, one or two flower clips at the side of your head or a hair flower garden all around the beginning of your dread falls! 



Tip 3: Dreadlocks Braid
Naturally dreadlocks can be braided to a dreadlocks braid - the softer and more flexible the single locks, the easier they are too braid - yarn dreadlocks are easiest to braid.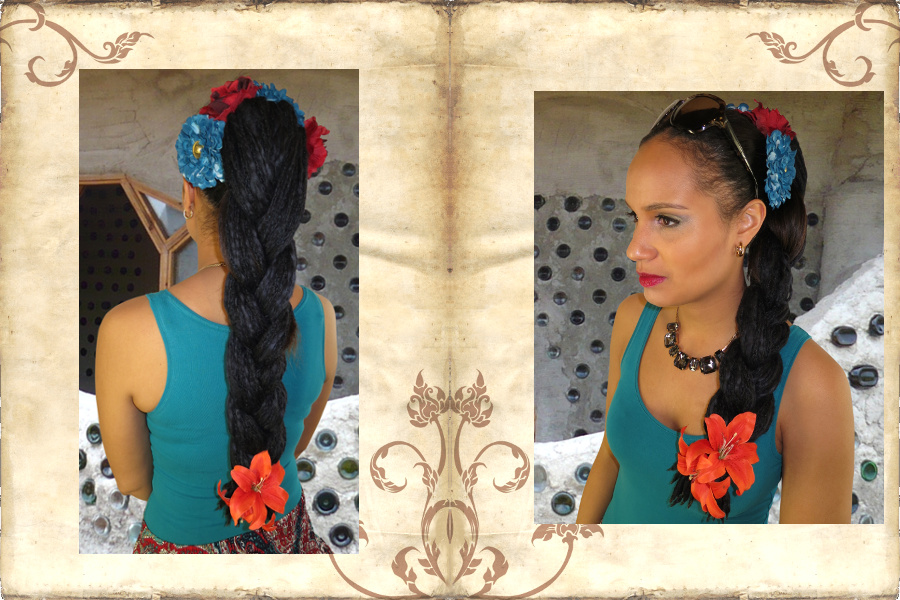 Attachment tip: Attach the dread fall unbraided and braid the dreadlocks in the fall together with the hair of your own ponytail which gives best support meaning strong hold!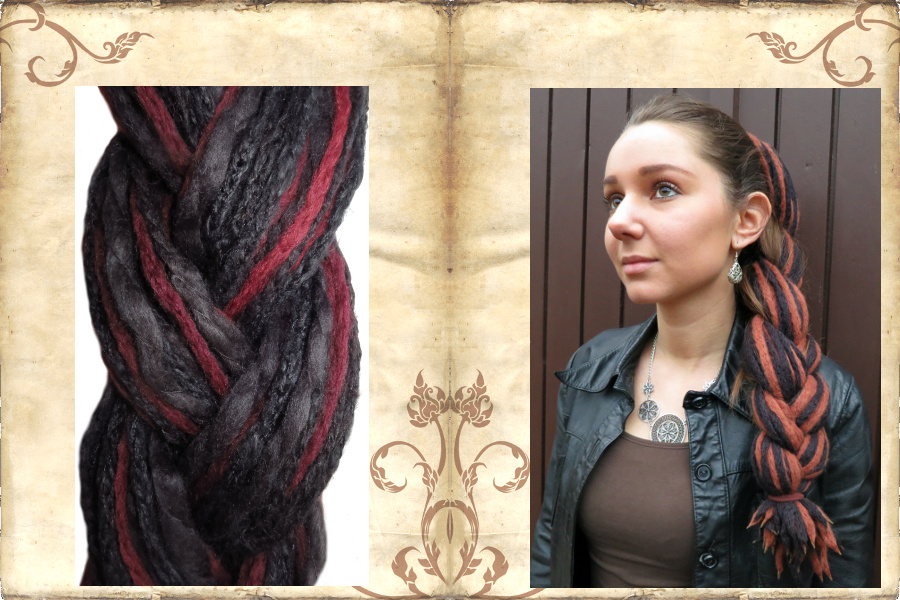 Dreads braids look gorgeous with extra long dreads, too! The 4 following pictures show dread falls with 112 single dreads in 90 cm/ 36 inches length.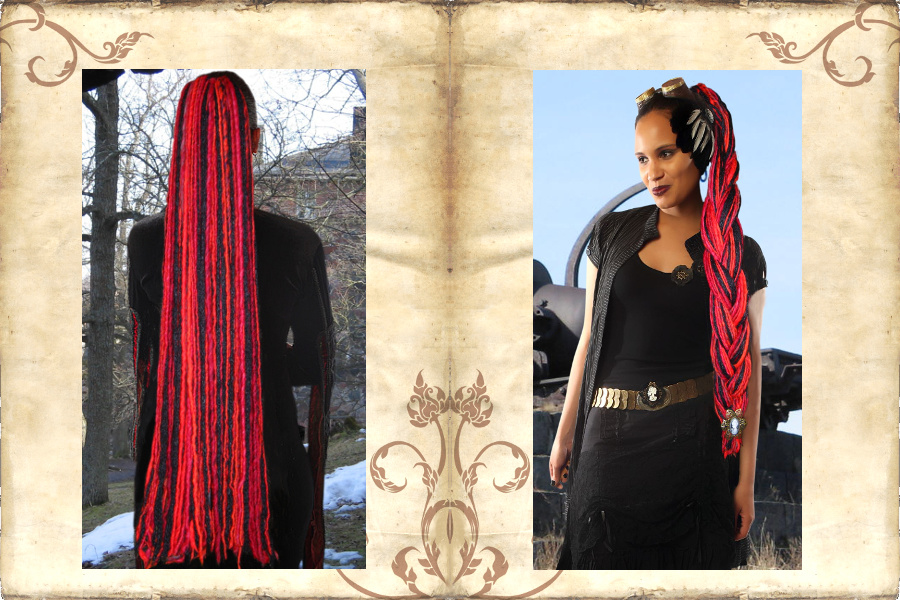 Tip 4 full dreadlocks bun and tip 5 dreads bun with single locks down!

Pin up all dreadlocks into a lush bun or just a part of them and wear some dreadlocks down with a smaller bun!





Back to the classic style, styling tip 6: Dreadlocks pigtails!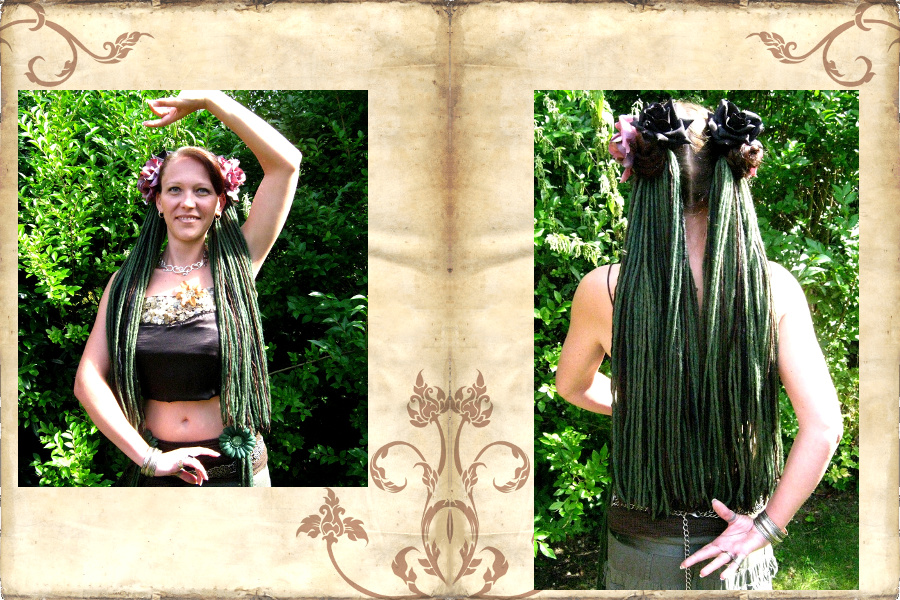 Additional styling tipp: Combine two popular tribal belly dance looks!

If your own hair is shoulder long or longer, put up the pigtails of your own hair into these 2 neat buns on top of the attached dread falls! This does not only look gorgeous but provides super strong hold for your hairstyle. Add some hair flowers to your tribal style buns and voilà: The classical tribal fusion belly dance hair is ready to swing with you while dancing!

The following two pictures show less voluminous dread falls in pigtails = a pair of falls, 2 x size M with a total of 160 single dreads in 60 cm/ 24 inches length.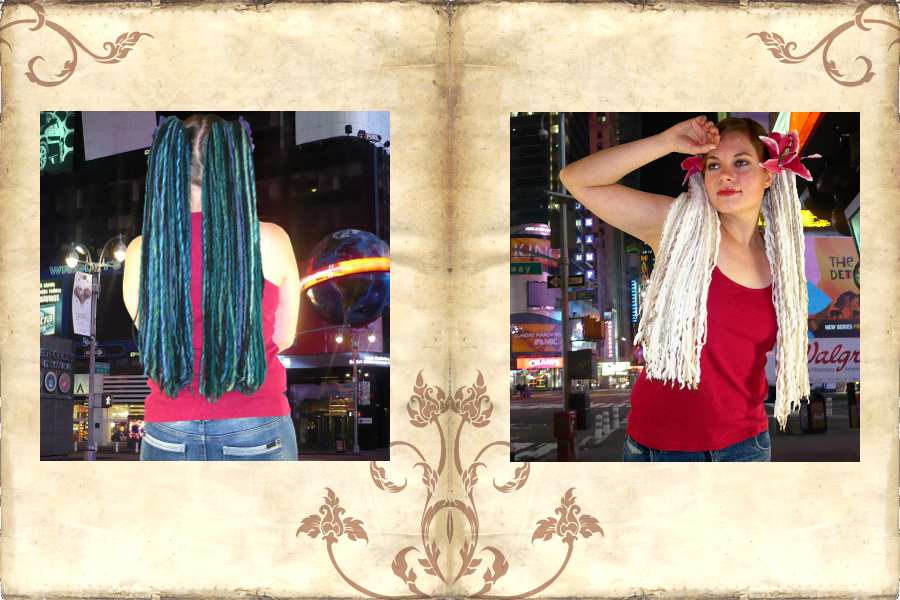 Hair flower tip: Funnel shaped flowers like large lilies and amaryllis look great when attached slightly under your ponytail and pointing out from under your dread falls! 


Dreadlocks styling tip 7: Pigtail dreadfalls combined with cyber goggles for Goth styles or steampunk goggles for steampunk looks 
On the left the model is wearing 2 dread falls size S with 96 single dreadlocks in 60 cm/ 24 inches length. On the right she is wearing a pair of size M falls just like the model above, the falls look less voluminous because the single dreads are much thinner - they are special extra fine yarn dreadlocks.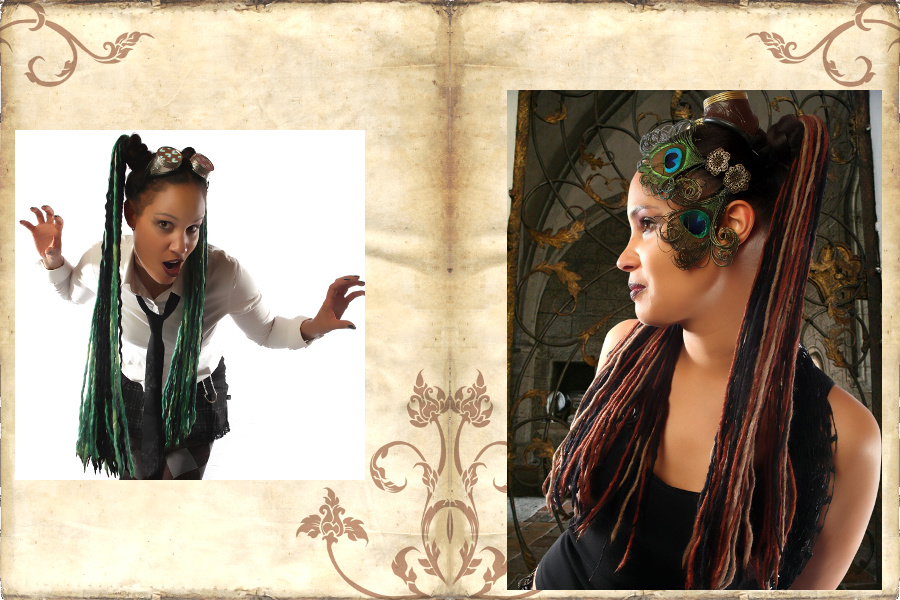 Tip 8: A great tip especially for tribal fusion belly dance and fantasy costumes! 
Wear matching hip tassels with your dreads hair extensions! On the left you see a set in Gipsy style and on the right a dread fall with matching hip tassels from the Paradise Collection. These peacock colors are also very popular for mermaid costuming and fantasy weddings.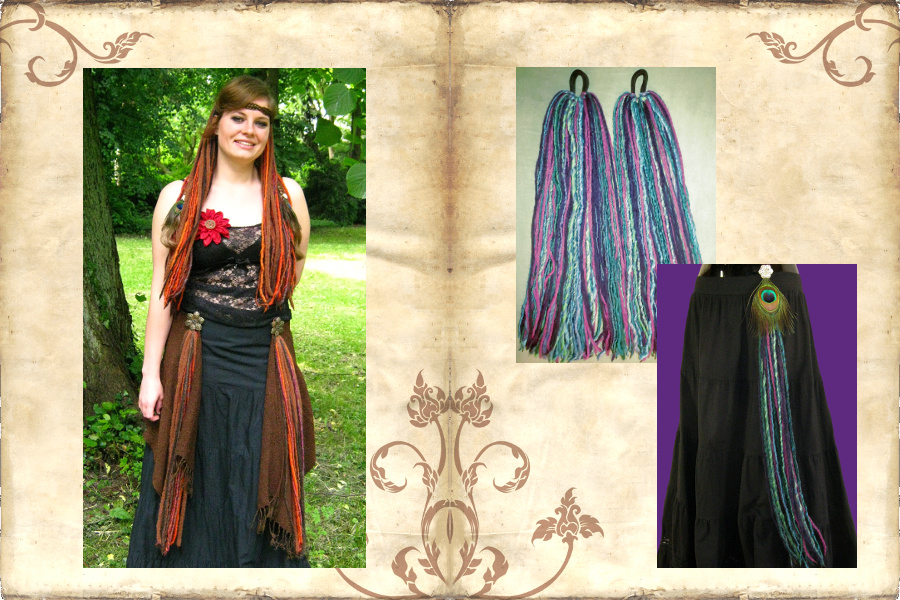 For the lovers of peacock feathers: Combine dread falls with peacock feathers and matching hip tassels adorned with peacock feathers as ell - these black Goth dreads and Black Paradise hip tassels are a gorgeous addition to Romantic Goth & Gothic belly dance outfits!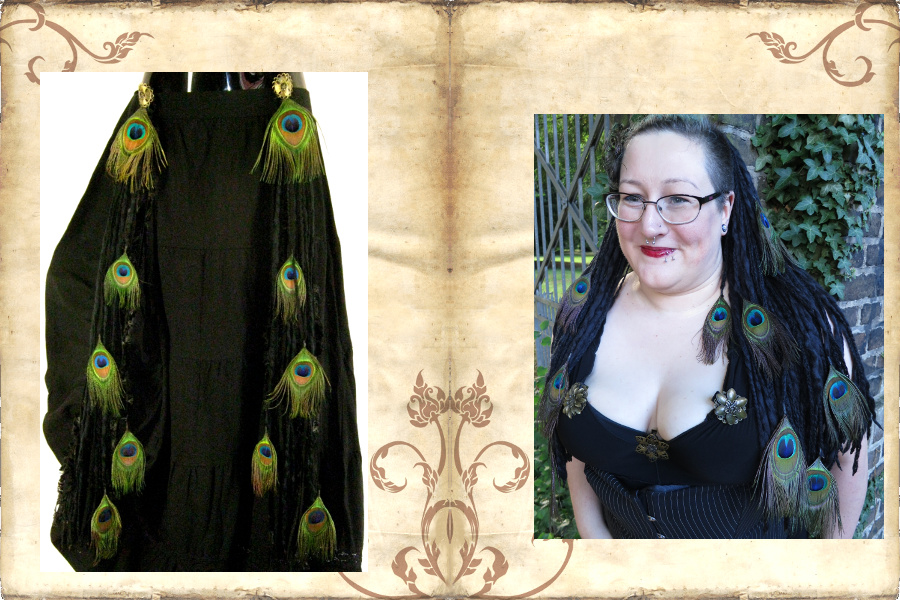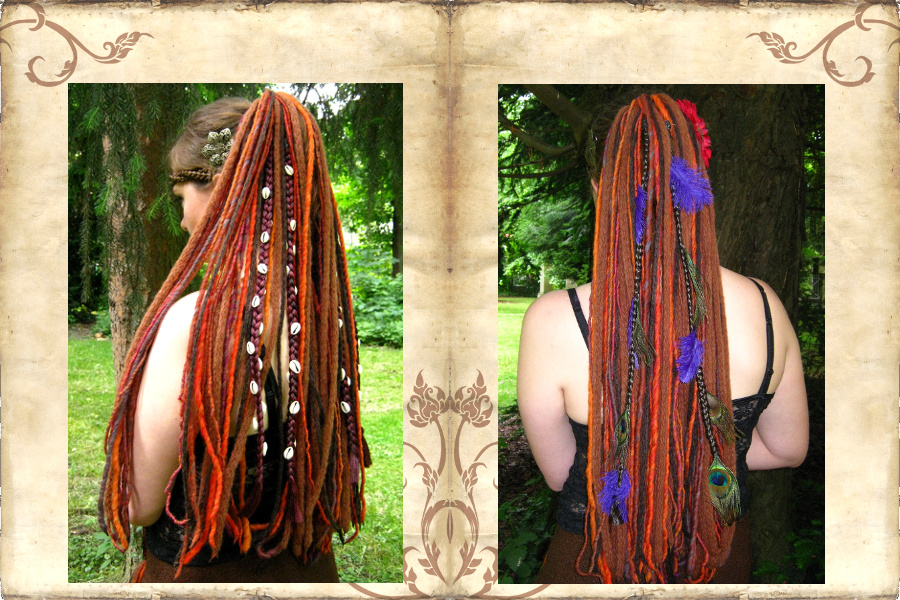 Fantasy clip hair pieces and peacock feather extensions can be matched to your own hair and come in your own hair color or be matched to your dread fall, both options look wonderful!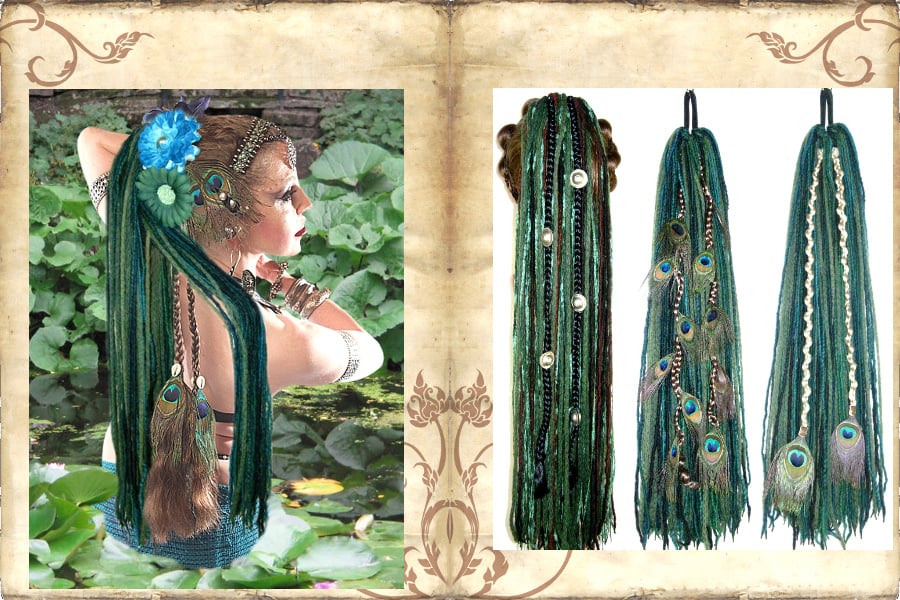 Another option is an all in one hair fall - a yarn dread fall with inbuilt fantasy extensions of synthetic hair- You are less flexible because you cannot wear the fantasy extensions without the dread fall but if you need quick costuming, than this is a perfect choice!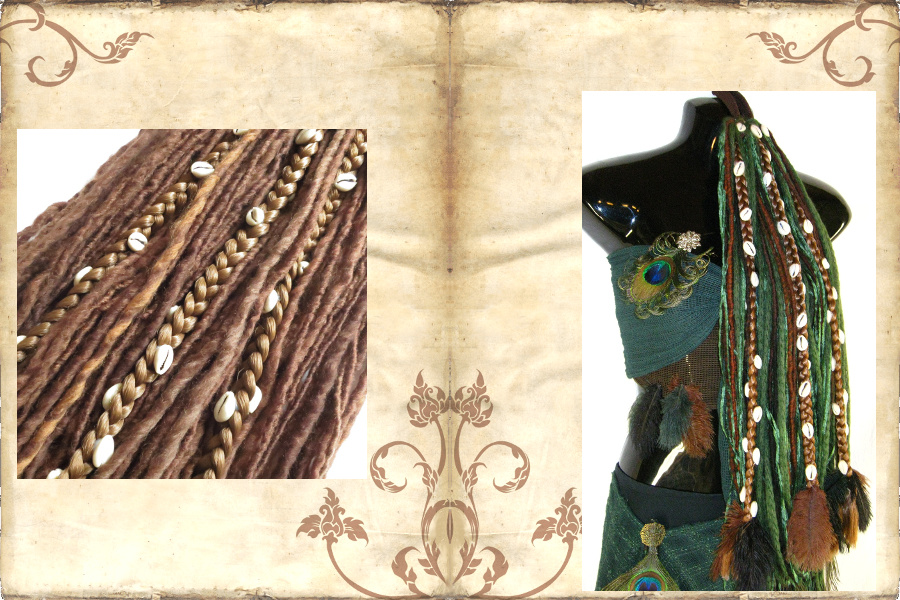 Part 2 will focus in clip-in dreadlocks and is coming, soon! I will share a link here as soon as the lookbook is online. 

Would you like to see more already know? Feel free to click the links below, they lead to the items shown above and more similar ones! 

Have fun discovering my little hair paradise ~ Melanie at Magic Tribal Hair