Did you know you can use hair flowers among others as shoe clips, too? Flower Power looks great in your hair and in many more ways - check our 5 styling hacks in this lookbook!
Pimp your shoes with hair flowers! Turn your Mary Janes' into Gothic Lolita style shoes with silver flower clips or your regular boots in gorgeous steampunk ones with bronze flower shoe clips!



Shop the Look! Silver Flowers



Gorgeous for weddings, baptisms and other festive occasions, too!



Shop the Look! Braided Hair Crown   ~   Daisy Hair Flowers


Or as flower brooch at your cleavage - wear a pair of flower clips, one in your hair and one on your dress or blouse!



Shop the Look! Hair Flowers in many colors

Another option to wear a pair - one at your cleavage, the other one as flower bracelet (pinned onto a sturdy bracelet with smooth surface or a hair tie put arount your wrist).



The same hair flowers as hair jewelry and bag clips - you can even add them to your shoes as shoe clips, of course! 



Shop the Look! Double Twist Braid Headband    ~  Bronze Butterflies

Smaller hair flowers adorn your corsage...



Shop the Look! Wavy XL Hair Falls   ~   Black Flowers 


... and flat rings as well!



Shop the Look! 90 cm/ 36 IN Elf Braids   ~   Black Flowers 

Some valuable tips for tribal fusion belly dance and bollywood dancers: Adorn your bracelets, chokers and shoulder straps with flower clips!



Shop the Look! Hair Flowers in many colors

Pick smooth, straight clips without any teeth for these styling tips!

This is important, because you would not want to damage your clothes, scratch the leather of your shoes and boots or your jewelry with clips that have teeth (e.g. alligator clips). As a matter of fact do clips professional clipsy without any teeth provide much stronger hold, due to a strong spring in their closing mechanism. The clips should not be bent but be straight. Straight clips provide best hold because not even the roundest head is bent as much as the curve of most bended clips! Naturally you find only professional clips according to these standards on hair jewelry by Magic Tribal Hair. If you use different hair jewelry for these styling tips, please check the clips before using them as shoe clips etc.!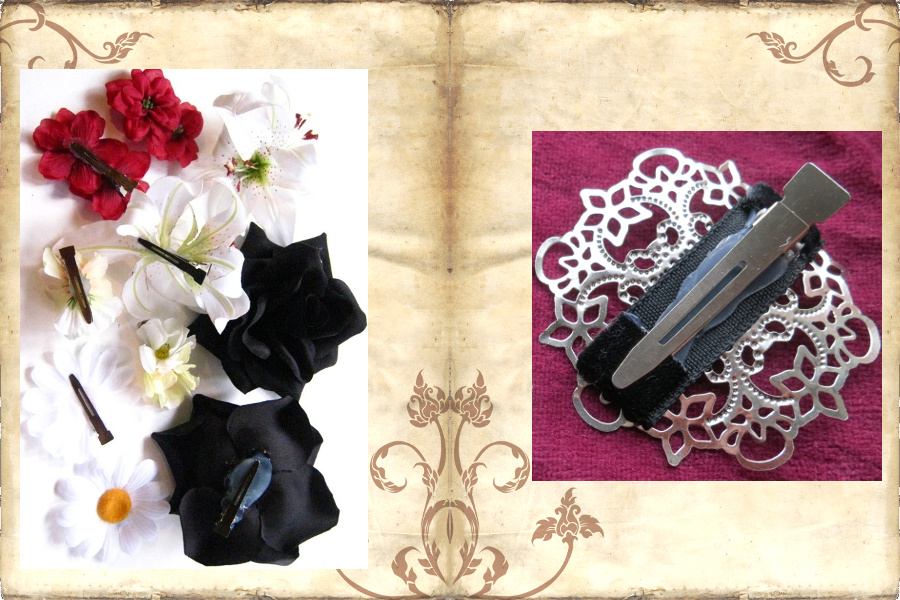 Have lots of fun combining and styling your accessories!
Melanie & Magic Tribal Hair