Use your hair piece for several hairdos - for example a braided braid, open mane or a delicate bun! Guess which hair extensions we used for the buns in this quiz!
Hair bun quiz - can you unmask the hair pieces behind these buns?

You'll find the solutions in the second paragraph of this article, right below the solutions banner. Naturally I have added some smart and easy styling tipps for both - your own long hair and our hair extensions! 

One hint in advance: Hair colors and faces can be very misleading in this quiz! You'd rather use your styling skills and imagination to get behind the hairdos presented! 


Hair bun 1 is made of a pinned up hair fall - is it hair fall A, B, C or D?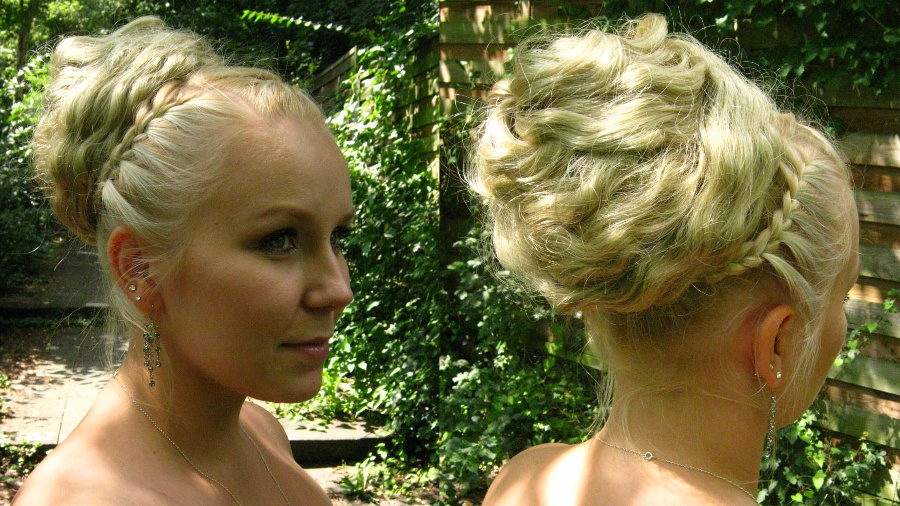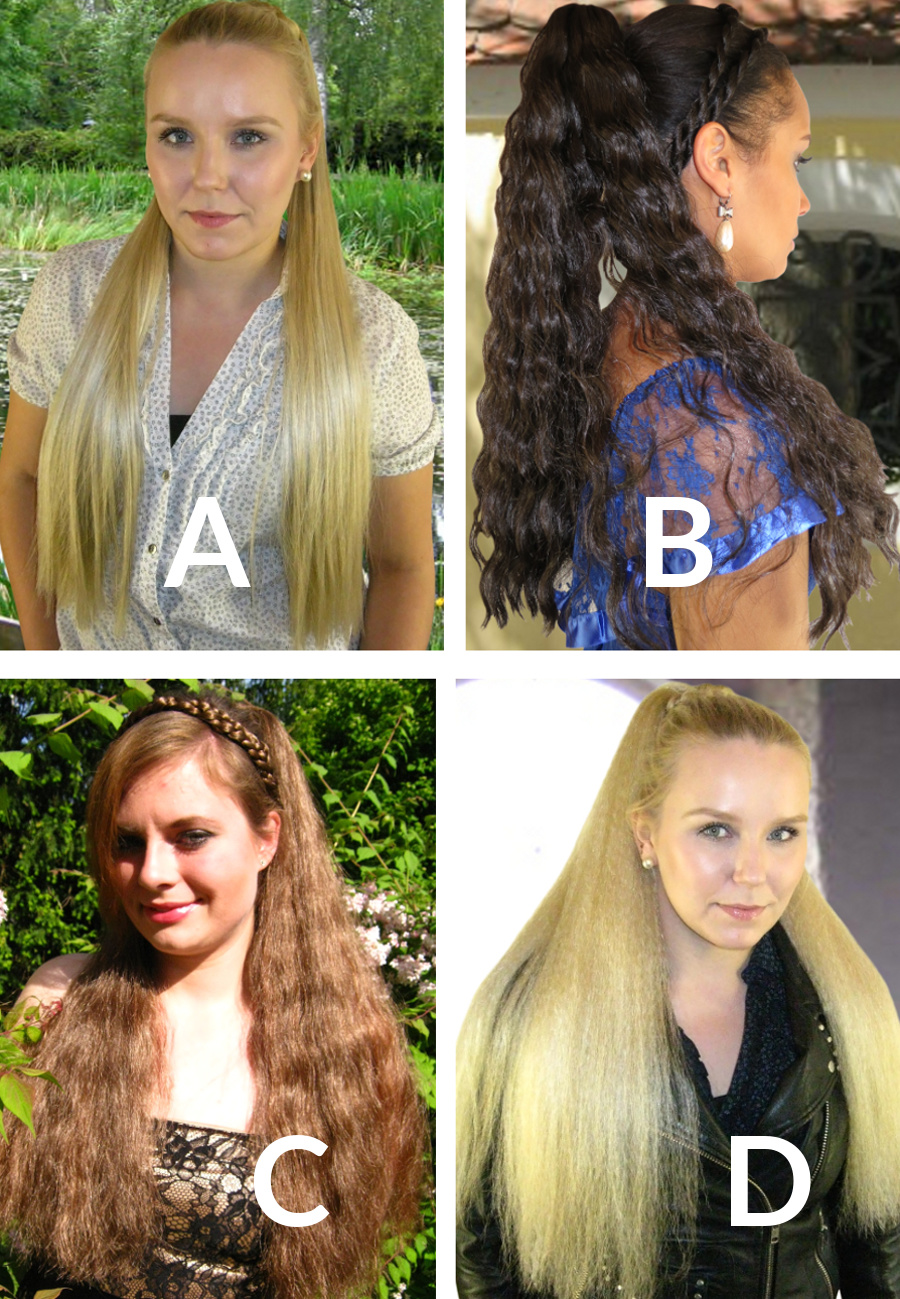 Additional question for the styling experts among you:

One of this hair pieces won't make a nice bun at all! Do you have any idea which one?


Hair bun 2: Which braid did we pin up to make this delicate braided bun?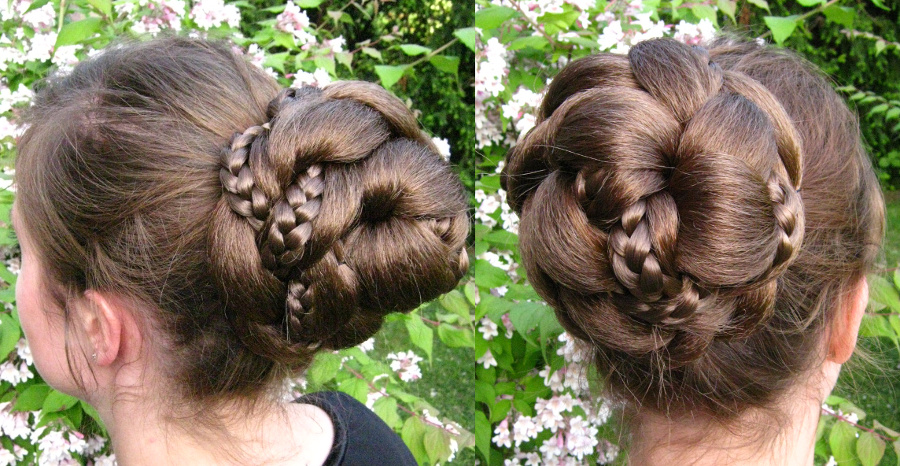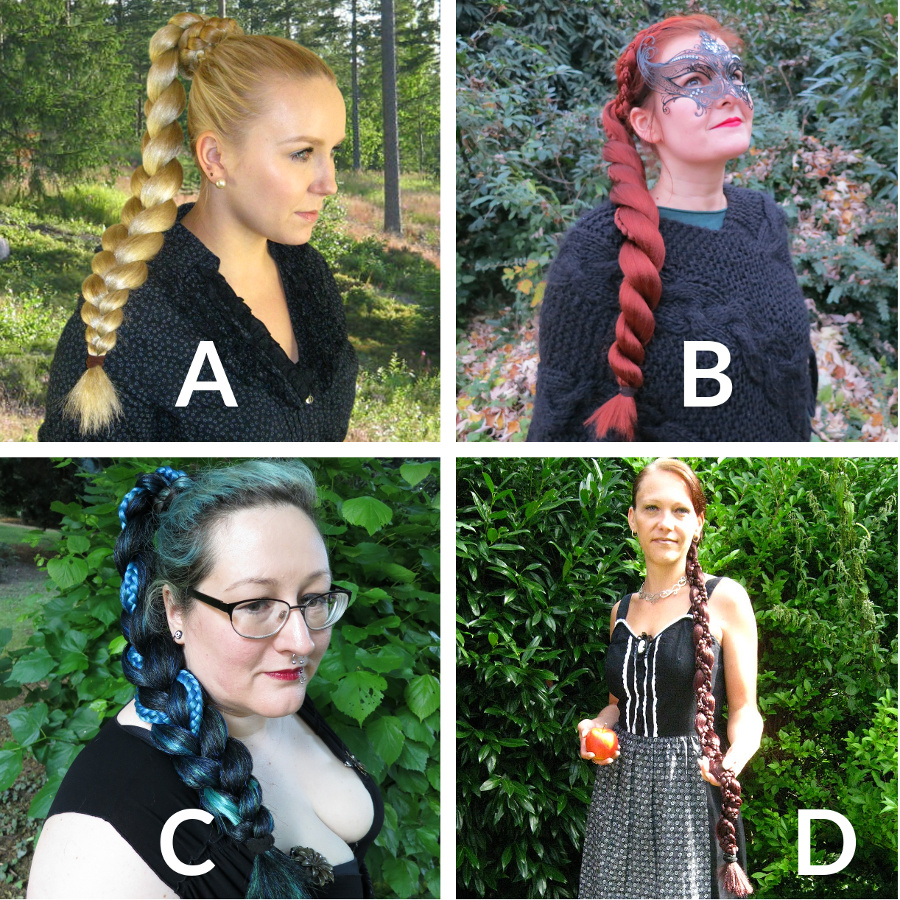 Chignon 3 - which braid makes this fancy chignon?








Bun updo 4: Boho and tribal style hair buns/ earphones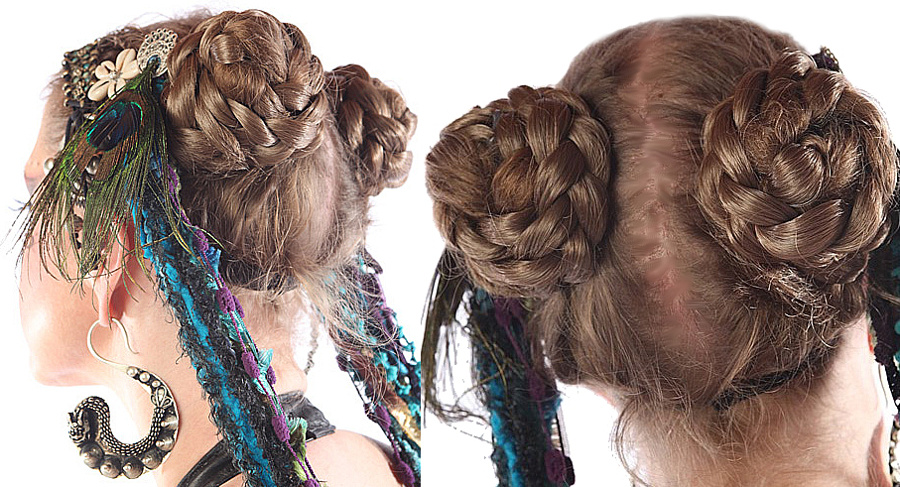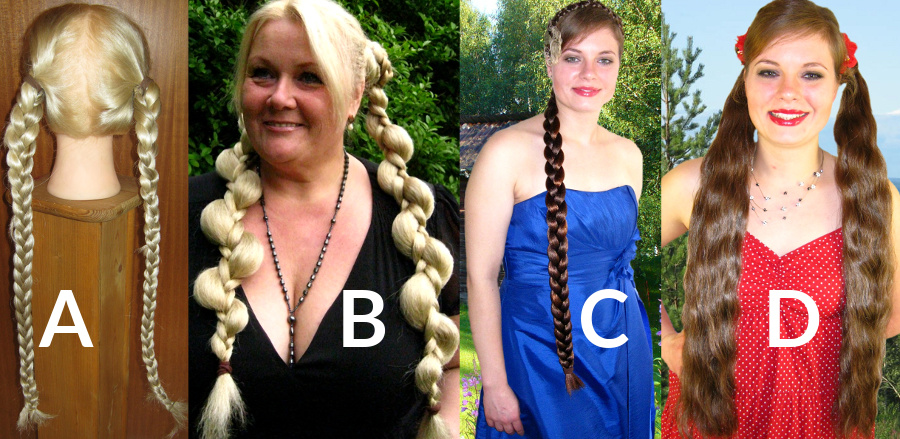 Natural curls provide lush volume - your bun is lightweight and made super quickly!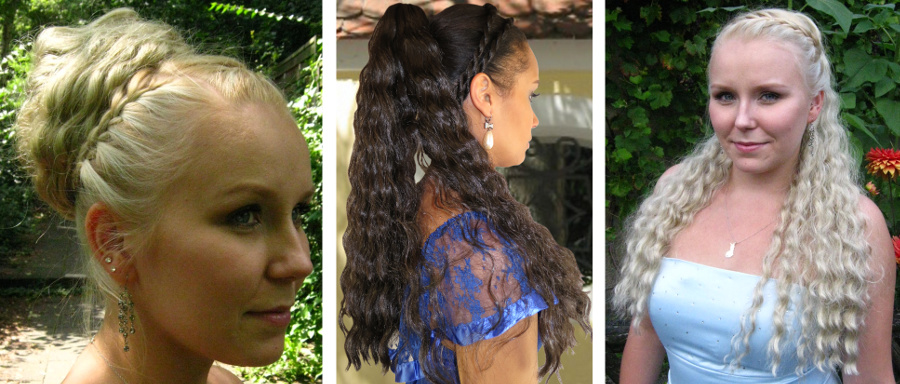 This is the first step to making the bun: The attached hair piece is divided into two strands. Each strand is wrapped around the junction (meaning start of your own ponytail with the attached hair falls) and secured with a few hair pins. Don't you think that this half bun variant here with only one strand pinned up is a gorgeous hairstyle as well?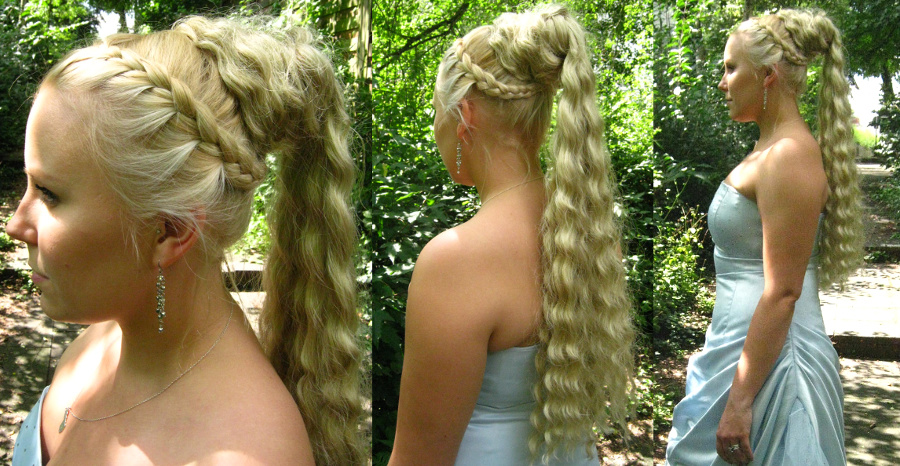 Tip for an even hair bin: Wrap one strand clockwise and the other counter-clockwise!

Tip for even more volume: The more layers, the more bouffant your bun! If you part the hair fall into more than 2 strands you can even pin these 3, 4 or 5 strands in a more bouffant way and get a larger layered updo!


Solution to the additional questions: Hair falls A won't make a fancy bun! 

Hair falls A have very straight hair, straight hair texture won't make a fancy bun! Technically it's doable, of course, but you would not really call the result a hair bun - rather a little knot or something similar, but surely not a fancy hairstyle. If your own hair is straight you know exactly what I am talking about. It's usually slippery, won't hold well not even with many hair pins and lacks volume. Especially volume is necessary for bouffant hair buns and hair stylists have a super simple trick for this - hair pieces! In case the customer doesn't want a hair piece parts of their own hair are backcombed to have more volume. Another option is adding larger curls or tiny crimped waves with a curling iron. In addition you need lots of styling foam or hair spray to make these stylings last for a day and all these treatments are not good to your own hair. You don't think you would be able to attach a hair piece? Compared to all these classic volume treatments attaching a hair piece is indeed super easy, much quicker and naturally way better for your own hair!



The two braids in the braid make this bun look especiall elaborate and fancy - only you know the trick behind your hairstyle!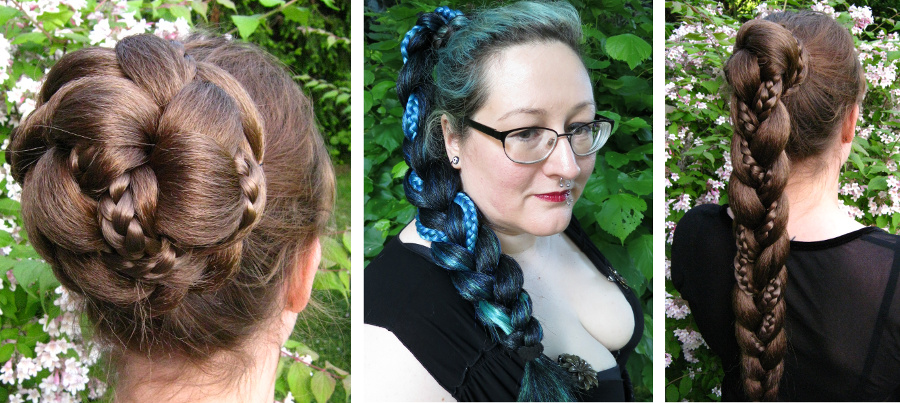 Styling the bun means nothing more than draping the attached braid around it's attachment, tucking the end under and securing the hairdo with a few hair pins! 

The braid in the instructions is a different one, but the instructions are the same for all braids. If you are using a very longbraid or a thinner braid but of same length as the one in the picture (50 cm/ 20 inches), then you need to wrap it around the attachment more than once to put up all the braid into a bun. This is the only difference!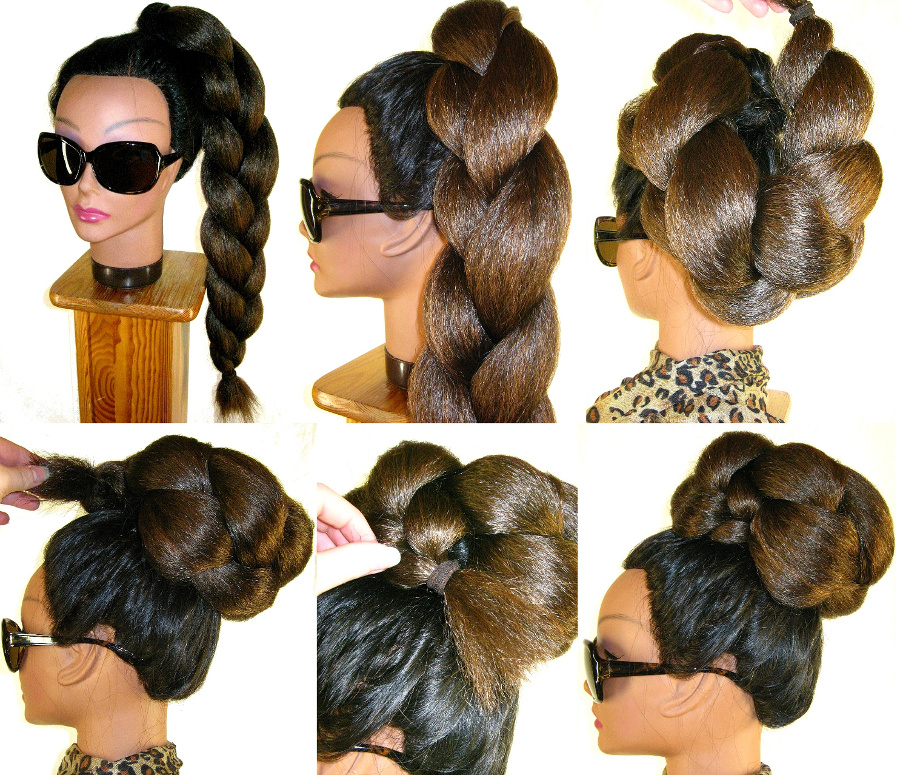 After attaching the braided braids to your own pigtails you pin them up exactly as it is shown in the pictures with with the black haired doll and the brown braid above!

These tribal style bun presented by model Apsara Habiba look especially natural, because the braided braids are made of natural wavy hair. So actually we have two solutions here, because hair falls D are the same braids just undone and in a different hair color, of course.

The long braid (hair piece C) could make a pair of buns due to its length, but they would be right next one another.




I hope you liked guessing the hairstyles and maybe I showed you some new styling tricks and inspired you for trying new hairdos! If you are eager to learn even more about flexible hair buns by Magic Tribal Hair, just click the banner below! 





You can read more about how we custom-match hair pieces in your and any other hair color on our FAQ pages!

Any questions? Or anything you'd like to tell us? Just write a comment! 

Have fun doing your own hair styles ~ Melanie at Magic Tribal Hair!