A little overview about the many Goth & steampunk hair dreams we can make for you. Keep an eye on delivery times, because all our beauties are handmade to order - especially for you!
Did you know that we handmake your Goth & steampunk hair dreams to order?
This way we can offer you all hair pieces here in all natural hair colors and make a perfect match to your own hair! Naturally we can blend most "crazy colors", too, just have a look at the examples below!



Especially for you: Handmade hair extensions of synthetic hair for high quality requirements!


We handmake everything ourselves, from your desired color mix over hair texture to the completed hair piece. This is the reason for our hair pieces of synthetic hair varying strongly in production time! For example waves like in the hair falls below need about 1 week to fix.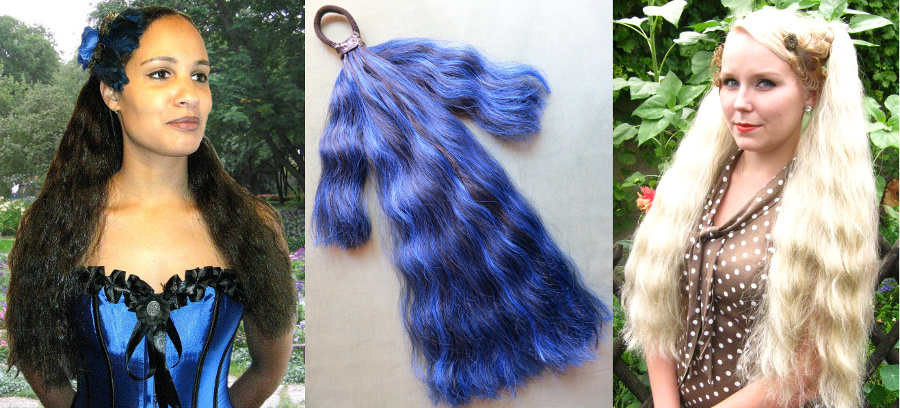 Wavy hair falls in 55 cm/ 22 inches length are here in our shop!

Wavy hair falls in 90 cm/ 36 inches length are here in our shop!


We also need a couple of more days when we seal parts of the hair piece like the 2 interwoven braids in our Rapunzel, Fantasy and Snow White braids, it's usually 1-2 days extra. Most of these aspects are invisible to you, so sometimes our delivery times might be surprisingly long - but keep in mind that you are getting your unique hair dream - handmade especially for you!

You find these braids in our 90 cm/ 36 inches long fantasy braids here!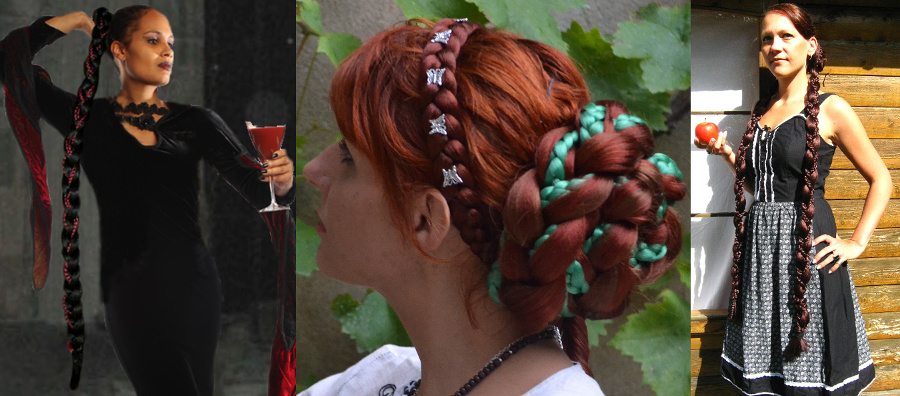 Hair pieces and braids of voluminous hair, also referred to as crimped hair, have especially short delivery times!

They are very popular for Goth, steampunk and fantasy stylings! If you want a hardly visible zigzag texture go for one of the many braids and especially for the extra long pieces (90-100 cm/ 36-39 inches) where the zigzag waves come out much smaller, so the hair looks straighter, due to the length of the hair.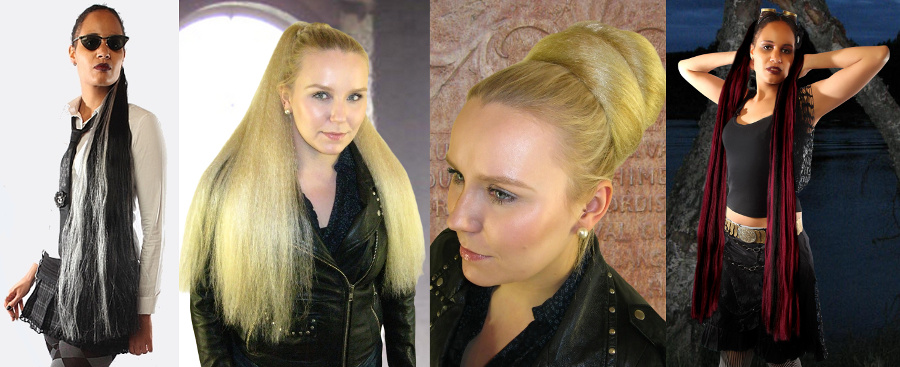 Crimped hair falls in 55 cm/ 22 inches length are here in our shop!

Crimpes hair falls in 90 cm/ 36 inches length are here in our shop!


Affordable international express options for some hair extensions of synthetic hair
Delivery times are shown below the "ADD TO CART"-button and they include making your hair dream and shipping time for your country. For some hair extensions we offer express upgrades at little extra costs. This means you will pay extra for us working Sundays or in the evening/ at night to rush your order. Since the major part of delivery time usually is our production time, this is where most time can be saved. Plus our extra shifts cost you way less than international express shipping! Most hair pieces of crimped hair can be rushed! Some hair extensions with time consuming textures i.e. waves can hardly be rushed, because we cannot do anything about the week the hair needs to fix for getting & keeping the waves. But you are always free to ask if something can be rushed and naturally for the closest alternative that can be rushed or has a shorter delivery time!
You want to get more for your money? - Our open secret: One hair piece - many stylings!

Would you have guessed that all the hairdos below are made of the same hair piece just in different hair colors? No matter if you order the open hair fall here or the braided braid here or the twist braid here, you will always be able to make all styles shown below and even some more! This is due to our flexible attachment without any bulky grip claws that are difficult to hide or which would prevent you from pushing hair pins through to fix your bun updo!





One more hint: Hair extensions with the voluminous crimped hair texture are especially convenient for these multuple stylings, because crimped hair is easy to handle and makes lusher hairdos. Naturally you can make all these styles with a wavy hair fall, too, but they will be less voluminous and take longer to style. Did you know that crimped hair is an old hairdresser's trick to add volume? 
Pick everything yourself: Hair color, hair texture, decoration in general and feather color for the ones with feathers, button color for the ones with tribal belly dance buttons... The longer production time is more visible in these hair pieces, because it's easy to imagine that adding all these feathers, cowries and other decorations need some extra time! These are our hair pieces with longest delivery time, rushing them is difficult, especially in summer festival season, so please order in time!




These hair extensions come with the same decorations as magician hair falls and are perfect if you want to add some little accents only - to your own hair, a hair fall or a wig!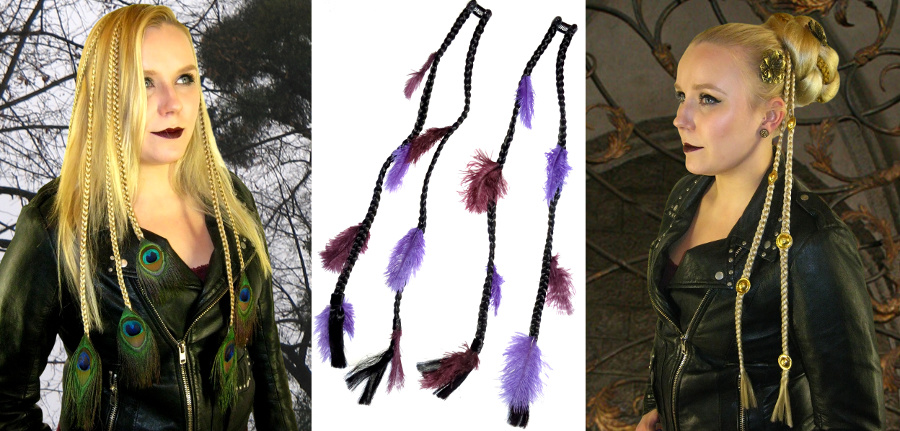 Super lightweight dreadlocks made of special yarns!

You love dreads but regular dread falls of synthetic hair or hand-felted wool dreads are too heavy for you? Check our super lightweight options in many colors! We seal each loc at its end to give you a long lasting hair piece!



Pick your desired dread fall size and lengths with many models and choose from several decorations or the hip tassels - we know that bronze matches steampunk styles much better while silver usually goes better with your other Goth jewelry so these two options are usually available. In addition the tassel clips can come in plain style and with peacock feathers for more extravagant styles! And another nice suprise: Thes items have short delivery times but can still be rushed to make them even shorter in case you are ordering really last minute!





These dreads extensions come with several personalization options: Color mix, set size and your custom length! Did you know that we make all our dreadlocks pieces from super lightweight yarns, so they are super esay so handle and style and weigh much less than regular dreadlocks pieces?

Clip-ins take much longer to make than dread hair falls with ponytail attachment, but there is a rush option we offer whenever our order volume allows us to!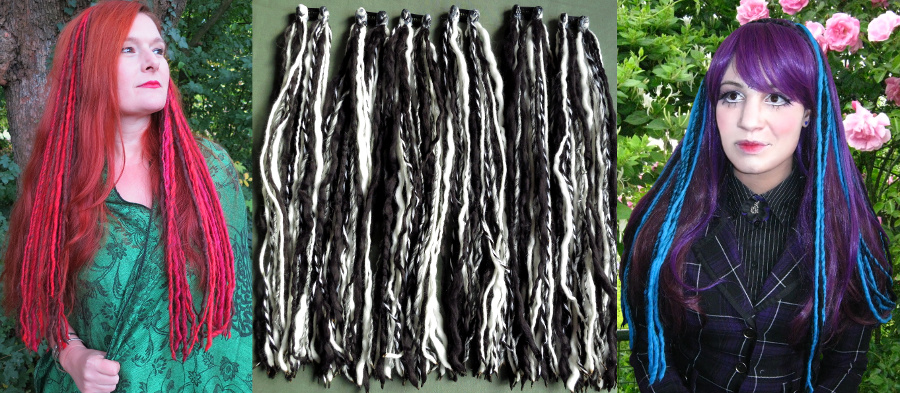 Flexible just like our hair pieces, wear smaller pieces as show and bag clips, too! All these little eye-catchers, we handmake to order, do you see the lovely curls in the peacock feather fascinators? The curls make them super special and are added by hand, too!



I hope you enjoyed this little overview about Goth & steampunk styling options!
Just contact me for any questions, as usual!

Greetings, Melanie at Magic Tribal Hair




Valid through May 31, 2019: Special Offer for the Start of the Festival Season: "Little Goth Package" (3 Offers)
Goth Offer Part 1: € 5 to € 10 OFF several Goth dread falls (ponytail attachment) - only as long as stock lasts!
No coupon code needed, the discount is already deducted, you find all discounted dread falls here in our SALE!






Part 2: A FREE hair jewelry surprise bag with your order!
Valid May 1 through 31, 2019

Applies to all orders with value of goods € 50 or more (sum of all items in your order without shipping costs, surprise bags and gift coupons, but discounted items do count!). Just insert the code for your surprise bag during checkout. Read all about our coupon codes here!

Learn more about the content of these surprise bags, regular price and such here!





Part 3: 3 of our special surprise bags are available again, 5 pieces of each model! Click here to see prices and learn more!