Magic Tribal Hair answers frequently asked questions about customized and made to order hair pieces concerning color match and attachment on this FAQ page.
FAQ Custom Hair Pieces: Hair Color, Attachment & Care
This FAQ page informs about all aspects of our custom-matched hair pieces of kanekalon hair!
I Hair Color
II Hair Piece Attachment
III Hair Piece Care
IV Delivery Times
I. Hair Color
Is this hair piece also available in blonde, auburn, grey, brown with blonde highlights, brown with some grey streaks ...?
Yes, it is! We are able to match all hair colors, because we make each and every hair piece to order as per your specification!
All hair falls, braids, fantasy hair pieces, headbands etc. made of kanekalon hair in our range are models which can be made in any hair color! We can match your hair color perfectly for all hair falls and braids up to 55 cm/ 22 inches length and all other hair pieces (headbands etc.) which are made from 55 cm long hair as well. This is because we are able to add all shades, highlights, lowlights, streaks etc. of your own hair in this length.
Longer hair pieces, 60-100 cm/ 24 to 39 inches long can only be made of one color or a highlight mix of 2 colors, so our possibilities are a bit limited here.
Your hair color is made by mixing several basic colors from our range. Moreover we offer several special colors which can still be mixed with basic colors, of course.

You find respective color charts in each listing, too.


How do I know which color mix to order?
One's own, natural hair usually consists of 2-3 colors, hence we mostly need 2-3 colors from the color charts to match your own hair. Only dark hair (basic color 1-6) is an exeption, here one color often is enough. Magic Tribal Hair takes care of all color aspects of your own hair which makes our hair pieces look incredibly real!
Natural hair has a predominant color in the upper parts, a slightly darker one in the under parts and mostly a third lighter color in its lengths. Some have lighter tips or highlights, too. Lighter tips can be neglected, because you usually don't see them when wearing a hair piece. Highlights or streaks shouldbe included in the hair piece.

We are able to mix as many colors as necessary for all 55 cm long hair pieces and braids and all other items made of 55 cm long hair. This means we offer a perfect match for this length. But we cannot make a perfect match for all hair colors in 60-100 cm/ 24-39 inches long hair pieces due to technical reasons which enables us to offer one-colored hair pieces or such in a highlight mix only in this extreme length. If you are interested in such a long hair piece, feel free to ask about your hair color before you purchase. We can tell you how close we can get and you might check if you would prefer a shorter hair piece in case we can't get close enough.


How do I order my hair color?
We offer several menus for you to give us perfect color instructions very easily. If you forget an important detail, our system will remind you.


I need help choosing the right color mix for my hair!
We can help you in 2 ways:
1. Send us a high quality picture of your hair through e-mail! (recommended)
2. Order color swatches and check yourself.

Sending a picture: Instructions
This is our recommended variant, because we are more experienced which colors we must mix to get a certain hair color. Please send ONE high quality picture through e-mail to info@magic-tribal-hair.com. Make sure the picture meets our guidelines below, because we can only give qualified advice with a high quality picture. One color check/ color advice is included in our prices. If you sent us a pictureaccording to our guidelines right away, using our color advice won't cost anything extra for you!

Light:
Natural daylight, no extreme light conditions light full sun or deep shade, a cloudy day is perfect. Take the picture with the stream of light!

Your hair:
your entire open and dry hair (any close-ups or details shots of a strand only, any pictures with hats or fascinators, braids, updos, pony- or pigtails!). You must be the only person in this picture, party or group pictures are not sufficient.

Image section:
Take the picture from the side or the back, you should be seen from the top of your head until the middle of your back, different color shades can be recognized much better from a little distant perspective.

Number of pictures:
Only 1!
If you wish to send us several pictures, please add which one we should use for our advice and which ones serve as additional information only. This is necessary, because only you know your real hair color so only you can determine which picture reflects it best.


Order color swatches
If you prefer checking your hair color with color swatches, just order color swatches, there are offers in all hair piece sections in the shop. You will need to pay a protective charge through paypal which will be refunded on safe return of the samples and after you have ordered your hair piece. This method is more time consuming than the picture check, because you must wait for your swatches to arrive.

Can I snail-mail a strand of my hair?
Yes, you can, but we do not recommend this method for finding a great color match. As you can read further above we are able to reproduce all aspects of your own hair which usually cannot be displayed well or completely in just one strand. Hair pieces matched this way often differ from one's own hair. So we use this method only if you as our customer explicitely want us to, because our custom hair pieces cannot be returned.



II. Hair Piece Attachment
Magic Tribal Hair has developed special attachments for hair pieces providing extra strong hold even for stage performances and dancing. They are also more comfortable to wear than most hair pieces with other attachments and they even offer many styling opportunities which means you needn't necessarily buy a new hair piece for each styling idea!
Here are our 3 practical attachment options:
1. Hair Tie Attachment (classic/ basic attachment)
2. Hair Tie Attachment combined with Professional Fishtail Attachment (our recommended variant)
3. Clip Variant (only for very short hair of 5- ca. 10 cm/ 2-4 inches length and as highlights in long hair)



1. Hair Tie Attachment (basic attachment)
For shoulder long and longer hair.
Thehair tie attachment is sufficient for sinlge hair pieces of small volume sizes, especially size S and when you wish to braid the hair piece together with your own hair. Moreover it issufficient in case you want to wear your hair piece pinned up into a bun only.
For all other stylings, shorter hair and if you do not want to braid your own hair together with the braid we recommend our hair tie attachment with additional fishtail attachment. You cansee why in the pictures below. After you have pulled the hair piece over your own ponytail, your own hair is used to cover the junction and make the hair piece stay in place, see collage 1. this is much easier to do, less stressful for your own hair and also easier to handle with more hair than most of us usuallyhave, so the additional hair from the fishtail attachment is needed.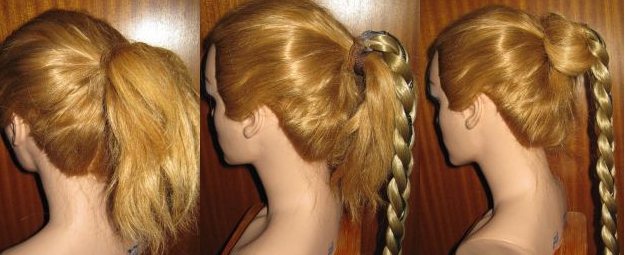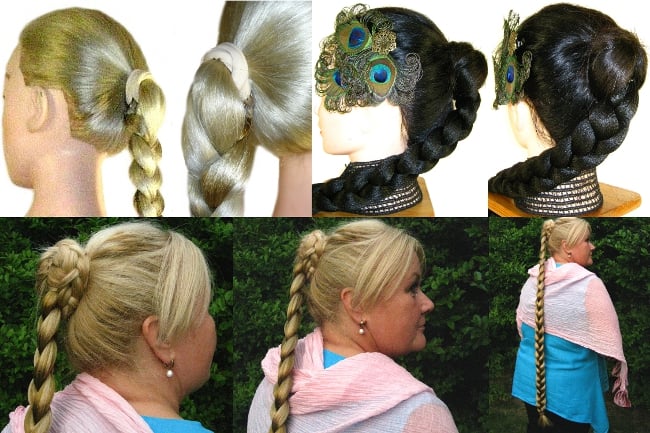 2. Hair tie with professional fishtail attachment
For all hair lengths and also convenient with fine/ thin hair.
The hair piece comes on a strong hair tie as well, but it has two additional strands of open hair, one on each side of the hair piece. These strands complement your own hair which means you have more hair to cover the junction and secure the hair piece. This makes attaching the hair piece much easier and more comfortable. When you braid your own hair together with the hair of the professional fishtail attachment you get a perfect fusion of your own hair and the hair piece which offers the strongest hold possible.

Hair pieces with professional fishtail attachment can be used for theatre and dance performances, too. On top of that most customers find this attachment more comfrotable and easier to handle than the basic attachmanet of a hair tie only.

By the way, I called this attachment fishtail attachment because the shape of the two additional strands reminded me of a fishtail. I warmly recommend the fishtail attachment for fine/ thin and regular hair and for hair which is shoulder long or shorter. Actually the professional fishtail attachment is never too much, you can also choose it with longer and thick hair. And last but not least it is perfect when you like the little buns which are formed on top of or around the braid or hair fall.


Different looks with our professional fishtail attachment
These are several options to try: For larger buns use your own hair, if sufficient, only to secure the braids and use the hair of the fishtail attachment for the buns only. The buns will get even bigger when you don't braid the strands but slightly twist each of them to make it more compact and then wrap it to buns. Naturally you can also try a mix and wrap one strand braided and the other one unbraided and slightly twisted.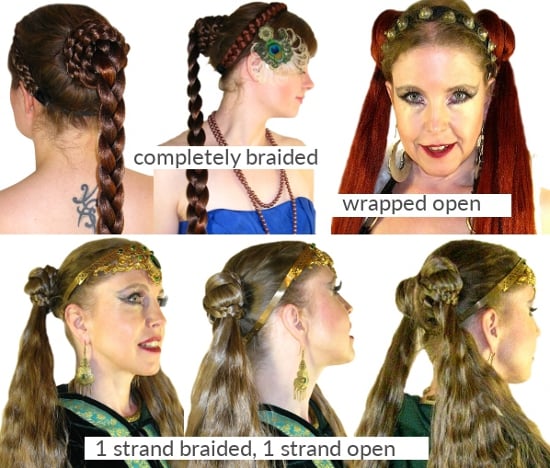 III. Hair Piece Care

Combing
Hair pieces of kanekalon hair with open hair must always be combed after wearing them. Braids must be unplaited now and then, be combed and plaited again, so you will always have a neat braid. If you pay attention to that, you will have very long-lasting hair pieces!
Hair falls and plaits are easily combed with a big highlight comb, look for a hand sawn one as these don't have sharp edges which could harm hair. Especially with hair falls which are worn open I recommend using body lotion and rubbing it into the hairpiece before combing it. This makes the comb glide through it easier and less hair will break. You can also make a care spray of your own.
How to make a spray conditioner for hair pieces of kanekalon hair
Take an empty pump spray bottle (spray tanning lotion or spray hair conditioner for example) and fill it half with water half with body lotion/ or 1/3 water and 2/3 body lotion. You must try which mixture works best with the spray bottle you use, some bottles take less fluid liquids and some won't work with them. Close and shake before use - done! Please notice: If the hair falls get too wet by spraying let them dry before combing them. This is the major difference between synthetic and real hair.
Want it even more comfortable? Then buy a bottle of spray MILK Body Lotion, which is more liquid than body lotion!
Washing
Your hair fall may be washed in lukewarm water (30 degrees). Only falls with feathers should not be washed, because the feathers could be damaged. Take out hair clips if you have attached some of them. Put water into a bowl, mix shampoo (do not use anti dandruff or shampoo for oily hair) into it and put the hair piece into the water-shampoo mixture.
Do not knead or wring your hair piece, just take it out of the basin at its hair tie and let water run over it. Hang it up and let it drip dry or put it onto a thick towel and then hang it up. Do not comb when wet or run your fingers trough it! Do not dry it with a hair dryer or expose it to another heat source, the hair will charge electrostatically will tangle more quickly or even become felted.
How to store hair pieces
The best way to store a hair piece is a paper box where it has enough room, so you don't have to fold it so it won't get buckled.
Never store hair pieces in a plastic bag, we use these only for safe packing for shipping! Never hang them up just on the wall where they will catch all dust and never hang them up between your clothes in the ardrobe, where they will get felted because of the friction from both sides.
Last chance for worn out hair falls
Even if you take good care of your hair fall it will not last forever, of course. If the ends become worn out just cut the last 3-5 cm/ 1-2''. The effect is the same as with real hair; the rest of the hair fall will fall nicer again, is easier to comb and looks "healthy". If this doesn't help any more check if your hair fall still looks great when worn as a plaited braid and if your plait can still be used for making a bun. Worn out hair falls with open hair can also be used for making huge & wild buns. Such buns you get easily with backcombing which would destroy a neat fall but a worn out hair piece is perfect for that!



IV Delivery time
Shortest delivery time is in autumn and winter (November to February).
Longest delivery time is in spring and summer (March to October) with its peak in June, July and August.
This also means we adapt/ update delivery time through the seasons in our shop and when you check in February you might find a much shorter delivery time for your desired item than in March or June.

Our custom color hair pieces have the longest delivery times, because naturally we can only custom-match them when we make them to order. Please place your order in time for the event you need your hair piece for! However there are more time-consuming and less time consuming models, so delivery time of different custom hair pieces varies a lot, too. Since we make everything ourselves, from color mix over hair texture up to the arrangement of the hair in the falls/ braids/ headbands etc., some hair pieces already need about 1 week to fix, to make your desired hair texture stay (all curly and wavy hair pieces). As you can see, we really make the whole products ourselves, so production times of 1-4 weeks are normal and then the post needs some time to transport your parcel as well, depending on where you live!

You find delivery times for many countries with each item on top of the item description and in your shopping cart. If you are planning to order several customized hair pieces of kanekalon hair, feel free to contact us in advance about delivery time. It is usually the item with the longest delivery time in your order which sets the maximum time you have to wait. But if you order 2 or more of our custom color hair pieces, we might need a bit longer and maybe you would like to know this in advance.