Hair Pieces, Braids, Headbands & Buns in Custom Colors MAGIC TRIBAL HAIR
Welcome to my shop! I am Melanie, hands, mind and heart behind Magic Tribal Hair - or simply your hair fairy ;)!
My web shop is different from other hair piece shops, because here you pick your desired hairstyle and have us make it in your hair color! That's right - you needn't worry about us not having your hair color! We can imitate all natural and dyed hair colors, all shades of red and grey and even crazy colors like blue, purple, turquoise etc. in our custom color hair extensions. This means all our hair falls, braids, hair buns, braided headbands and other styling helpers are handmade to order and you will get your very own unique hair accessory, isn't this perfect?
Read my quick instructions for custom color matching & ordering at the top of the FAQ page! Naturally I'll help you to give me the right instructions for crafting your customized dream hairstyle. You can't find your desired hairstyle among my offers? E-mail me a picture and I will let you know which hair piece you need!

Did you know that our professional attachments provide extra strong hold and make your hair extensions stay in place all day & all night long? Bride and bridesmaids want their hairstyle to last during the wedding ceremony and the celebration, artists and tribal fusion belly dancers need safe hold for their stage performances, when you spend an entire day at a medieval market or reenactment, do a Cosplay or Fantasy Larp you surely don't want to restyle your hairdo either. I kept all these obvious needs in mind when I developed special attachments for hair pieces by Magic Tribal Hair and there are solutions for short hair (minimum length 5 cm/ 2 inches), too!

One hair piece = many styling options!
Most Magic Tribal Hair pieces are multi-purpose hair extensions which is also due to our natural attachment options that offer this flexibility! Wear your hair fall in a braided or twisted braid, too, put the braid up into a nice chignon or make a layered updo with the open hair falls! This is great fun and saves you a lot of money. Plus you needn't go to the hairdresser for a fancy hairdo for festive occasions like weddings, proms, anniversaries... because these stylings are so simple that you can make them at home in just a couple of minutes! 
Would you have imagined that all these stylings are made of the same hair piece in different hair colors?

Let me be your online hair stylist and you will have amazing good hair days with just gorgeous hairdos from natural to pompous hollywood diva style - just as you like it! I'll do my best to make your hair dreams come true! Have fun browsing the many styles and contact me for any questions, I personally do all the communication (messages, telephone, facebook etc.), so it's always me you talk to.
I'm looking forward hearing from you, Melanie at Magic Tribal Hair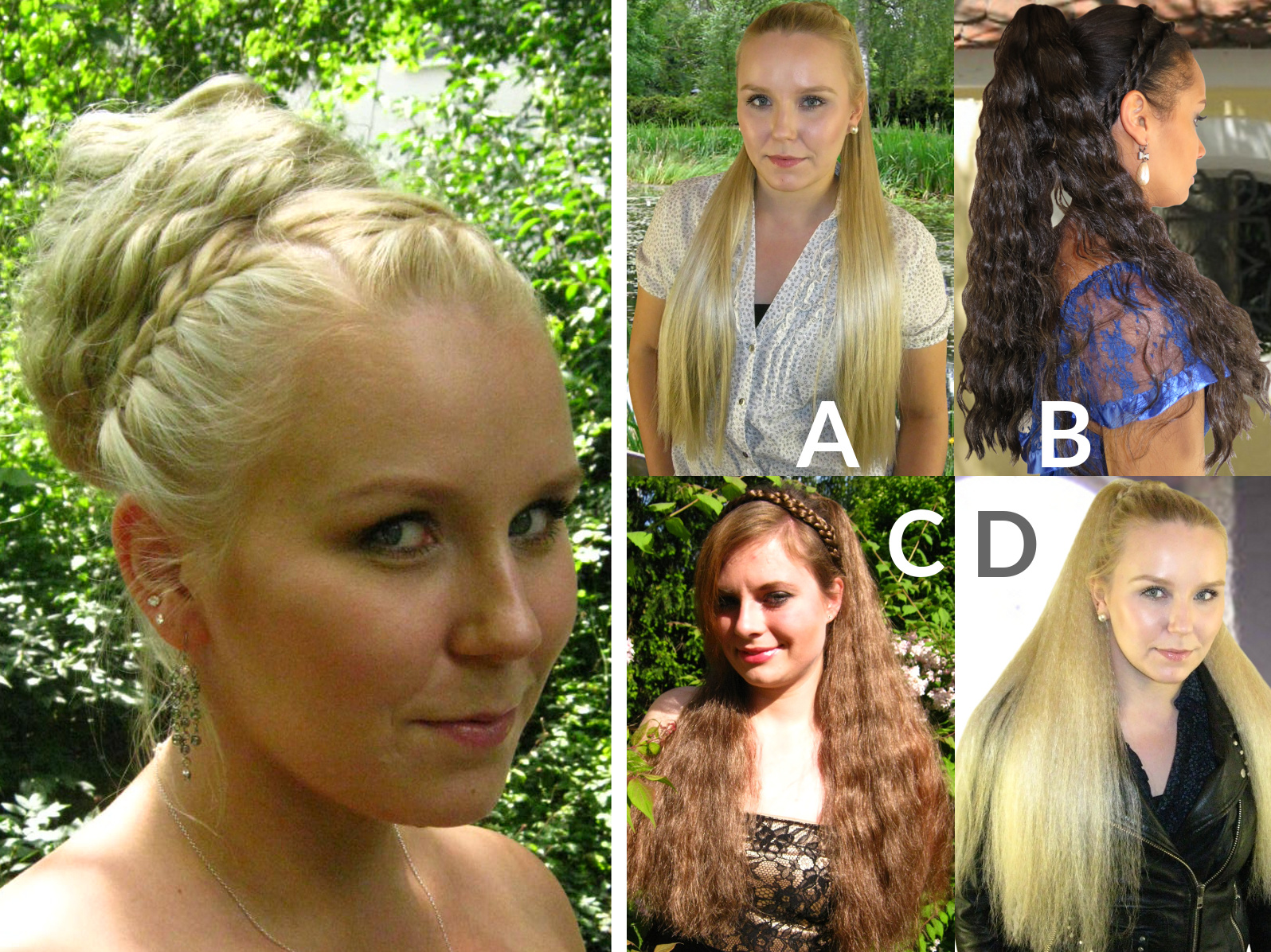 07-09-2019
Use your hair piece for several hairdos - for example a...
Read more