Posted on
By Melanie Penners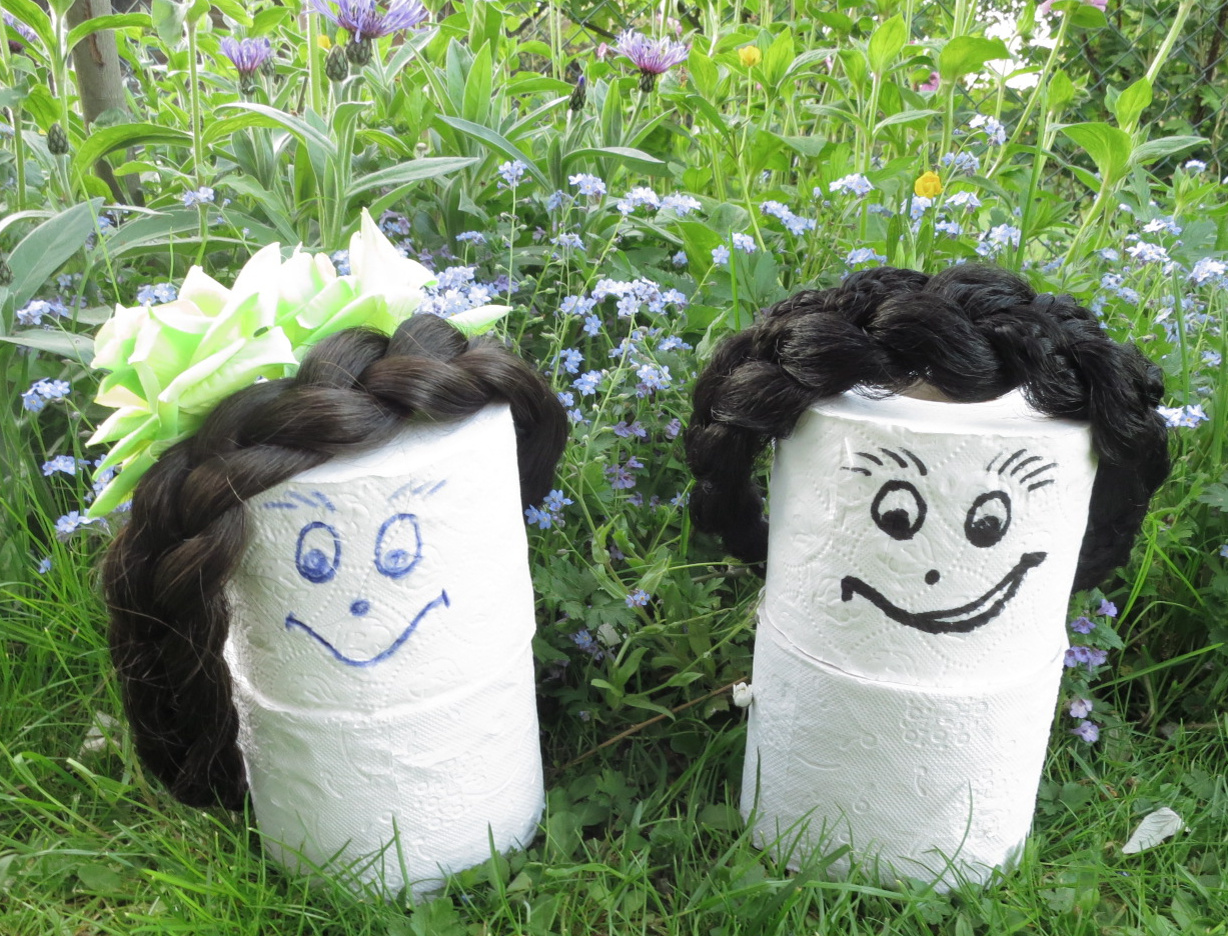 Mastering the crisis: Meet my toilet paper girls Cloey and Loouise, the perfect social distancing models! They have some real styling tips and some weird and crazy ones for you, too!
Loo paper models? Has this Magic Tribal Hair chick turned nuts while staying at home? These thoughts could have aroused while checking my facebookpage during the past few weeks. 

Nuts, yes, I guess I've always been a little and staying at home really drove me crazy. I have my hair studio at home as well, usually this is practical but has been quite lonely recently! So I got some new company to shoot pictures with and to entertain you during these strange times, here is how this happened!


In the beginning there was toilet paper...
in the form of a special commercial ad I happened to see on Facebook. A jeweler presented a combination of a roll of toilet paper and a diamond ring, I reconstructed the ad with one of my messy braid headbands.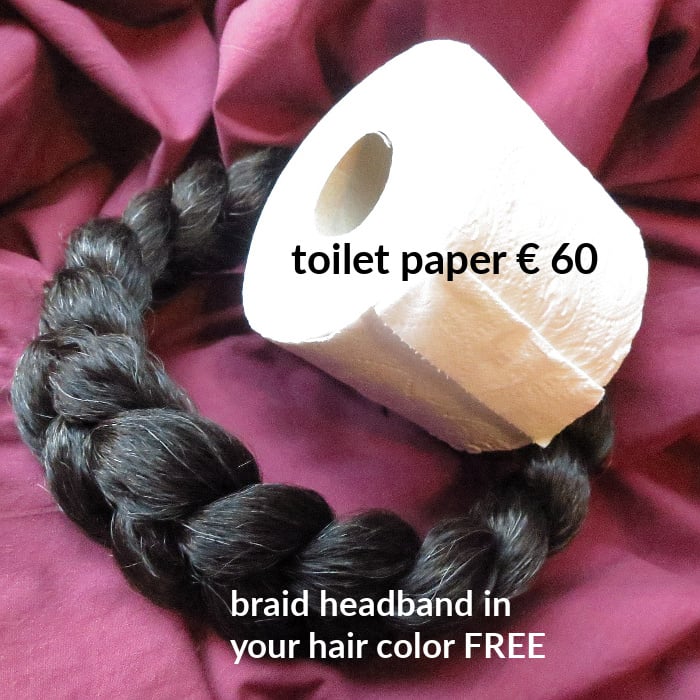 This is an extra thick messy braid headband in very dark brown (colors 2 and 3) with first grey hairs (color NW), you can see the colors in the color charts in the item description of the headband.



The roll of toilet paper needs a face - welcome, Cloey!

I loved the jewellers idea and naturally I could have reconstructed the pic with many of my custom color hair extensions, but it would not have been any idea of my own. Doing something with toilet paper which, these days, seems to be the most valuable thing like "fluffy paper gold on a roll" exited me though.  

But didn't I need models, and a loo paper roll isn't a model without a face and such, I tought. So the penny had dropped, the pen had been taken out! I am German, the German word for loo (note non-British readers, this is a British informal word for toilet) is "Klo" which is pronounced like the first syllable in Cloey - so the name was obvious! I love talking names and German Cloey should have a British friend, can you guess her name already?




First pictures with Cloey and Loouise: Cloey is wearing extra lightweight dread falls and Loouise a tribal fusion belly dance hairstyle with a pair of elf braids and amaryllis hair flowers. 



Cloey is having her British friend Loouise over for Easter 

2 models make it much easier to tell funny stories, can you distinguish them? I used the same face for both of them in the first pictures as you can see above but then I gave each toilet paper girl her own face, Cloey's in blue and Loouise's in black.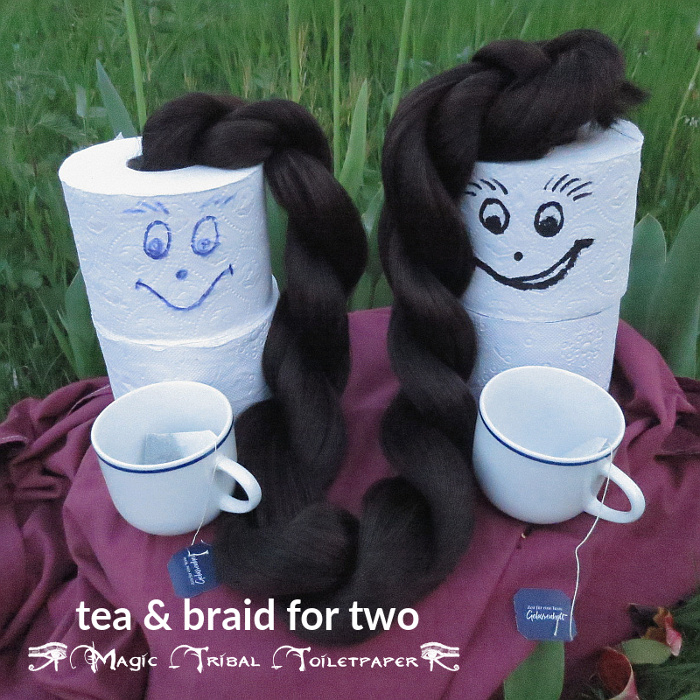 While enjoying their cup of tea, Cloey and Loouise are wearing a 36 inches/ 90 cm long medium twist braid hairpiece.


Fun fact: I automatically assigned different hair colors to them, blond and fair browns to Cloey, darker browns and black to Loouise. I noticed only later then I drifted from this scheme. Below you can see my Easter greetings still in "correct hair colors".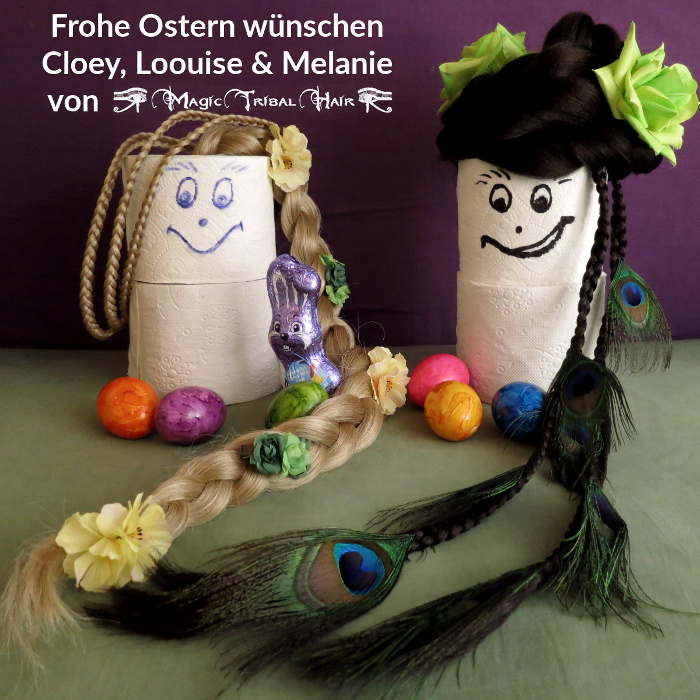 Cloey is wearing a very natural M size braid of wavy hair and a triple braid headband. Loouise pinned up the long braid from the tea time picture into a fancy afro twist bun and added a peacock hair piece with 7 feathers as eye-catcher. Please excuse me not being able to share a link to the eggs and the chocolate Easter bunny, they were delicious and vanished somehow! 



When I switched their hair colors, the girls promptly reacted...

Cloey: "Hey, Loouise, you are stealing my hair color!"
Loouise: "So are you!"
I intervened: "Haha, didn't you know that you girls can just wear anything with your fine-pored loo paper complexion?"
Cloey: "That is so true, we are better off than you humans. You have to dye that mop of hair on your head, you cannot just add any hair piece you want!"
Loouise grinned happily and nodded.
Me: "Thank you for the mob, but this is why I match the hair colors of the hair pieces to my human customers' hair. So they needn't dye their hair, because I make everything in their hair color."
Loouise and Cloey: "The is loo-tastic!"
Me: "Let's better say hair-tastic for humans!"
The girls rolled with laughter and agreed.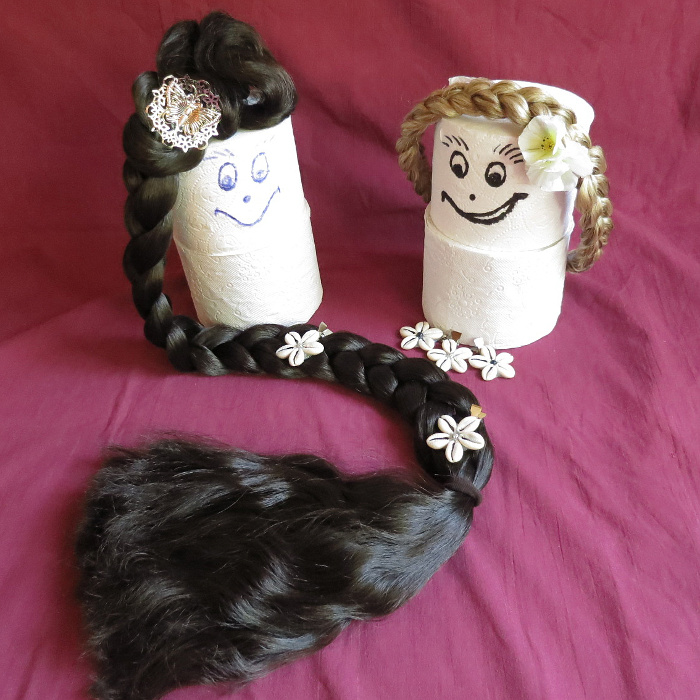 Cloey is wearing a 36 inches/ 90 cm long L size braid of wavy hair she adorned with cowry hair flowers. Loouise is wearing a slim braid headband in messy look.




Cloey's marketing fail for hair flowers

Cloey: "Look, Loouise! When I stand here, I needn't buy hair flowers at Magic Tribal Hair!
"Great idea!", Loouise shouted rolling on the floor laughing.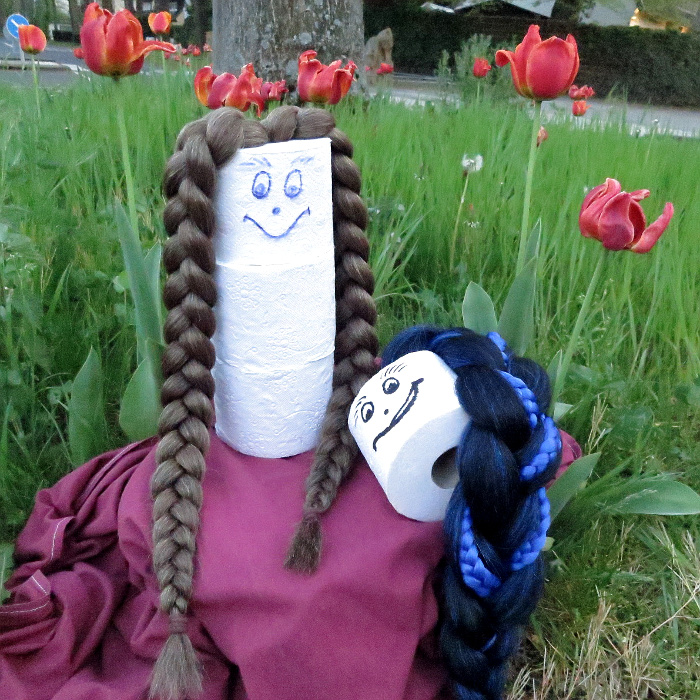 Cloey is wearing a pair of the most simple braids from my hair piece range, these braids make many more hairdos, so you find them in many places of my shop which makes it easier for you to find the hair piece for the hairstyle you want to create! Loouise picked the supersize fantasy braid for today, a lush and chunky braid hair extension with 2 interwoven braids in the braid.




Loouise gets hair flower marketing right

Loouise: "Look, Cloey, at Magic Tribal Hair I found some flowers that match my hair colors much better!"

Phew, that was close, but you cannot expect loo paper girls to know everything ;)!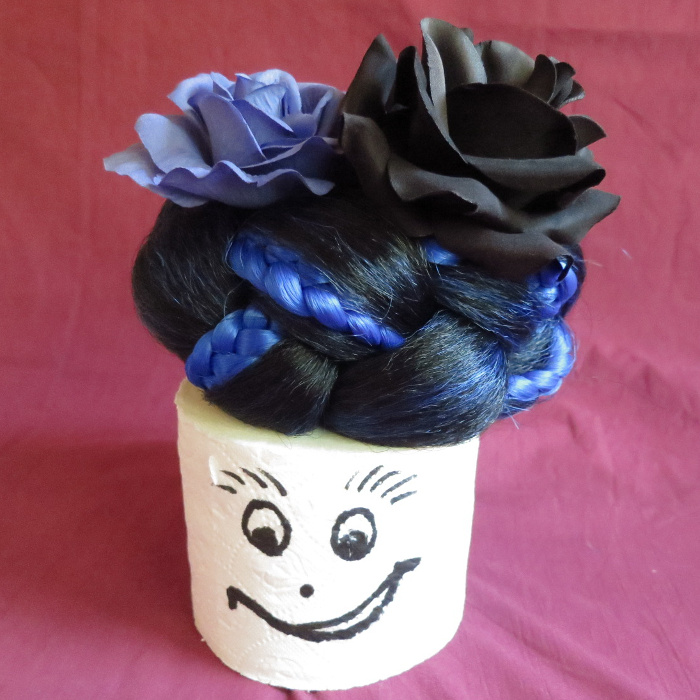 Another hairstyle with the supersize fantasy braid - the super lush fantasy hair bun!



Outside trips - with hair pieces and toilet paper!

The first pictures outside I took in my neighbourhood here in Cologne. I live at the edge of town and used early evening hours but still there is always someone on the road here. A woman decorating toilet paper rolls with hair pieces at a roundabout surely looks strange to most people. What would you think going past this scene?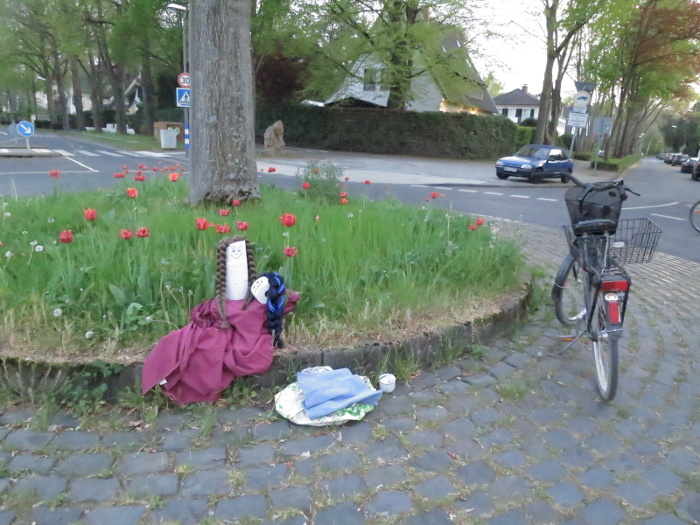 I am not in this picture but you can see my bike on the right, my means of transport for your parcels to the post office, by the way ;).


My mother's garden is a more pieceful place where no-one can see me doing crazy toilet paper arrangements! My mother had fun, too, she was watching from a safe distance from her deck chair and shouted all the ideas for pictures right accross her garden. Luckily the neighbours weren't outside so we didn't disturb anyone with our giggles and shouts. Some of my mother's ideas will be included in the fairytale quiz with the loo paper girls coming soon!



Mermaid cosplay with Cloey & Loouise 

While we have to go without any larps and cosplay events at the moment, my loo paper girls are taking a sunbath at the garden pond in mermaid costumes!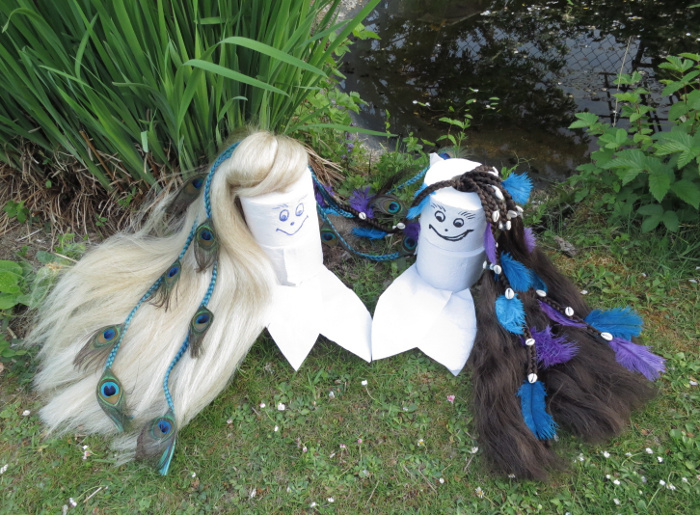 Cloey is wearing lush size M hair falls of crimped hair and a set of peacock feather extensions with turquoise braids. Loouise is going for a fantasy magician hair fall in mermaid style with lots of flufffy ostrich feathers in mermaid colors and cowries - a mermaid's hair dream!



Cloey - the crazy gal

Naturally the girls have their special traits of character, too, Cloey is always the one with the crazy and weird ideas while Loouise is the more reserved one.

"Look, Loouise, I am wearing forgetmeknots!", Cloey proudly states.
Loouise looks puzzled: "What's that on your hair?"
Cloey asks back: "Haven't you seen forgetmeknots before?"
Loouise laughs: "Yes, I have, your butt is blooming with forgetmenots right now!"
Now Cloey looks puzzled.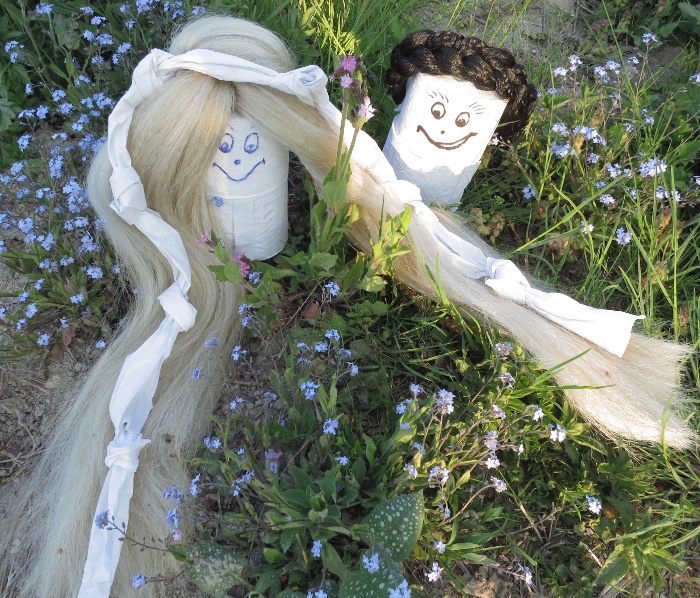 Besides her forgetmeknots Cloey is wearing lush hair falls in size M of crimped hair and Loouise is wearing a Rapunzel braid headband in messy undone look.



Cloey thinks wearing a braid headband the regular way is boring, she insists on putting them on askew.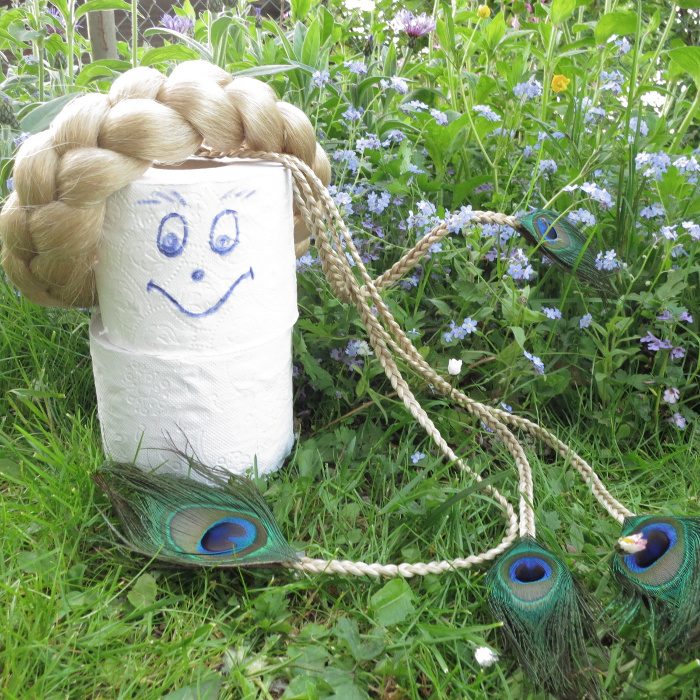 Here she is wearing an XXL Gretel headband and a peacock clip-in hairpiece with 4 braids. 




Whom are you more alike, slightly weird and a little crazy Cloey or down to earth Loouise with classic and neat hairstyles?

By the way, if you take this literally, Cloey is wearing the neater hairstlye here with her French braid style headband, because Loouise's headband is the messy style Rapunzel headband again!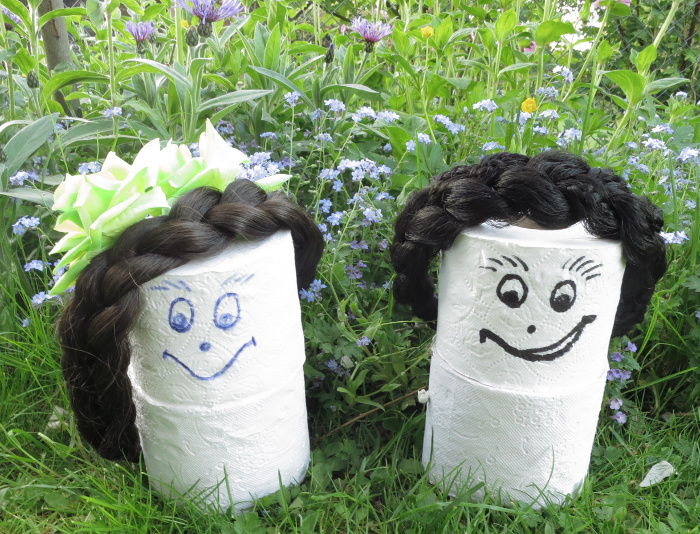 Well, I know, who I'm more alike with my mop of fuzzy hair that even makes the wide Rapunzel braid headband in messy look almost disappear ;)!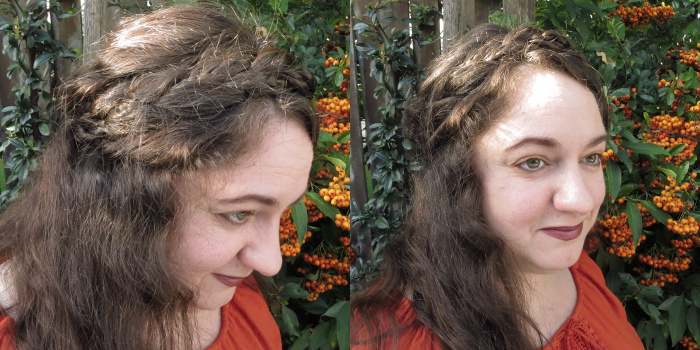 To be continued, Loouise and Cloey will soon get company from their American friend John which is the American equivalent to loo, yep I do love talking names ;). 

Stay healthy!
Melanie C Penners at Magic Tribal Hair