2 flower hair clips/ hair flowers with 1 large white amaryllis each, attached to professional metal hair clips for very strong hold (minimum hair length: 5 cm/ 2 inches).
Size: about 15 cm/ 6 inches diameter.
Some pictures show one clip only, but you will get two pieces per purchase!

Amryllis match many styles and are wonderful for formal occassions like proms and weddings and for alternative outfits like fantasy, tribal fusion belly dance, boho & gipsy style and Goth & cyber looks, too!



Magic Tribal Hair exclusively uses strong, professional hair clips which provide very strong hold. Moreover these clips do not have any teeth, so they can be worn on all fabrics without pulling threads.
This means you can wear all our flower hair clips as shoe clips, brooches on a collar or shoulder strap, as bag clip and even on flat jewelry like larger earrings and flat rings as well - hair flowers by Magic Tribal Hair are many in one items! And last but not least, the clip is alway entirely covered by the flower, so it does not shine through, see the picture below for details. 

Some pictures show this item in combination with further hair jewelry, hair pieces etc.. These other items are not part of this offer but can be found in different ones in our shop!

All hair flowers are hand-made to order.

Hair jewelry cannot be returned for hygienic reasons.

Contact us for any questions about our hair flowers/ flower hair clips!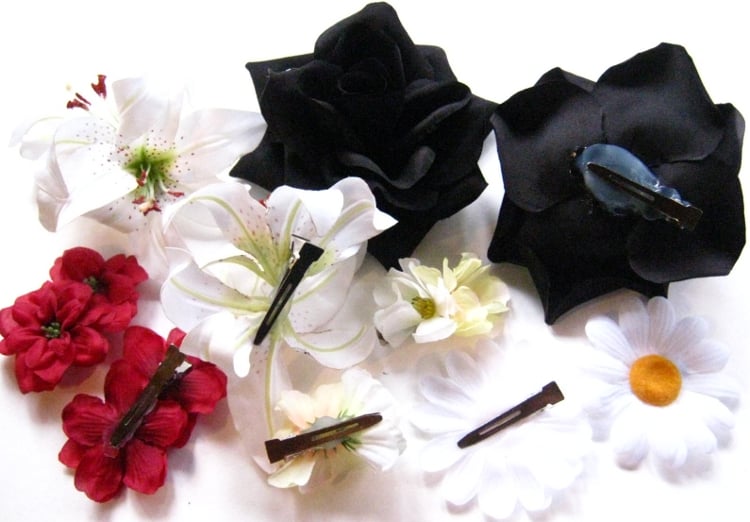 Reviews are published only upon authentication. Reviews which cannot be linked to an order are not published, so please insert the mail address of your order with your review! Naturally your mail address won't be published. All details here!
Sehr schöne größe Blüten! Halten gut im Haar.
The flowers were beautiful but the clips were not hidden as advertised and the glue was very obvious. The edges of petals were slightly singed where they were treated to stop them fraying. The seller considers "trying on" to be "wearing", so it is very difficult to get a refund. The customer service is also extremely poor, so I have paid for the postage twice and not received a refund at all, despite the product not being as advertised. I expected far better quality and service for the price.


Melanie responded on May 31, 2016

Hair jewelry cannot be returned for hygienic reasons, see our policies. You returned the 2 hair flowers without the original wrapping. The flowers smelled fragrance, the clips were greasy, there was some hair in one of the clips. These are typical results from wearing. You might not have used the hair flowers the way they are supposed to be used, because neither the clip attachment nor the glue can be seen since they are both under the blossom and thus entirely hidden by the blossom and by your hair. The listing pictures and item description state how to use them properly. On top of that I provided extra service and helped you through messaging some more styling tips. Then you informed me that you did not want to communicate anymore. You paid for postage once, I have not received any second payment from you.
Sie passen einfach perfekt als Kontrast zu meinen schwarzen Haaren, und da ich schwarz/weiß Kontrast liebe, auch zur passenden Tanzkleidung.
Sehr edel die weiße Amaryllis. Passt gerade perfekt zu meinen schwarz\weiß Hüfttüchern.