Hair Jewelry: Hair Flowers, (Feather) Fascinators, Steampunk & Gothic
Handmade multi-purpose hair jewelry for many occassions!
Magic Tribal Hair offers handmade hair jewelry for many occasions, from weddings to casual, from hippie and boho look to Goth, pinup and steampunk style, for first communion and for tribal fusion belly dance and burlesque performances... Have a look at our many different hair flowers, noble peacock fascinators, cowry and ostrich hair clips! Discover our special range of steampunk & Goth hair jewelry with filigree metal hair flowers, cameo hair clips, and Neo-Victorian fascinators with vintage gears - up to 80 years old!


Professional clip attachment for strong hold
All our hair jewelry is handmade to order and comes with a professional clip attachment for extra strong hold in all kinds of hair, minimum hair length is 5 cm/ 2 inches only. Repeat customers love our hair jewelry as much for its unique look as for the professional clip attachment. Some even tell us that they had already given up on hair jewelry, because they couldn't find anything that would stay in their hair! So they were happy to discover our offers.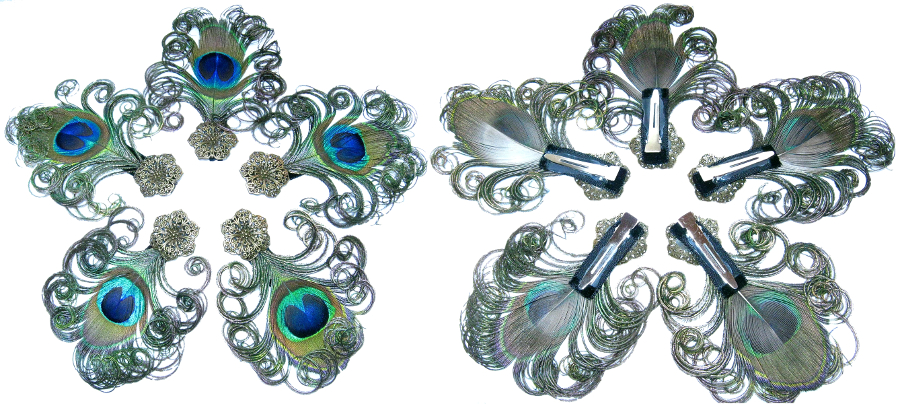 The secret behind our clip attachment
The secret behind our hair clips is very simple: A strong metal spiral in their closing mechanism makes them durable and provides strong hold. The surfaces on the inside are smooth which provides much better grip than hair clips with teeth. Mass-produced hair jewelry usually comes with such crocodile clips, so most people are used to this kind of clips. In fact these small teeth often combined with a weak spring in the closing mechanism are the cause of the hair jewelry not staying in place. If there is a strong spring in the closing mechanism like in our clips, crocodile clips will stay in quite well, too, but then the little teeth can break hair. Moreover you can only use them on hair, while our pieces of hair jewelry are real multi-purpose items! 


Your hair clip can be a shoe clip and a brooch and a ring and an earring...!
Our professional clip attachment ensures a multi-purpose use for most pieces. Use your own creativity and find out how you would wear our little eye-catchers: as shoe or bag clips, on the shoulder straps of a top, on the collar of a blouse or on a tie... You can even use it to transform your jewelry - Put a steampunk clip on a flat ring or larger earring and you have instant steampunk jewelry! The only limit is set by the size of a piece - some flowers and fascinators are simply too large to be worn as shoe clip etc.. We noted all measurements for you in the item descriptions. We also recommend to get extra pieces as shoe clips, because you might not want to wear them in your hair with dust from the ground.