Make your own braid longer and thicker with this little styling accessory! 
This hair filler braid is made of natural wavy hair and is perfect for braiding together with your own braid. Slightly wavy hair matches straight to natural wavy hair. If you have afro-textured hair, please click here for your perfect s size hair filler braid, you can use it the same way as described below! Or click here for M size for afro-textured hair!
Pick the classic Indian paranda style with our basic attachment or go for our professional variant with our professional fishtail attachment - here are quick instructions with our basic attachment, find all details below in the attachment section!

1. Attach the hair piece to a ponytail of your own hair, the hair piece is placed best under your ponytail (in the pictures it is attached "wrong" to show you the hair piece better).
2. Braid together the hair piece with your own hair. If you pulled a part of your own hair into a ponytail only, braid in the rest of your own hair, too.


 

This hair piece is handmade to order as a custom match to your hair color! Click here for quick order instructions in your hair color!


2 volume sizes = amount of hair available: 
Braid wonder S size, see pictures with blonde doll: 100 cm/ 39 inches long and when open, 90 cm/ 36 inches long when braided, 2.5 cm wide/ 1 inch wide braid when braided, somewhat thicker when you braid in your own hair! 

Braid wonder size M, see pictures with red-haired model: 100 cm/ 39 inches long and when open, 90 cm/ 36 inches long when braided, 3.5 cm/ 1.4 inches wide braid, somewhat thicker when you braid in your own hair!

We deliver the hair piece unbraided, so it's ready to braid in your own braid. After wearing you just unbraid it, comb the hair and store it in a paper box until next use. You will love thislong-lasting hair piece and the new styling options!

Please understand that this personalized item is made to order especially for you and cannot be returned! Read all details in our general terms and conditions.
Some product pictures show how to combine this hair piece with other hair jewelry, clip-in hair pieces etc.. These items must be purchased extra.

We only use Kanekalon hair - best quality in synthetic hair! 
Kanekalon hair has a real touch feeling, a natural shine and is very carefree.

All hair pieces are delivered with detailed instructions for attachment, use and care. 


Attachment
Pick the classic Indian paranda style with our basic attachment or go for our professional variant with our professional fishtail attachment which comes with extra hair to cover the bonding part of the hair piece!
A classic paranda like women in India wear is made of 3 strands that are tied with thick thread on top. We adapted this principle but bond the hair on top no matter which attachment you choose. Our bonding is substantial for a long-lasting hair piece, because you'd pull strands out of an unbonded hair piece when combing it. When worn you would want to hide the little bonding part and this is done by neatly braiding the hair piece into your own braid and the additional hair from the professional attachment makes this process easier.


Both attachments work the same way, when using the professional attachment you just have an additional step where you work in the extra strands to cover the bonding part. 


Step 1 for fine/ thin hair:
Pull your entire hair back into a ponytail (see item pictures with blonde model in pink shirt above).
Step 1 for normal and thick hair:
You can choose whether you pull your entire hair back into a ponytail (see item pictures with blonde model in pink shirt above). Or whether you are just tying back your upper hair (see pictures below with red-haired model in blue cardigan).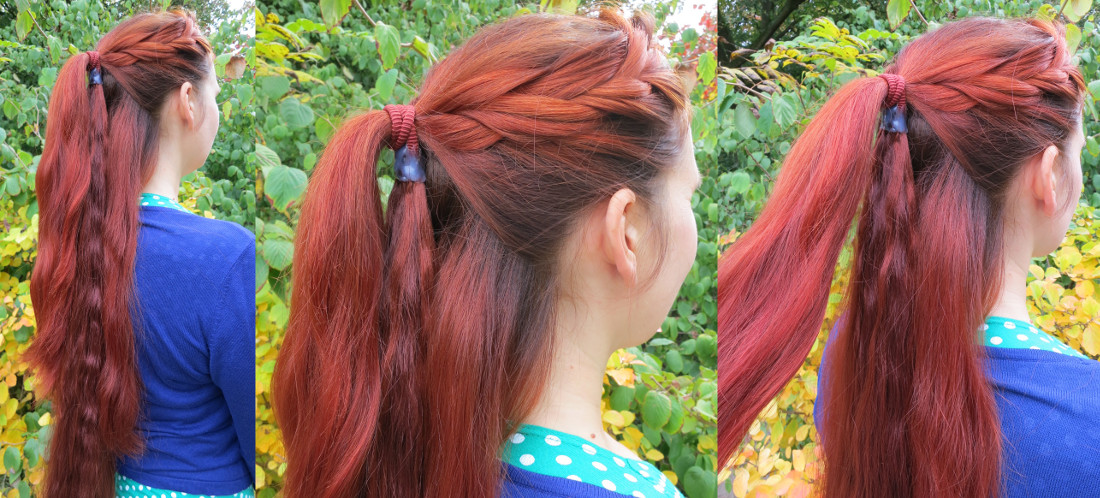 Step 2: Add the unbraided hair filler to your own ponytail by simply pulling it over with its hair tie. The hair filler is under your own ponytail. 
Wrap the hair-tie of the hair filler around your own braid 1-2 more times, until it is attached safely. You just pull the hair of your won ponytail through the elastivc hair tie, the hair filler hangs down over your back, so this might sound difficult, but it's very easy just like making a ponytail of your own hair ;).


If you have ordered your hair filler with our professional attachment, please click here to see the next step (Step 2 Addition) where we show how you use the extra hair to cover the attachment and hair piece bonding!


When you have the basic attachment, continue straight with step 3 below!




Step 3: Part all hair into 3 equal strands and braid it
The bottom part of the hair is parted in 2 strands, the ponytail made of the upper hair with the hair piece attached is the 3rd part.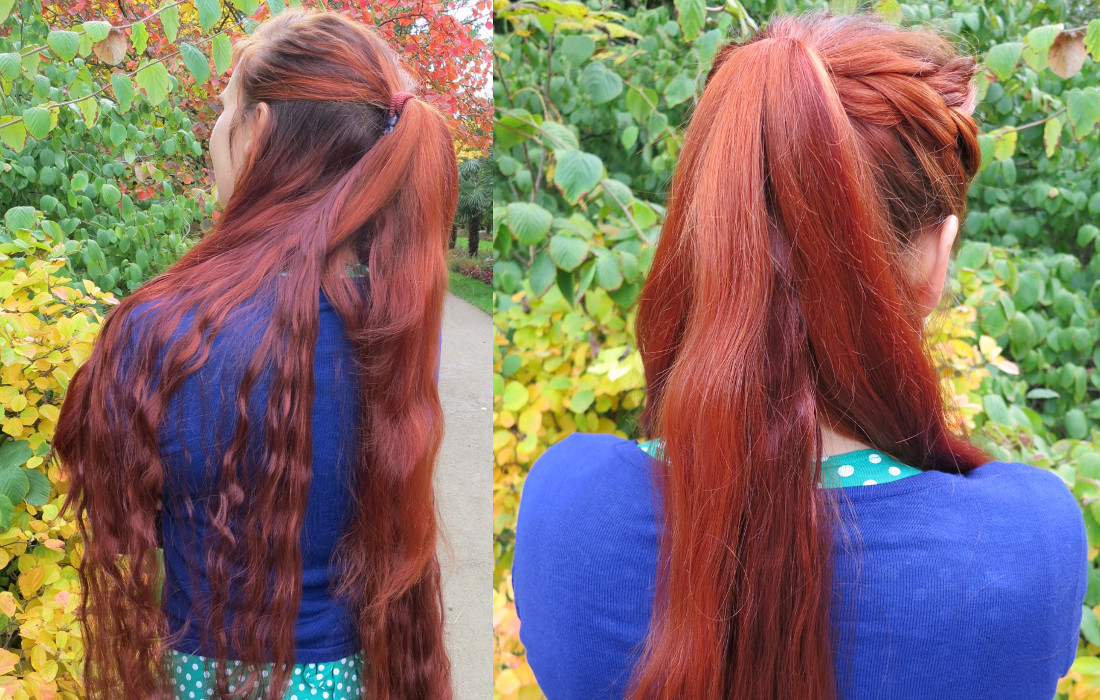 Since the ponytail with the hair piece attached is about 4 times as much as the bottom parts, it is parted into 3 equally thick strands for braiding of which 2 are joined with the 2 bottom strands. Then you can start braiding and if you have an equal amount of synthtic hair in each strand, you will get an neat and evenly braided braid as shown in the next pictures.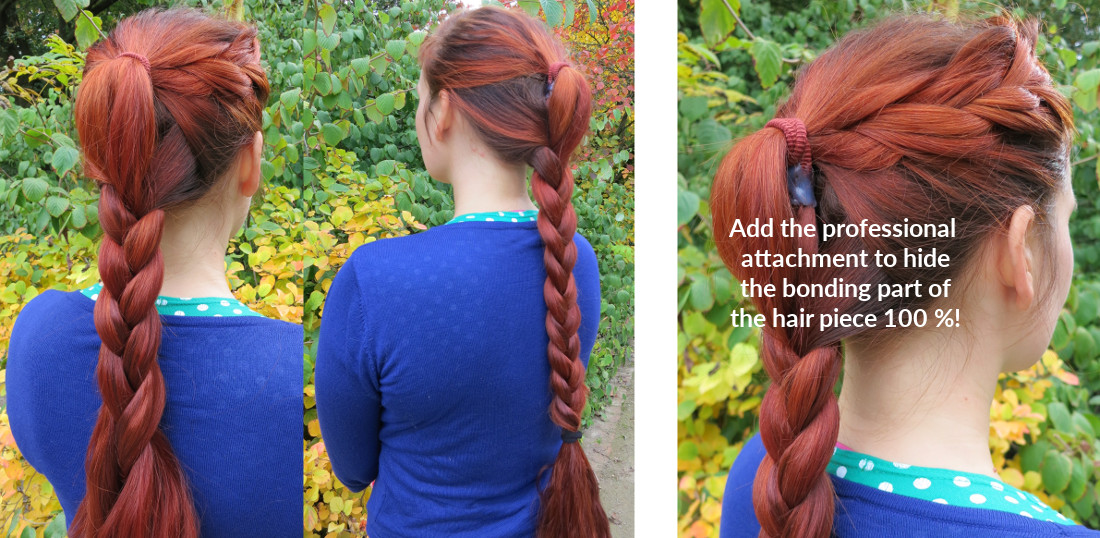 Step 2 addition: for braid wonders with professional attachment
If your braid wonder has the professional attachment with the two additional somewhat shorter strands of hair, you use it in between step 2 and step 3 to cover the beginning of the hair piece entirely. As an alternative to our professional attachment you can use hair jewelry to hide the bonding part at the beginning of the hair piece. The hair piece below is a Paranda braid in m size with professional attachment in unbraided version on the left and in braided version on the right.




Step 2 addition: How to use the professional attachment
After adding the braid wonder hair piece to your own hair as described in steps 1 and 2, you use the two shorter strand to cover the hair piece bonding and attachment by wrapping them around the attachment. One is wrapped around clockwise, the other counter-clockwise to get an even result. You can also braid the two strands before wrapping them around. The ends are fixed with hair pins or braided into the large braid, just as you like it.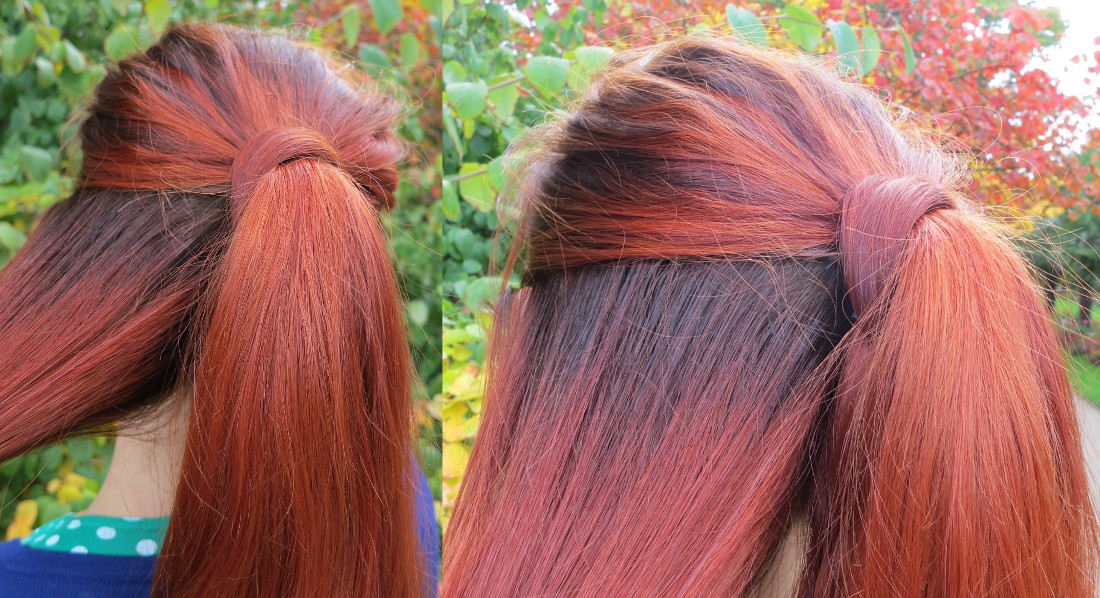 More options with the professional attachment variant! 
Our m size braid wonder makes a natural braid of its own, you needn't necessarily braid in your own hair to get natural thickness. This means you can attach it as full hair piece using our professional attachment as follows:
Make a ponytail of your own hair and pull the hair piece over it with it's hair tie. The hair piece can then be under your own ponytail as in the pictures below or be over your own ponytail. Each of the two shorter strands of hair of the hair piece is then braided together with half of your own ponytail, the result is the two additional braids. Wrap the two braids around the attachment, one clockwise, the other counter-clockwise, to secure the hair piece and hide the attachment. Secure with hair pins.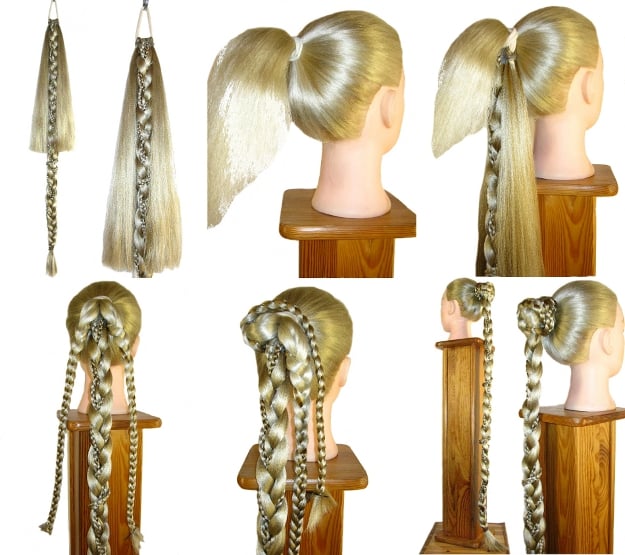 Hair Color
One's own hair usually consists of 2-3 colors, but for technical reasons with this extra long hair, we can only offer a mix of maximum 2 colors. So we include up 1-2 colors in the price. Colors can only be roughly blended, which results in a highlight mix when you choose two colors. If you don't want that, choose 1 color only. 
This means we might not be able to match your hair color for this extra long hair piece 100 %, but we can get very close. Feel free to check before your order how close we can get with our match. If you are not happy with that, you can still choose a shorter fall - we can always offer a 100 % match for 55 cm/ 22 inches hair falls!
How to give us perfect color instruction in 3 steps only, with the help of the menus above
The price includes a custom mix of up to 2 basic colors.


1st menu HAIR COLOR, choose your colors or enter "advice needed".
Press Ctrl and click 1 or two colors you wish to choose for your hair piece. You cannot choose more than 2 colors for this hair piece length. 
Option: If you want to make your purchase, but still need our support in choosing the best color match, choose "Advice needed!" instead. In this case delivery time cannot be met, because we can only start making your order when all information is complete. If extra costs because of a special colors occur, we will send you a manual invoice and delivery time will only start after payment for this second invoice has been effected.


2nd box for optional color proportions "Insert proportions for colors if desired here"
If you wish more of one color and less of another use the little message box to insert desired proportions (e.g. 2/3 of color 8 and 1/3 of color 30). When you leave this box free, we will use equal proportions of all colors.
Put the hair piece in your cart to safe your choice!
 
Do you need any help? Feel free to send us a picture of your hair and we will give advice! Naturall you can also order color matches to check color details yourself.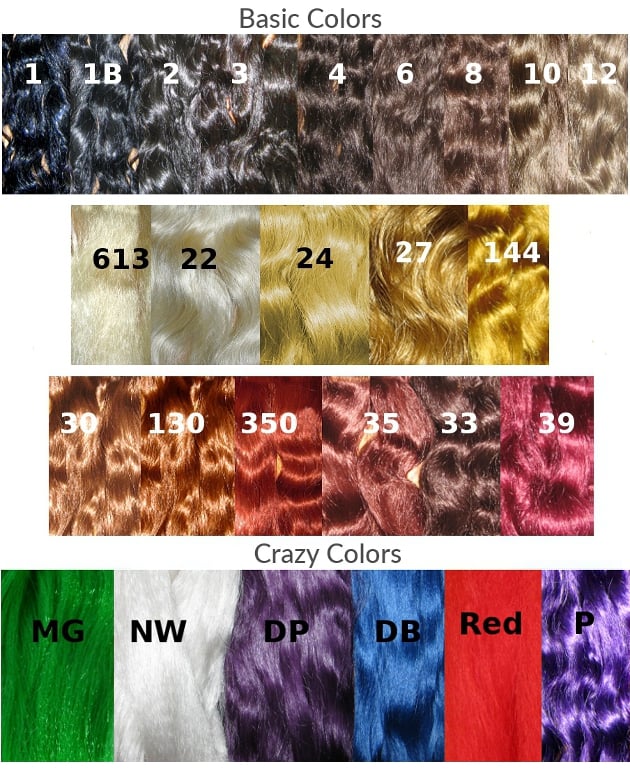 Contact us for any questions about our paranda style hair filler braids which are custom-matched to your hair color!
Reviews are published only upon authentication. Reviews which cannot be linked to an order are not published, so please insert the mail address of your order with your review! Naturally your mail address won't be published. All details here!
Der Traum von einem Rapunzelzopf wird durch dieses Produkt endlich wahr!
Ich war von der besonderen Qualität begeistert. Schön waren auch die gelegten Wellen... Die speziell gewählte Haarfarbe lässt den Zopf gut mit den eigenen Haaren "zusammenfassen".
Wunderschönes Haarteil.Perfekt zum Kombinieren.Ich werde es auf den nächsten Events mit Freude tragen und bestaunen lassen!