Hair flowers/ flower hair clips with 3 small green rose blossems each, attached to professional metal hair clips for very strong hold (minimum hair length: 5 cm/ 2 inches).
Size: about 5 cm/ 2 inches long.

Please choose a set size of 3 or 6 hair clips in the menu above!

These small hair flowers match many styles and are wonderful for formal occassions like proms and weddings and for alternative outfits like fantasy, tribal fusion belly dance, boho & gipsy style and Goth & cyber looks, too!
Magic Tribal Hair exclusively uses strong, professional hair clips which provide very strong hold. Moreover these clips do not have any teeth, so they can be worn on all fabrics without pulling threads. This means you can wear all our flower hair clips as shoe clips, brooches on a collar or shoulder strap, as bag clip and even on flat jewelry like larger earrings and flat rings as well - hair flowers by Magic Tribal Hair are many in one items! And last but not least, the clip is alway entirely covered by the flower, so it does not shine through, see the picture below for details. 

Some pictures show this item in combination with further hair jewelry, hair pieces etc.. These other items are not part of this offer but can be found in different ones in our shop!

All hair flowers are hand-made to order.
Hair jewelry cannot be returned for hygienic reasons.

Contact us for any questions about our hair flowers/ flower hair clips!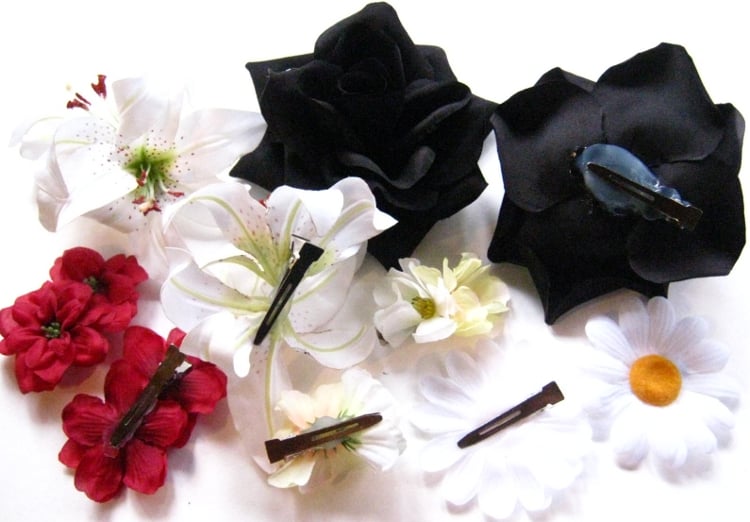 Reviews are published only upon authentication. Reviews which cannot be linked to an order are not published, so please insert the mail address of your order with your review! Naturally your mail address won't be published. All details here!
Sehr schöne kleine, grüne Blüten. Ich liebe sie.
Ich liebe die Qualität , das Aussehen und Material der Blüten. Dank dem Clip sehr vielseitg einsetzbar. Z. B. im Haar, am Kostüm oder auch als Accessoires für den Alltag.
Jedes Teil ist mit Liebe und von Hand gearbeitet.
Total süße, kleine Blüten. Verarbeitung wie immer top!
Ja, es steht dabei, Größe 5 cm. Ich fand, vorliegend wirken sie doch sehr klein. Aber: durch das Srt von 3 (oder auf Wunsch 6) Klammern, kann man sich eine Art Kranz oder Reif stecken. Nachdem die erste Enttäuschung über die Größe überwunden war, hatte ich sehr viel Spaß beim Probieren und bin nun sehr zufrieden. Passen prima zu meinen 'dunkle Sirene Dreads'.'