This gorgeous braided bun with long braid down updo is made of a pair of our most simple and extra long braid hair pieces - two size S braids in 90 cm/ 36 inches length of slightly crimped hair! The crimped hair texture adds extra volume to the updo but looks nearly straight when braided. See how this updo is made in the second picture !

Get the perfect hairstyle for your cosplay ceremony costume, your fantasy princess larp or Renaissance dress in a few minutes with these braid hair extensions in your hair color!

You will get the pair of braids which is perfect for the braided chignon and long braid down hairstyle, but also for many other hairdos! So you will be able to wear these hairpieces for other costumes and hairstyles, too, as braided or twist braids, as open hair falls and naturally you can also wear one braid only as a braid or pinned up into a bun! So many styling ideas with just two simple braids!
Click here to read more about our long-lasting bun-solution!
Handmade to order and custom-matched to your hair color.

Braids by Magic Tribal Hair are super long-lasting hair pieces, because they can be opened, combed and braided again (or twisted as a twist braid) - they look like new every time you wear them! Never wear a fringy braid again!
Size S of crimped hair makes gorgeous, rich pigtails, due to the crimped hair texture. Crimped means that the hair has tiny zigzag waves, hence the big volume. Crimped hair is very easy to braid and twist, yes you can also wear these braids as twist braids!

Last but not least a pair can also be worn as open falls, crimped hair is great for steampunk, fantasy and Goth styles!
These braid hair extensions are about 90 cm/ 36 inches long and 3.5 cm/ 1.4 inches wide each when braided.

Please understand that this personalized item is made to order especially for you and cannot be returned! Read all details in our general terms and conditions.
Some product pictures show how to combine this hair piece with other hair jewelry, clip-in hair pieces etc.. These items must be purchased extra.

We only use Kanekalon hair - best quality in synthetic hair! 
Kanekalon hair has a real touch feeling, a natural shine and is very carefree.

All hair pieces are delivered with detailed instructions for attachment, use and care. 


Attachment
Choose between two attachment options in the menu above. We recommend the professional attachment (2.) for this braid pair unless you have long and thick hair; up to the middle of your back and longer. Especially if you want to wear the braids for other stylings like pigtails as well, for this special updo here the professional attachment is not a must for hair that is minimum should long and for all thicknesses.
1. Basic Attachment = strong hair tie
You can choose the basic attachment, if your hair is longer than shoulder long and if you don't have fine/ thin hair. Still the fishtail attachment is most practical for braids and never too much, you can add it for any hair length! 
There are several ways to use the basic hair tie attachment:
1. The braid is opened, attached to your own ponytail and braided together with your own hair, see pictures with blonde haired doll below. This is the most time consuming attachment and you need some additional hair jewelry to cover the attachment properly and hide the bonding part where the hair is bonded with glue. Still this is a popular way of attachment for many customers.
2. Attach the braid braided to your own ponytail. Your own hair is used to counter-secure the hair fall by being wrapped around the attachment and being secured with hair pins (see first row with black braid). You can also braid your hair before wrapping it around (see second row with blonde lady). This makes an even nicer finish and it is easier to secure and less stressful for your own hair.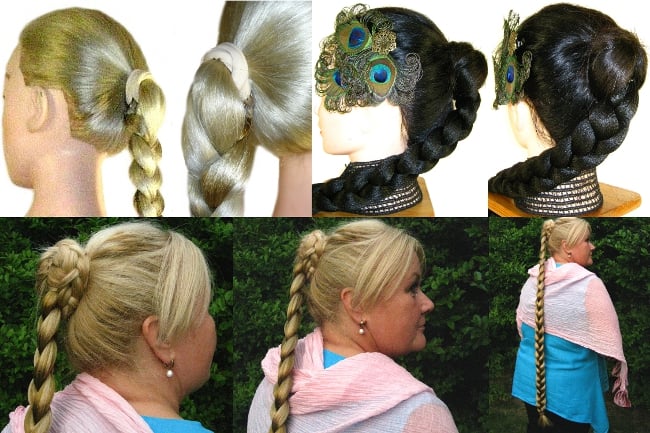 2. Professional Fishtail Attachment = strong hair tie and two additional strands of hair which complement your own hair so you have more to wrap around the attachment.
This means it's much easier to
1st secure the hair extension and 
2nd to cover the junction of your own hair and the synthetic hair!
The direct fusion of your own hair and the additional hair of the fishtail attachment offers maximum hold and is the most natural looking way to attach a hair piece!
This fishtail attachment upgrade provides extra strong hold (i.e. needed for acting and dancing) and most customers find it more comfortable to wear and easier to handle than the basic attachment. I named it fishtail attachment, because the two extra strands reminded me of the shape of a fishtail when I created this attachment method.
The fishtail attachment is highly recommended when you have thin/ fine hair or hair shorter than shoulder long. As it is never too much, you can even add it, if your hair is shoulder long or longer, of course. It is also nice to have, if you like the small buns which occur when the fishtail attachment is used.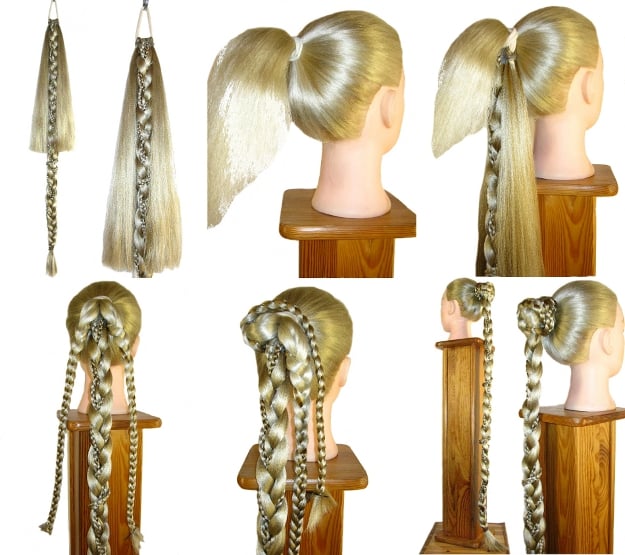 Hair Color
One's own hair usually consists of 2-3 colors, but for technical reasons with this extra long hair, we can only offer a mix of maximum 2 colors. So we include up 1-2 colors in the price. Colors can only be roughly blended, which results in a highlight mix when you choose two colors. If you don't want that, choose 1 color only. 
This means we might not be able to match your hair color for this extra long hair piece 100 %, but we can get very close. Feel free to check before your order how close we can get with our match. If you are not happy with that, you can still choose a shorter fall - we can always offer a 100 % match for 55 cm/ 22 inches hair falls!
How to give us perfect color instruction in 3 steps only, with the help of the menus above
The price includes a custom mix of up to 2 basic colors.


1st menu HAIR COLOR, choose your colors or enter "advice needed".
Press Ctrl and click 1 or two colors you wish to choose for your hair piece. You cannot choose more than 2 colors for this hair piece length. 
Option: If you want to make your purchase, but still need our support in choosing the best color match, choose "Advice needed!" instead. In this case delivery time cannot be met, because we can only start making your order when all information is complete. If extra costs because of a special colors occur, we will send you a manual invoice and delivery time will only start after payment for this second invoice has been effected.


2nd box for optional color proportions "Insert proportions for colors if desired here"
If you wish more of one color and less of another use the little message box to insert desired proportions (e.g. 2/3 of color 8 and 1/3 of color 30). When you leave this box free, we will use equal proportions of all colors.
Put the hair piece in your cart to safe your choice!
 
Do you need any help? Feel free to send us a picture of your hair and we will give advice! Naturall you can also order color matches to check color details yourself.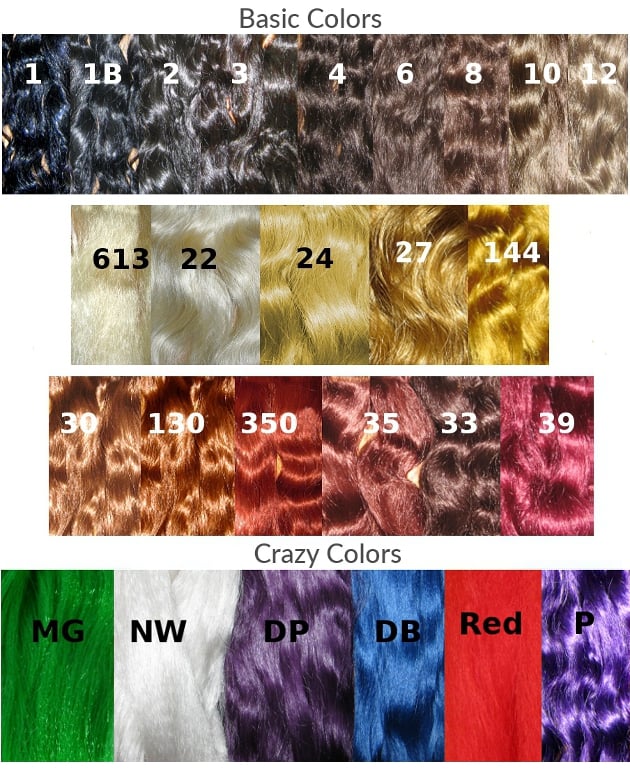 Contact us for any questions about our princess cosplay bun and long braid down hair extensions that are custom-matched to your hair color!
Reviews are published only upon authentication. Reviews which cannot be linked to an order are not published, so please insert the mail address of your order with your review! Naturally your mail address won't be published. All details here!
Beautiful craftsmanship, but I expected the bun to be preformed. I guess I didn't read the description deeply enough. But the 2 braids that were sent were gorgeous and I was able to figure out a solution for the bun, in spite of my lack of hair skills. Custom color was great!

Melanie responded on Oct 23, 2022
I am happy to hear you love your braids. All my hair pieces come with picture instructions, I hope you did not throw them away! The picture instructions for the braid to bun styling are also in the listing. You won't get a premade bun at Magic Tribal Hair, because I want you to have a long-lasting hair piece. A braid can be pinned up into a bun in under a minute and it is even easier to attach, has stronger hold and looks more natural. After wearing you can unbraid the braid, comb the hair and rebraid, so you will have a neat braid or bun again next time. You cannot do this with a premade bun, so it will look fringy after wearing a couple of times only while Magic Tribal Hair braids/ buns often last several years! You also save money with several styling options in 1 Magic Tribal Hair piece, isn't this awesome?
This hairpiece surpassed all my expectations! People literally thought this was my own hair. The color match was perfect and looked so real.
Le treccie sono bellissime!!! È la seconda volta che acquisto da questo venditore e tutte e due le volte sono stata molto soddisfatta e contenta.
Amazing! The seller even anticipated that global shipping may be slower than usual so shipped it out earlier. Excellent product and customer service. Can't wait to wear the braids with my Leia Cosplay!
gorgeous hair!!! matches mine so well and the seller was so helpful in getting a good color match and making sure it shipped on time. :)
Einfach sehr schön. Sitzt perfekt und sieht sehr gut aus. Kann ich nur weiterempfehlen.
absolutely stunning! perfect! thank you
Melaine was very specific with all the questions she asked me and some stuff I didn't understand but she got the colour match bang on. I couldn't have been happier and it was far easier to fit myself than I imagined. So happy and will definitely be back for my next cosplay hair piece. Thanks again
PERFECT BRAIDS! High quality kanekalon! Shipping very fast and the maker Is very kind and talented! Highly recommend!