Yarn hair fall model: Emerald fairy - typical fairy and elf colors!
Emerald & olive green
Length: approx. 60 cm/ 24 inches
Every single strand of yarn is sealed at its end, to avoid fringy or dissolving ends and guarantee a long-life item!
Attachment:
The fall comes on a strong, elastic hair tie and is added to your own ponytail. Very simple attachment which can easily be hidden and be used for updos/ buns and a braid, too!
Step 1: Make a ponytail.
Step 2: Pull yarn hair fall over it.
Step 3: Wrap hair tie of yarn fall around your own ponytail for 1 or 2 more times to secure the fall.
Step 4: Pull the yarn strands over your own ponytail's hair.


 
Attachment option:
If you wish to secure your yarn hair piece even more, braid your own ponytail and wrap it around the hair tie attachment. Secure with hair pins. This prevents the hair fall from slipping down and your own hair from sticking through the yarns. Or braid some yarn strands of the fall together with your own hair and wrap the braid around the attachment. If you have longer hair than the doll, you can also make two braids and wrap one around clockwise and the other counter-clockwise to get an even finish! This option provides a super strong hold and is excellent for stage performances!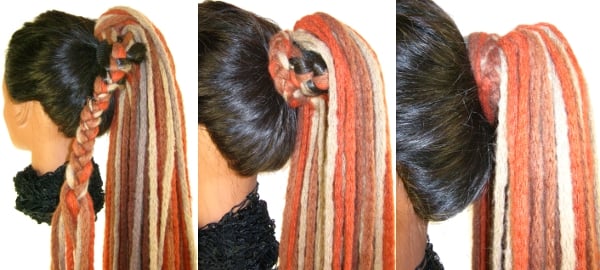 Each yarn hair fall is delivered with detailed instructions for use and care!



This item is hand-made to order especiall for you!
Please understand that hair pieces cannot be returned for hygienic reasons.
Contact us for any questions about our yarn hair falls!
Reviews are published only upon authentication. Reviews which cannot be linked to an order are not published, so please insert the mail address of your order with your review! Naturally your mail address won't be published. All details here!
Absolutely breathtaking
Bought these to go with my whole look for a Wardruna concert and wow ....they were perfect
These falls always bring out my inner Goddess but for this look I was all Witch!!!!!!!!!
Beautiful and easy to apply, I wore with my ren faire costume yesterday and was a great addition!
The falls are a beautiful shade of green and perfect for some of my pixie outfits
Ich war sehr überrascht, wie angenehm leicht das Haarteil ist. Das Anbringen ist kinderleicht und es sieht einfach nur toll aus! Ich trage es derzeit am allerliebsten zum Dutt gedreht, aus dem einzelne Dreads und Bänder heraushängen. Das ändert sich aber immer mal wieder. Ich werde also jede Form und Möglichkeit ausprobieren, die mir einfällt. Die Qualität meines Haarteils ist ausgezeichnet! Ich trage es jeden Tag und alles hält und ist so fest wie am Anfang. Wunderbar!