Each Flower Power surprise bag contains a set of 5 to 10 hair flower hair clips with beautiful blossoms attached to professional metal hair clips for very strong hold  each (minimum hair length: 5 cm/ 2 inches). The regular price of the hair flowers is two to three times the surprise bag price!

Size: the flowers differ from about 5-17 cm/ 2-6.7 inches in diameter each.

These hair jewelry sets are perfect for the lovers of hair flowers in all colors and naturally for (tribal fusion) belly dancers! 

This surprise bag is limited to 3 pieces per order, because we want many people to have the chance to get one!

We offer about 150 different hair flowers, so there are many more possible flowers which could be in your bag than the ones in the picture only! 
The pictures show surprise bags with English and German labels. Naturally you will get the English label when you order through the English site!
Magic Tribal Hair exclusively uses strong, professional hair clips which provide very strong hold. Moreover these clips do not have any teeth, so they can be worn on all fabrics without pulling threads. This means you can wear all our flower hair clips as shoe clips, brooches on a collar or shoulder strap, as bag clip and even on flat jewelry like larger earrings and flat rings as well - hair flowers by Magic Tribal Hair are many in one items! And last but not least, the clip is alway entirely covered by the flower, so it does not shine through, see the picture below for details. 

Some pictures show this item in combination with further hair jewelry, hair pieces etc.. These other items are not part of this offer but can be found in different ones in our shop!

All hair flowers are hand-made to order.
Hair jewelry cannot be returned for hygienic reasons.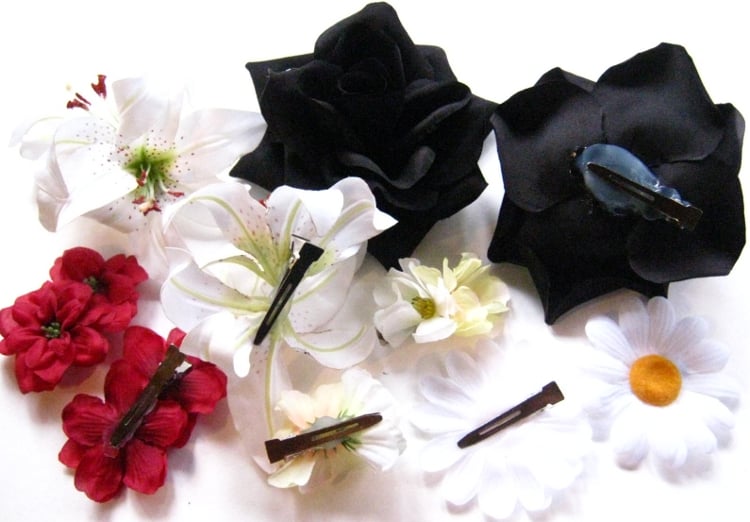 Reviews are published only upon authentication. Reviews which cannot be linked to an order are not published, so please insert the mail address of your order with your review! Naturally your mail address won't be published. All details here!
Ich liebe Wundertüten und war mit dem Inhalt absolut zufrieden.
Ich liebe die Wundertüten! Da ich eigentlich alle Haarblüten mag, fällt es mir oft schwer, eine Auswahl zu treffen. Hier wird mir die Entscheidung abgenommen und es ist immer wieder spannend, zu sehen, was man bekommt =)
Die Blüten sind wunderschön und jede für sich ein kleines Wunder.
Und eine schöne Überraschung., ich trage die Blumen gerne zu meinen Rockabilly kleidern und den passenden Frisuren als Eyecatcher