Hair fall, extra long, volume size M with wavy hair texture! A hair dream for brides, bridesmaids, weddings in general, proms and other formal occasions but also for gothic and fantasy outfits and larp or cosplay costumes!
Made to order and custom-matched to your hair color. 
A size M hair fall offers very natural volume and is our most popular hair fall size.
Wear it as open fall, braid it to a large braid or twist it to make a gorgeous twist braid! You will receive a many in one item!
All hair styles look natural due to the natural waves of the hair.

This hair piece is about 90-100 cm/ 36-39 inches long!

We have this hair fall in two more listings to show you how wonderful it matches different styles right in the overview!

Please understand that this personalized item is made to order especially for you and cannot be returned! Read all details in our general terms and conditions.
Some product pictures show how to combine this hair piece with other hair jewelry, clip-in hair pieces etc.. These items must be purchased extra.

We only use Kanekalon hair - best quality in synthetic hair! 
Kanekalon hair has a real touch feeling, a natural shine and is very carefree.

All hair pieces are delivered with detailed instructions for attachment, use and care. 
 
Attachment
Choose between two attachment options in the menu above: 
1. Basic Attachment = strong hair tie
You can choose the basic attachment, if your hair is longer than shoulder long and if you don't have fine/ thin hair. Still the fishtail attachment is never too much, you can add it for any hair length! The hair fall is pulled over your own ponytail. Your own hair is used to counter-secure the hair fall by being wrapped around the attachment and being secured with hair pins (see first row with braid). You can also braid your hair before wrapping it around (see second row with open hair falls). This makes an even nicer finish and it is easier to secure and less stressful for your own hair.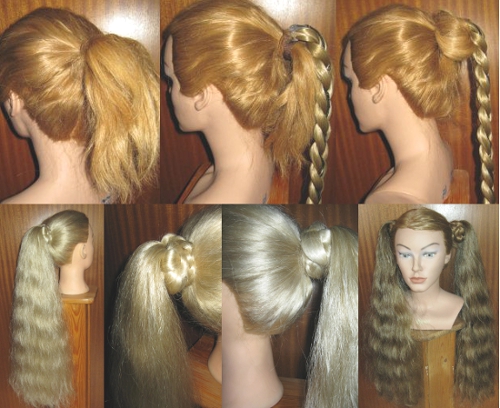 2. Professional Fishtail Attachment = strong hair tie and two additional strands of hair which complement your own hair so you have more to wrap around the attachment.
This means it's much easier to
1st secure the hair extension and 
2nd to cover the junction of your own hair and the synthetic hair!
The direct fusion of your own hair and the additional hair of the fishtail attachment offers maximum hold and is the most natural looking way to attach a hair piece!
This fishtail attachment upgrade provides extra strong hold (i.e. needed for acting and dancing) and most customers find it more comfortable to wear and easier to handle than the basic attachment. I named it fishtail attachment, because the two extra strands reminded me of the shape of a fishtail when I created this attachment method.
The fishtail attachment is highly recommended when you have thin/ fine hair or hair shorter than shoulder long. As it is never too much, you can even add it, if your hair is shoulder long or longer, of course. It is also nice to have, if you like the small buns which occur when the fishtail attachment is used.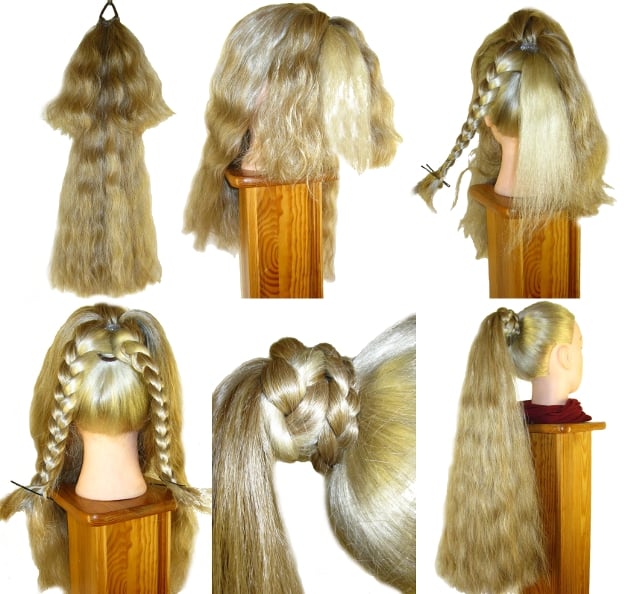 Hair Color
One's own hair usually consists of 2-3 colors, but for technical reasons with this extra long hair, we can only offer a mix of maximum 2 colors. So we include up 1-2 colors in the price. Colors can only be roughly blended, which results in a highlight mix when you choose two colors. If you don't want that, choose 1 color only. 
This means we might not be able to match your hair color for this extra long hair piece 100 %, but we can get very close. Feel free to check before your order how close we can get with our match. If you are not happy with that, you can still choose a shorter fall - we can always offer a 100 % match for 55 cm/ 22 inches hair falls!
How to give us perfect color instruction in 3 steps only, with the help of the menus above
The price includes a custom mix of up to 2 basic colors.


1st menu HAIR COLOR, choose your colors or enter "advice needed".
Press Ctrl and click 1 or two colors you wish to choose for your hair piece. You cannot choose more than 2 colors for this hair piece length. 
Option: If you want to make your purchase, but still need our support in choosing the best color match, choose "Advice needed!" instead. In this case delivery time cannot be met, because we can only start making your order when all information is complete. If extra costs because of a special colors occur, we will send you a manual invoice and delivery time will only start after payment for this second invoice has been effected.


2nd box for optional color proportions "Insert proportions for colors if desired here"
If you wish more of one color and less of another use the little message box to insert desired proportions (e.g. 2/3 of color 8 and 1/3 of color 30). When you leave this box free, we will use equal proportions of all colors.
Put the hair piece in your cart to safe your choice!
 
Do you need any help? Feel free to send us a picture of your hair and we will give advice! Naturall you can also order color matches to check color details yourself.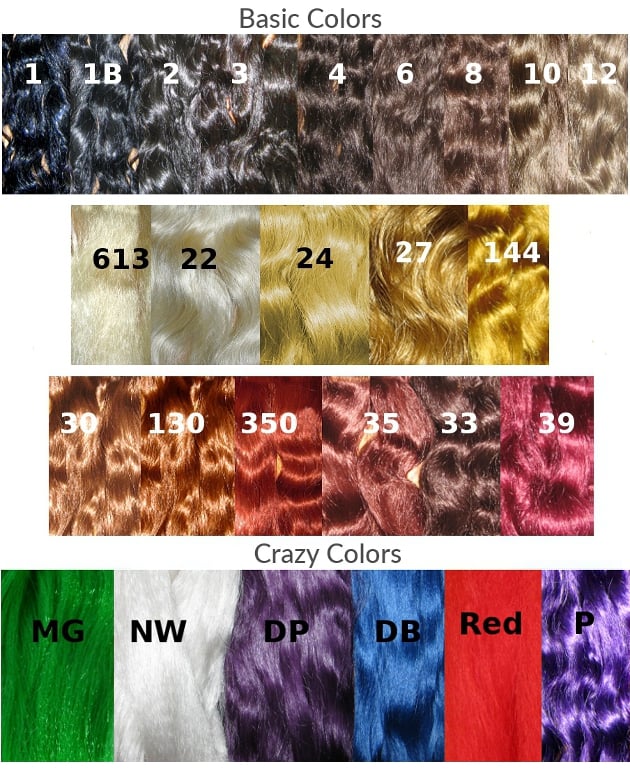 Please contact us for any questions about our custom color hair falls and hair pieces!
Reviews are published only upon authentication. Reviews which cannot be linked to an order are not published, so please insert the mail address of your order with your review! Naturally your mail address won't be published. All details here!
Wasn't their fault but-got the wrong colors
Llegó un poco tarde, pero llegó bien. El pelo muy largo, buen sistema para atarlo a la coleta de nuestro pelo. Pero se enreda mucho.
Ganz-ganz tolles Haarteil! Ich bin so froh, mir diese leichte Variante der klassischen Goth-Haarteile zugelegt zu haben! Man kann es bequem den ganzen Abend und die ganze Nacht tragen, ohne dass einem wegen des Gewichts irgendwann die Kopfhaut unerträglich weh tut. Wegen der Länge trage ich dieses Haarteil gerne geflochten, hochgesteckt oder sonstwie gezwirbelt =). Die Verarbeitung ist toll, die lila Farbe ist dezent aber präsent. Es lässt sich super über einen kleinen Dutt wickeln und mit Haarschmuck festmachen. Oder man trägt es unter einem Witch hat, so bin ich einen ganzen Tag lang auf dem Mera Luna herumgelaufen und wurde zweimal gefragt, ob das meine Haare wären. Ein schöneres Kompliment kann ein Haarteil wohl nicht bekommen ;)
Außer diesem Haarteil habe ich noch folgende Goth Dreads von Magic Tribal Hair: Schwarz-weinrot: diese Farbvariante passt eher zu eleganteren Outfits, Trad goth, Victorian aber auch zu Steam punk Styles. Schwarz-weiß: diese Variante trage ich auch tagsüber in der Freizeit, ist mein Joker, passt immer. Schwarz-türkis: sie ist eher was für abends für die Industrial/Cyber-Dancefloor mit den entsprechenden türkisen Kontaktlinsen und anderen Cyber Goth-Accessories. Alles in allem bin ich super zufrieden!
Ich habe dieses schöne Haarteil vor einer gefühlten Ewigkeit bestellt und ich liebe es! Es lässt sich vielseitig kombinieren, frisieren und waschen. Am liebsten trage ich es derzeit zu Shootings, aber auch zum bevorstehenden WGT wird es wieder genutzt werden. Die Farbe war spontan gewählt, da ich sie mir schwarz gefärbt hatte und es entsprach "haargenau" meiner gefärbten Farbe. Besser geht es einfach nicht. Würde ich jederzeit wieder kaufen. Super Qualität zum super Preis!