Steampunk hair flower clip "Mechanical Flower III" made of an antique brass and copper filigree flower with a vintage gear - attached to a professional metal hair clip for very strong hold (minimum hair length: 5 cm/ 2 inches). We cover each hair clip with black velvet before we attach the hair flower. This makes our hair jewerly more solid and prevents the silver colored clip from shining through.
Steampunk hair clips by Magic Tribal Hair are really unique, because we exclusively use vintage gears, watch movements and parts! All these parts come from broken clocks and watches and are between 25 and 80 years old - for a unique steampunk feeling!This means that each Mechanical Flower is unique and the gear used might differ slightly from the one in the picture.
Size: about 6 cm/ 2.4 inches diameter



Our steampunk hair jewelry clips are gorgeous litte eye-catchers for every day, steampunk & Goth look and for costuming!



Magic Tribal Hair exclusively uses strong, professional hair clips which provide very strong hold. Moreover these clips do not have any teeth, so they can be worn on all fabrics without pulling threads.
This means you can wear all our hair clips as shoe clips, brooches on a collar or shoulder strap, as bag clip and even on flat jewelry like larger earrings and flat rings as well - steampunk hair clips by Magic Tribal Hair are many in one items! And last but not least, the clip is always entirely covered by the decoration, so it does not shine through, see the picture below for details. 

Some pictures show this item in combination with further hair jewelry, hair pieces etc.. These other items are not part of this offer but can be found in different ones in our shop!

All steampunk hair jewelry is hand-made to order.

Hair jewelry cannot be returned for hygienic reasons.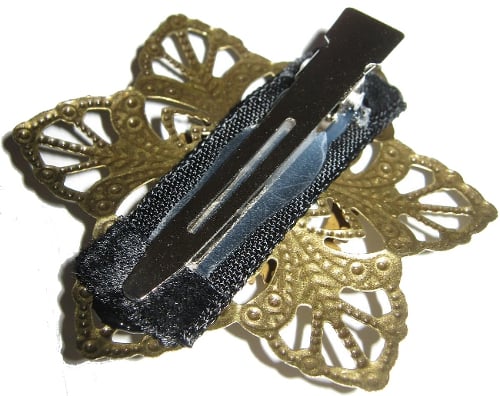 Reviews are published only upon authentication. Reviews which cannot be linked to an order are not published, so please insert the mail address of your order with your review! Naturally your mail address won't be published. All details here!
Total schön und ausgefallen, ein richtiger Hingucker!
Der Haarclip aus feinem Metall sieht edel aus und hält aufgrund seines geringen Gewichts sehr gut. Man kann ihn nicht nur im Haar, sondern auch an Kleidung und Schuhen befestigen.