Yarn hair fall model: Purple Passion (Peacock)
Purple, violet and black
Length: approx. 60 cm/ 24 inches


Plain or with 9 peacock feathers, choose through the menu!
Every single strand of yarn is sealed at its end, to avoid fringy or dissolving ends and guarantee a long-life item!
Attachment:
The fall comes on a strong, elastic hair tie and is added to your own ponytail. Very simple attachment which can easily be hidden and be used for updos/ buns and a braid, too!
Step 1: Make a ponytail.
Step 2: Pull yarn hair fall over it.
Step 3: Wrap hair tie of yarn fall around your own ponytail for 1 or 2 more times to secure the fall.
Step 4: Pull the yarn strands over your own ponytail's hair.


 
Attachment option:
If you wish to secure your yarn hair piece even more, braid your own ponytail and wrap it around the hair tie attachment. Secure with hair pins. This prevents the hair fall from slipping down and your own hair from sticking through the yarns. Or braid some yarn strands of the fall together with your own hair and wrap the braid around the attachment. If you have longer hair than the doll, you can also make two braids and wrap one around clockwise and the other counter-clockwise to get an even finish! This option provides a super strong hold and is excellent for stage performances!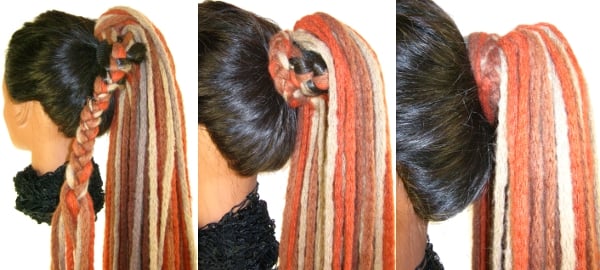 Each yarn hair fall is delivered with detailed instructions for use and care!



This item is hand-made to order especiall for you!
Please understand that hair pieces cannot be returned for hygienic reasons.
Contact us for any questions our yarn hair falls!
Reviews are published only upon authentication. Reviews which cannot be linked to an order are not published, so please insert the mail address of your order with your review! Naturally your mail address won't be published. All details here!
These I purchased to wear for a tattoo convention I attend every year....paired with a pink and black skull mini dress they were perfect.....
I made them totally rockabilly....stunning colors
These falls also made me feel so beautiful after having to cut my hair super short from chemo
Always a winner with Magic Tribal Hair
I haven't worn it yet but I am so happy with how it turned out!!!!
Beautiful pair of falls, these I like to wear in pigtails with a plaited bun around each one, so light, but when plaited with your own hair they are so secure there's no worry about dancing and having them slip.
Wunderschöne Farbzusammenstellung! Ich verwende es als zusätzlichen Zopf im Haardutt. Durch den Haargummi sehr gut mit eigenen Haaren zu verbinden und lässt sich dann prima hochstecken.