This Fantasy Viking Braid is a lush and playful viking and Medieval-style braid which makes gorgeous braided hair buns, too!
This braid hair extension is about 90 cm/ 36 inches long, 7 cm/ 2.8 inches wide and 3 cm/ 1.2 inches thick. 
The hair in this braid comes with slightly crimped texture which is much straighter in extra long hair compared to short hair up to 55 cm/ 22 inches. So the hair looks nearly straight when braided. The two braids in the braid are sealed and won't open. When you rebraid the braid, they just run with the flow!
Handmade to order and custom-matched to your hair color. Make this special braid even more outstanding by getting the two interwoven braids in a different color! 
Please note that you can choose maximum 2 colors for this extra long hair piece which can be in both parts of the hair piece or 1 for the large braid and one for the smaller braids like in the pictures.

Braids by Magic Tribal Hair are super long-lasting hair pieces, because they can be opened, combed and braided again (or twisted as a twist braid) - they look like new every time you wear them! Never wear a fringy braid again! This is a regular three strand braid, you can rebraid it like any other regular 3 strand braid; the braided plaits in the braid just run with the flow!

Model Fantasy Braid Extra is a real allrounder and popular for festive and formal occassions like Renaissance/ Medieval weddings (especially for the bride and bridesmaids), proms but also for costuming (Larp and Cosplay) and underground looks like Goth and steampunk!
Fantasy Braid Extra offers rich volume in a lightweight hair piece due to the crimped hair texture. The plait weighs about 200 grams only!
Crimped hair has very small zigzag waves, hence the big volume. Crimped hair is very easy to braid and braids of crimped hair make great, voluminous buns/ chignons, too. The bun is simply made by pinning up the attached plait - just like making a bun of your own hair! Buns from hair pieces of crimped hair are bigger and more fluffy than buns of all other hair textures!

This braid hair extension is about 90 cm/ 36 inches long, 7 cm/ 2.8 inches wide and 3 cm/ 1.2 inches thick.

Please understand that this personalized item is made to order especially for you and cannot be returned! Read all details in our general terms and conditions.
Some product pictures show how to combine this hair piece with other hair jewelry, clip-in hair pieces etc.. These items must be purchased extra.

We only use Kanekalon hair - best quality in synthetic hair! 
Kanekalon hair has a real touch feeling, a natural shine and is very carefree.

All hair pieces are delivered with detailed instructions for attachment, use and care. 


Attachment
Choose between two attachment options in the menu above. We recommend the professional attachment (2.) for this chunky braid piece unless you have long and thick hair; up to the middle of your back and longer.
1. Basic Attachment = strong hair tie
You can choose the basic attachment, if your hair is longer than shoulder long and if you don't have fine/ thin hair. Still the fishtail attachment is most practical for braids and never too much, you can add it for any hair length! 
There are several ways to use the basic hair tie attachment:
1. The braid is opened, attached to your own ponytail and braided together with your own hair, see pictures with blonde haired doll below. This is the most time consuming attachment and you need some additional hair jewelry to cover the attachment properly and hide the bonding part where the hair is bonded with glue. Still this is a popular way of attachment for many customers.
2. Attach the braid braided to your own ponytail. Your own hair is used to counter-secure the hair fall by being wrapped around the attachment and being secured with hair pins (see first row with black braid). You can also braid your hair before wrapping it around (see second row with blonde lady). This makes an even nicer finish and it is easier to secure and less stressful for your own hair.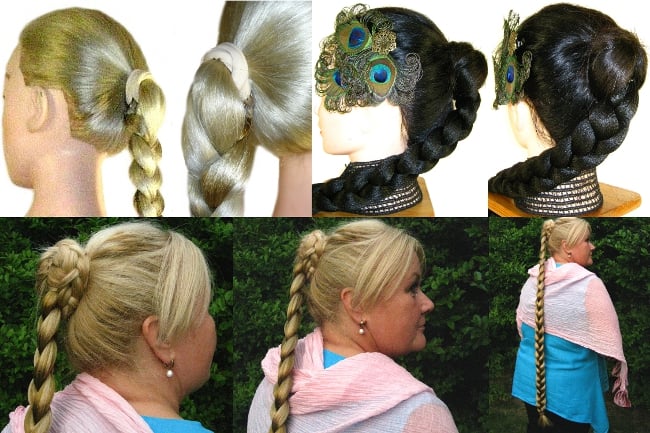 2. Professional Fishtail Attachment = strong hair tie and two additional strands of hair which complement your own hair so you have more to wrap around the attachment.
This means it's much easier to
1st secure the hair extension and 
2nd to cover the junction of your own hair and the synthetic hair!
The direct fusion of your own hair and the additional hair of the fishtail attachment offers maximum hold and is the most natural looking way to attach a hair piece!
This fishtail attachment upgrade provides extra strong hold (i.e. needed for acting and dancing) and most customers find it more comfortable to wear and easier to handle than the basic attachment. I named it fishtail attachment, because the two extra strands reminded me of the shape of a fishtail when I created this attachment method.
The fishtail attachment is highly recommended when you have thin/ fine hair or hair shorter than shoulder long. As it is never too much, you can even add it, if your hair is shoulder long or longer, of course. It is also nice to have, if you like the small buns which occur when the fishtail attachment is used.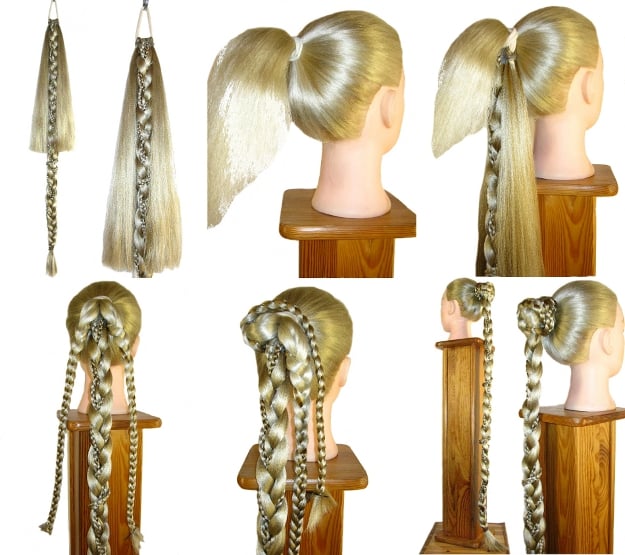 Hair Color
One's own hair usually consists of 2-3 colors, but for technical reasons with this extra long hair, we can only offer a mix of maximum 2 colors. So we include up 1-2 colors in the price. Colors can only be roughly blended, which results in a highlight mix when you choose two colors. If you don't want that, choose 1 color only. 
This means we might not be able to match your hair color for this extra long hair piece 100 %, but we can get very close. Feel free to check before your order how close we can get with our match. If you are not happy with that, you can still choose a shorter fall - we can always offer a 100 % match for 55 cm/ 22 inches hair falls!
How to give us perfect color instruction in 2 steps only, with the help of the menus above
The price includes a custom mix of up to 2 basic colors.


1st menu HAIR COLOR, choose your colors or enter "advice needed".
Press Ctrl and click one or two colors you wish to choose for your hair piece. You cannot choose more than 2 colors for this hair piece length.
Option: If you want to make your purchase, but still need our support in choosing the best color match, choose "Advice needed!" instead. In this case delivery time cannot be met, because we can only start making your order when all information is complete. If extra costs because of a special colors occur, we will send you a manual invoice and delivery time will only start after payment for this second invoice has been effected.


2nd box for optional color proportions "Insert proportions for colors if desired here"
Use this box to let us know which color should be used for the braids in the braid only and note if you wish to have the color of the braids in the braid only as highlights in the main braid, too, or not.
Put the hair piece in your cart to safe your choice!
 
Do you need any help? Feel free to send us a picture of your hair and we will give advice! Naturall you can also order color matches to check color details yourself.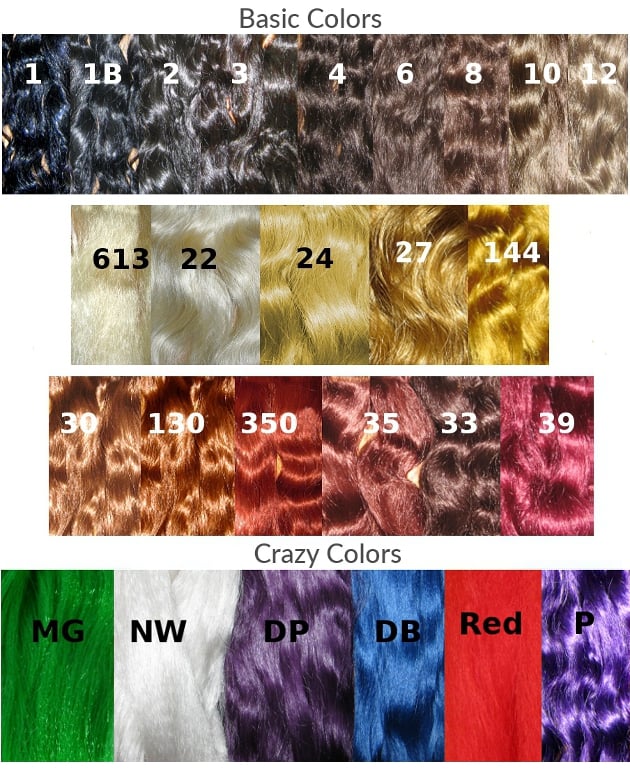 Contact us for any questions about our braids which are custom-matched to your hair color!
Reviews are published only upon authentication. Reviews which cannot be linked to an order are not published, so please insert the mail address of your order with your review! Naturally your mail address won't be published. All details here!
Turned out better than expected, love the finished product
Super netter Kontakt - schnelle Bearbeitung und tolle Qualität
J'adore ma postiche, je suis ravie de cet commande, très original et la qualité est vraiment incroyable! Envoi soigné et rapide comme toujours!