Forest Elf (Peacock) belt clip
Delivery time:
Category 2: I am handmade to order esp. 4 U! Europe & UK: 8-12 BD, USA: 10-16 BD, CA/ AU/ NZ: 12-18 BD, BD=business days, applies only if you pay & note hair color details promptly with your order. Ordering 2 or more items? Please check info in policies!
Hip & hair tassel clip/ yarn fall model: Forest Elf plain or with peacock feathers.

Colors: greens, brown, black 
These hip & hair tassels are multi-purpose yarn falls - wear them as hair falls or use them on your Goth, steampunk or your belly dance skirt or pants or clip them onto your tribal fusion belt. A pair of these hip & hair tassels combined with some hair flowers, cowry hair jewelry and peacock fascinators make a great and versatile headpiece for tribal fusion belly dance (most belly dancers use hair scarves to attach the single pieces of hair jewelry more easily). Since the single components of such a tribal fusion headpiece are not glued together, you can mix and match them single and with other outfits and costumes, too. Use this versatility to get creative and mix your own belly dance, fantasy larp and cosplay costume accessories!
See more tips on how to wear these yarn tassels in the picture collage at the end of this item description!

These yarn falls are approx. 70 cm/ 27 inches long and come with our professional clip attachment, see also attachment picture further below.


Sealed yarn ends to guarantee you long-lasting yarn falls!
Each single strand of yarn and lace is sealed in its end to prevent the tassel from unraveling and to guarantee a long-lasting item. Making these sealings is very time consuming, but it's absolutely necessary. We have many belly dancers among our customers who've been wearing their tassels for years - this wouldn't be possible with unsealed yarn ends!


Get pairs in one order and save € 5!
When you buy a pair at a time you will not only get a € 5 pair discount but you will also receive a perfect pair of exactly the same length and concerning peacock feathers, you will receive tassels with feathers at the same height on each tassel. We can only guarantee this for hip & hair tassel pairs of the same order.
Matching costume sets with belt tassels and yarn hair falls
Actually the hip & hair tassel clip is the smaller variant of a yarn or dread fall! If you are planning to use your tassel clip(s) on your belt and want a larger piece as hair falls, you can get the matching yarn or dread fall (not available for all models but for many). To make it easier for you, we use the same names - hip & hair tassel clip Emerald Fairy goes with yarn falls Emerald Fairy, the same goes for dread falls, of course.


We don't accept any returns for this item, because it is hand-made to order especially for you as hip & hair tassel clips are made as per your specification concerning decoration. Returns are inacceptable for hygienic reasons as well, because hair pieces, hair jewelry and costume accessories have direct contact with the body when worn. 

Contact us for any questions about our hip and hair tassel clips/ yarn falls!


Clip Attachment of Hip & Hair Tassels and How to Combine and Wear these Yarn Falls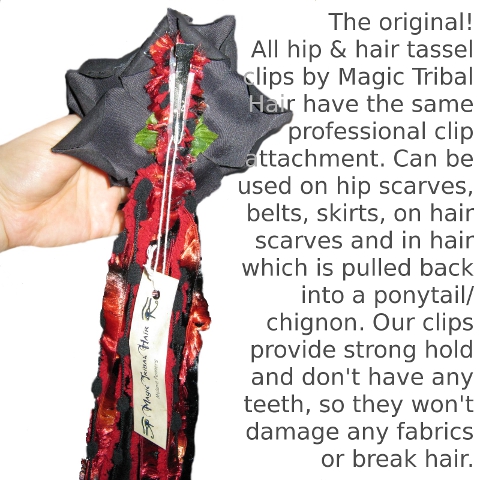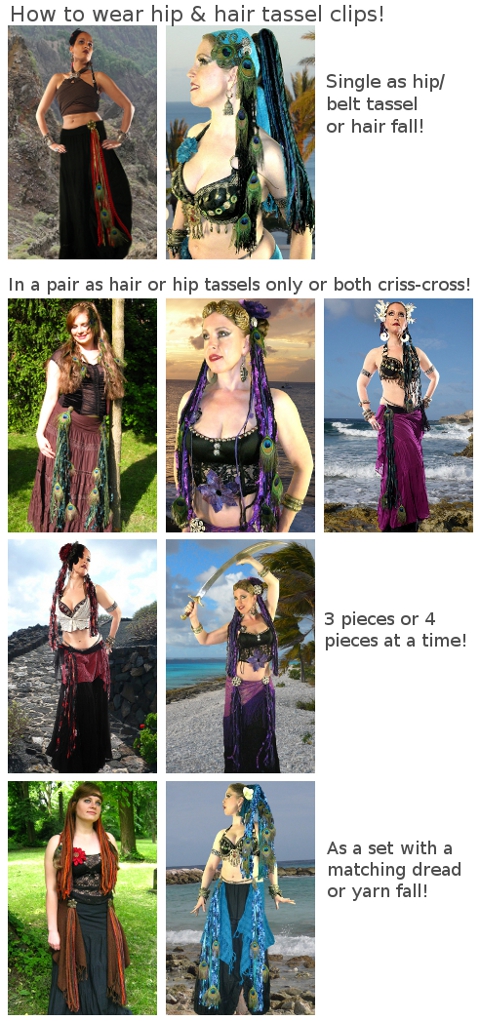 Reviews are published only upon authentication. Reviews which cannot be linked to an order are not published, so please insert the mail address of your order with your review! Naturally your mail address won't be published. All details here!
Christiana in our shop on Etsy on Mar 23, 2023 Posted on 17 April 2023 at 19:13
I've had my eyes on these for years and finally got them! Wow! Spectacular!! I want to wear these everyday; they are that awesome!!

Melanie responded on Apr 17, 2023

Hi Christiana, that was almost just in time in this case, because I am running out of several yarns in this model and soon I won't be able to make it anymore :-(. But lucky you, you still got your pair ;-). Have fun with them! Melanie at Magic Tribal Hair
Ute Heym in unserem Shop auf Etsy am 22. Feb, 2023 Posted on 17 April 2023 at 19:01
Sehr schnelle Lieferung und eine tolle Ware.
kortaliano in our shop on Etsy on Aug 11, 202 Posted on 16 April 2023 at 21:17
Arrived very quickly and so pretty! Excited to wear them! It was packaged in such a way that the fragile feathers were protected! I was very impressed.
Jules in our Shop on Etsy on Oct 12, 2021 Posted on 27 March 2023 at 18:01
Thank you so much for this beautiful piece! Shipping was even faster then expected and communication went great ✨
inessn in our shop on Etsy on Mar 2, 2020 Posted on 5 October 2022 at 09:38
I asked for 1 bronze and 1 silver and got 2 bronze.. But that's okay, quality is pretty good and the hair is not heavy.
Towayamada in our shop on Etsy on Mar 7, 2019 Posted on 4 October 2022 at 10:34
I love them.Thanks!
Celina in our shop on Etsy on May 6, 2017 Posted on 3 October 2022 at 20:55
Gorgeous accessory! Arrived very quickly, especially for being out of country. It is just as the images show. It is also lighter in weight than I imagined. Perfect for hair or a skirt. I love love love it!
anneangelino1 in our shop on Etsy on May 31, 2016 Posted on 3 October 2022 at 18:02
parfait pour les cheveux ou pour la ceinture
Kristen in our shop on Etsy on Mar 23, 2016 Posted on 3 October 2022 at 17:51
Very cute. Metal adornments where smaller than I anticipated but still cute!
Lisa in our shop on Etsy on Dec 13, 2014 Posted on 3 October 2022 at 14:13
Exactly as depicted. A beautiful addition to any costume.
Debs in our shop on Etsy on Nov 26, 2014 Posted on 3 October 2022 at 14:04
Came promptly and was exactly as shown on website.
Turtle in our shop on Etsy on Oct 7, 2014 Posted on 3 October 2022 at 13:51
These hip/hair tassels are beautiful and Melanie was quick to create and to ship- lovely to work with - many thanks!
exiledbutterfly in our shop on Etsy on Sep 3, 2014 Posted on 3 October 2022 at 13:38
Lovely item and great service.
ramonah94 in unserem Shop auf Etsy, Feb 25, 2014 Posted on 30 September 2022 at 17:42
Wunderschön, toll verarbeitet, sehr schnelle herstellung+ versand, vielen dank ! :-)
Kati Posted on 9 February 2020 at 20:10
Clip ist gut verarbeitet und hält bombensicher am Haartuch, im Haar selbst habe ich nicht ausprobiert.
Heike Imlau Posted on 26 January 2020 at 12:30
Ich mag diesen Clip sehr,und trage ihn gewöhnlich zu meinem mittelalterlichen Jagd Gewand.
Jule Posted on 26 January 2020 at 01:27
Ich war schon begeistert von diesem Clip, als ich das Foto im Shop sah und seitdem ich ihn zuhause habe ist er fester Bestandteil meiner LARP-Gewandung - passt super zu meiner Hexe und ich wurde auch schon mehrmals darauf angesprochen und konnte dann auf diesen Shop verweisen.
Heike Posted on 12 May 2018 at 02:00
Ich habe zwei Gürtel- & Haarclips Waldelfe mit Blättern in Version C. Die Farbe der Blätter passt sehr gut zu den Bändern und wirkt recht herbstlich. Die Blätter sind superfest mit den Bändern verklebt und halten auch, wenn man sich viel damit bewegt, und auch die Befestigungsclips sind sehr stark. Eine sehr schöne Ergänzung für jede Form von Waldvolk, ob man sie nun im Haar trägt oder an der Kleidung.