Each Goth surprise bag contains hair jewelry of double to triple and quadruple value of the purchase price of the surprise bag. This surprise bag contains for example hair flowers, peacock and other feather hair jewelry/ fascinators, headbands, yarn and dread falls in Goth style which means typical Goth colors like black, dark blue, purple, red, wine red white and pink and also special hair jewelry with skulls, cameos etc.... All hair jewelry is attached to professional metal hair clips for very strong hold each (minimum hair length: 5 cm/ 2 inches). You can see this attachment with the example of the hair flowers in the picture below!

Our Goth surprise bags are a special offer and our stock is limited, so these little treasures are limited to 3 surprise bags per order. We do this because we want many customers to have the chance to get a surprise bag.
The pictures show surprise bags with English and German labels. Naturally you will get the English label when you order through the English site!
Magic Tribal Hair exclusively uses strong, professional hair clips which provide very strong hold. Moreover these clips do not have any teeth, so they can be worn on all fabrics without pulling threads. This means you can wear all our hair clips as shoe clips, brooches on a collar or shoulder strap, as bag clip and even on flat jewelry like larger earrings and flat rings as well - they are many in one items! And last but not least, the clip is alway entirely covered by the decoration, so it does not shine through, see the picture below for details.

Some pictures show this item in combination with further hair jewelry, hair pieces etc.. These other items are not part of this offer but can be found in different ones in our shop!

All hair jewelry surprise bags are hand-made to order.
Hair jewelry cannot be returned for hygienic reasons.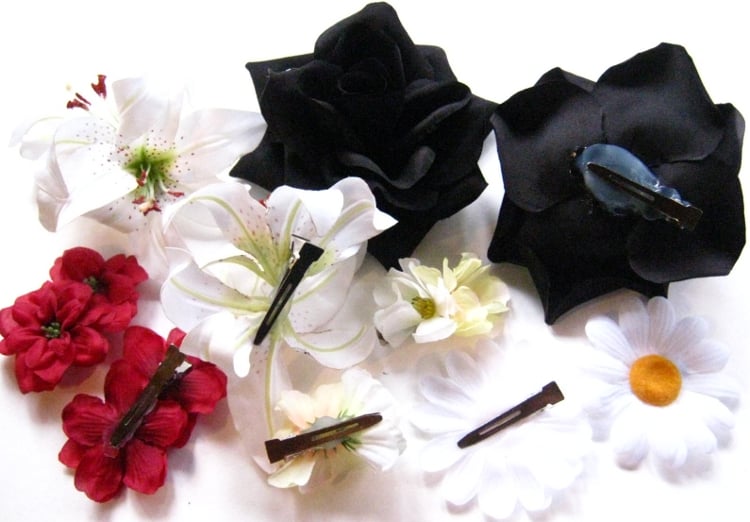 Reviews are published only upon authentication. Reviews which cannot be linked to an order are not published, so please insert the mail address of your order with your review! Naturally your mail address won't be published. All details here!
I loved all the little goodies in the bag. It was a fun surprise. :)
This was a fun thing that I will keep in mind for birthdays and other various occasions
Das war meine erste Wundertüte, und bei mir war ein Federhaarteil (clip-in) drin. Schönes schwarzes Haar mit lila Federn - hält ziemlich gut im Haar.
Wer sich selbst eine Überraschung machen möchte, ist hier sehr gut aufgehoben.
Auch dies war ein Geschenk und ist gut angekommen. Die Zusammenstellung ist immer sehr ausgesucht.
In meiner Wundertüte waren drei schöne Spangen, die meinen persönlichen Geschmack leider nicht ganz getroffen haben aber nicht desto trotz waren sie gut verarbeitet. Alle haben in das Gothic Thema super gepasst und eine wird wohl weiter verschenkt werden
Die Gothic-Wundertüten zählen absolut zu meinen Lieblingen :-)