Hair fall, extra long, volume size L with wavy hair texture!
Made to order and custom-matched to your hair color. 
Presented by Belly Dance Star Apsara Habiba! 
A size L hair fall offers very rich volume. The larger the fall, the more difficult it is to attach, I recommend this super large and extra long hair fall if your hair is shoulder length or longer and if you are an experienced hair fall user only!
This hair piece is about 90-100 cm/ 36-39 inches long.


Please understand that this personalized item is made to order especially for you and cannot be returned! Read all details in our general terms and conditions.
Some product pictures show how to combine this hair piece with other hair jewelry, clip-in hair pieces etc.. These items must be purchased extra.

We only use Kanekalon hair - best quality in synthetic hair! 
Kanekalon hair has a real touch feeling, a natural shine and is very carefree.

All hair pieces are delivered with detailed instructions for attachment, use and care.
 
Attachment
Choose between two attachment options in the menu above. We recommend the second one, the professional attachment, for these extremely lush hair falls. 
1. Basic Attachment = strong hair tie
You can choose the basic attachment, if your hair is longer than shoulder long and if you don't have fine/ thin hair. Still the fishtail attachment is never too much, you can add it for any hair length! The hair fall is pulled over your own ponytail. Your own hair is used to counter-secure the hair fall by being wrapped around the attachment and being secured with hair pins (see first row with braid). You can also braid your hair before wrapping it around (see second row with open hair falls). This makes an even nicer finish and it is easier to secure and less stressful for your own hair.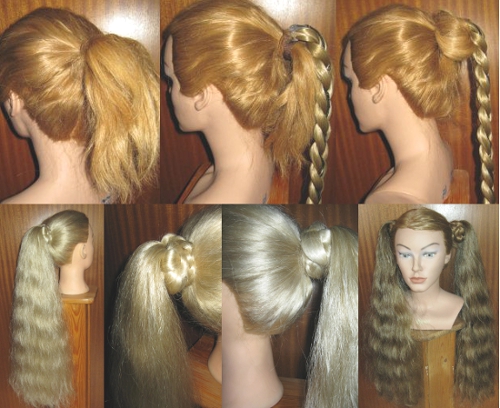 2. Professional Fishtail Attachment = strong hair tie and two additional strands of hair which complement your own hair so you have more to wrap around the attachment.
This means it's much easier to
1st secure the hair extension and 
2nd to cover the junction of your own hair and the synthetic hair!
The direct fusion of your own hair and the additional hair of the fishtail attachment offers maximum hold and is the most natural looking way to attach a hair piece!
This fishtail attachment upgrade provides extra strong hold (i.e. needed for acting and dancing) and most customers find it more comfortable to wear and easier to handle than the basic attachment. I named it fishtail attachment, because the two extra strands reminded me of the shape of a fishtail when I created this attachment method.
The fishtail attachment is highly recommended when you have thin/ fine hair or hair shorter than shoulder long. As it is never too much, you can even add it, if your hair is shoulder long or longer, of course. It is also nice to have, if you like the small buns which occur when the fishtail attachment is used.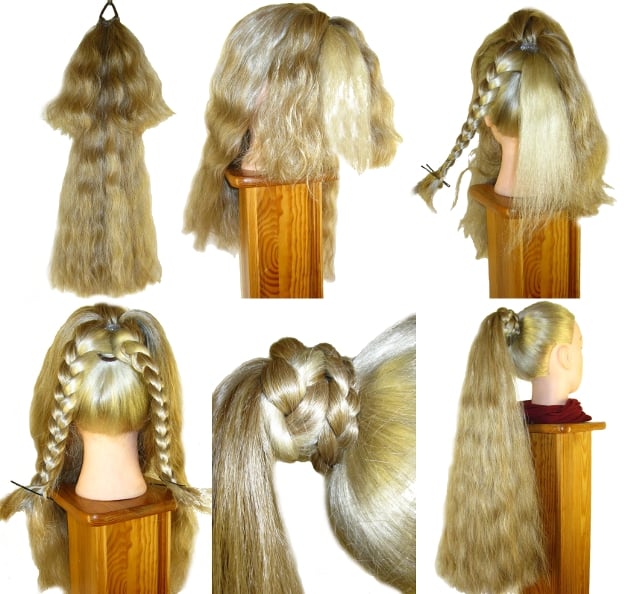 Hair Color
One's own hair usually consists of 2-3 colors, but for technical reasons with this extra long hair, we can only offer a mix of maximum 2 colors. So we include up 1-2 colors in the price. Colors can only be roughly blended, which results in a highlight mix when you choose two colors. If you don't want that, choose 1 color only. 
This means we might not be able to match your hair color for this extra long hair piece 100 %, but we can get very close. Feel free to check before your order how close we can get with our match. If you are not happy with that, you can still choose a shorter fall - we can always offer a 100 % match for 55 cm/ 22 inches hair falls!
How to give us perfect color instruction in 3 steps only, with the help of the menus above
The price includes a custom mix of up to 2 basic colors.


1st menu HAIR COLOR, choose your colors or enter "advice needed".
Press Ctrl and click 1 or two colors you wish to choose for your hair piece. You cannot choose more than 2 colors for this hair piece length. 
Option: If you want to make your purchase, but still need our support in choosing the best color match, choose "Advice needed!" instead. In this case delivery time cannot be met, because we can only start making your order when all information is complete. If extra costs because of a special colors occur, we will send you a manual invoice and delivery time will only start after payment for this second invoice has been effected.


2nd box for optional color proportions "Insert proportions for colors if desired here"
If you wish more of one color and less of another use the little message box to insert desired proportions (e.g. 2/3 of color 8 and 1/3 of color 30). When you leave this box free, we will use equal proportions of all colors.
Put the hair piece in your cart to safe your choice!
 
Do you need any help? Feel free to send us a picture of your hair and we will give advice! Naturall you can also order color matches to check color details yourself.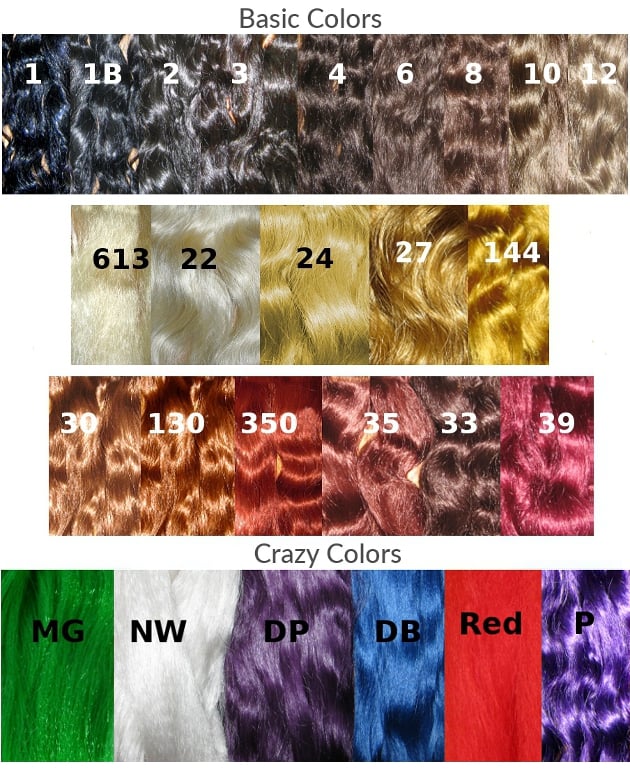 Please contact us for any questions about our custom color hair falls and hair pieces!
Reviews are published only upon authentication. Reviews which cannot be linked to an order are not published, so please insert the mail address of your order with your review! Naturally your mail address won't be published. All details here!
IT TOOK AWHILE BUT IT GOT HERE , IT CAME A LONG WAY ..I LOVE IT ..THANX FROM MARYANN THORSON
Also ich bin super glücklich mit dem Haarteil. Es sieht sehr echt aus und ich trage es oft im Alltag. Trotz der Größe ist es recht leicht und meistens trage ich es im geflochtenen Zopf um den Kopf herum. Die Farbe 1B ist perfekt, da sie aussieht wie ein natürliches Schwarz und weder einen Blaustich noch sonst etwas hat. Ich bin super zufrieden: deshalb 5 Sterne.
Its the best,i love it, its best best best