2 flower hair clips/ hair flowers with 1 ivory orchid each, attached to professional metal hair clips for very strong hold (minimum hair length: 5 cm/ 2 inches).
Choose between 3 different sets!
Size small orchid: about 7 cm/ 2.8 inches diameter.
Size large orchid: about 10 cm/ 4 inches diameter
You will get two pieces with 1 blossom each per purchase!

Our hair flowers are gorgeous litte eye-catchers and hair jewelry you can wear every day and for costuming!
Magic Tribal Hair exclusively uses strong, professional hair clips which provide very strong hold. Moreover these clips do not have any teeth, so they can be worn on all fabrics without pulling threads. This means you can wear all our flower hair clips as shoe clips, brooches on a collar or shoulder strap, as bag clip and even on flat jewelry like larger earrings and flat rings as well - hair flowers by Magic Tribal Hair are many in one items! And last but not least, the clip is alway entirely covered by the flower, so it does not shine through, see the picture below for details. 

Some pictures show this item in combination with further hair jewelry, hair pieces etc.. These other items are not part of this offer but can be found in different ones in our shop!

All hair flowers are hand-made to order.
Hair jewelry cannot be returned for hygienic reasons. 

Contact us for any questions about our hair flowers/ flower hair clips!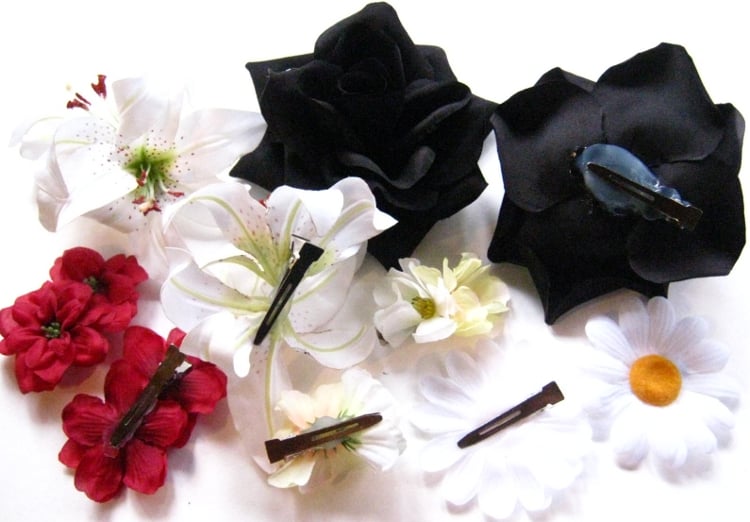 Reviews are published only upon authentication. Reviews which cannot be linked to an order are not published, so please insert the mail address of your order with your review! Naturally your mail address won't be published. All details here!
War ok. Teilweise mit Flecken auf der Rückseite. Laut Verkäuferin beabsichtigt da Sie zum Look der Blume gehören. Mir persönlich hat das leider nicht so gut gefallen. Den Expressservice habe ich persönlich als etwas teuer empfunden.

Melanie responded on Sep 20, 2021

I totally agree with stains not belonging to a new product. Customer contacted me about stains on the backside of one of her hair flowers after having worn them for nearly 2 months (ordered/made/shipped July 27 and delivered on July 29, she needed them for an event on August 3, first contact on September 20). If she had contacted me immediately upon receipt, I could have delivered a new flower for free and still in time for her event! I have never claimed stains being part or look of the product. She must have misunderstood when I explained that the yellow-ivory shimmer on the petals and the many brownish dots in the center are the look of this orchid blossom. This I did trying to find out what she actually meant by stains.
Article délicat et charmant livré très rapidement. Je recommande. Bravo et merci.
beautiful flowers for Tribal! thank you
Très belles fleurs de qualité, nice product good quality
Love them! They are soooo beautiful!