Magician rasta braids, pick your hair fall size!
Afrohemian braid hair falls with 12 braids (size XL, pictures with model on meadow) or a pair of falls with 7 braids each = a total of 14 rasta braids (size L pair, pictures with model in subway) in your hair color! The single braids are 85-90 cm/ 33.5-36 inches long and 1.5 cm/ 0.59 inch wide each, the ends look open which makes a very natural look. The braids are sealed, the sealing is invisble, so they won't open and you don't need extra hair ties like with braids made of your own hair to close the ends. The braids in this hair falls are braided tightly and neatly and together with the invisble sealing this gives you a long lasting hair piece! When you store it in a paper box and wear it weekends mostly, you will enjoy these rasta hair falls for several years! 

Why isn't there any variant with more braids?
One braids hair fall size L with 7 braids has as much hair and hence weighs as much as a size L extra hair fall of open hair!
1 afrohemian braids hair fall size L with 7 braids weighs about 350 grams/ 0.77 lbs.
1 afrohemian braids hair fall size XL with 10 braids weighs about 220 grams/ 1.3 lbs.

If you are happy with a similar look with even more volume and still way less weight, we recommend our super lightweight yarn dread falls - a single dreadlocks hair piece of 60 cm/ 24 inches length with 112 single dreads weights about 50 grams/ 0.11 lbs only and we have 90 cm/ 36 IN long dread falls, too. Naturally dreads aren't braided, but you can add braided braids to your dread fall through an upgrade you find with the dreadlocks listings.

This hair piece comes with our basic attachment (see information further below), because many of our customers combine these falls with other hair extensions. On these braids falls the basic attachment works without a bonding on top which means the hair piece is more flexible and can be easier built into elaborate hairstyles with additional hair pieces.



Decorate your braids to match your costume!
Braids are perfect for decorating to match your personal costume or outfit! Leave the tricky part of making a hair piece with safe attachment and on top of that in your exact hair color to us! And save the fun part of adding the decoration for yourself! Adornments can be added simply by glueing them with the help of a hot glue gun, any glue will do for the hair, you should pick the right kind of glue for the things you want to attach. 

This fantasy hair piece is perfect for costuming - it matches many "magic" characters like voodoo priestress, mermaids, magicians, shaman, amazons, warriors... and is a gorgeous addition to your costume! Also perfect for steampunk and Goth stylings!


These hair extensions are handmade to order in your hair color!
Like all our hair pieces of high quality kanekalon hair these fantasy hair extensions we handmake to order and as a custom match to your hair color, read further below how to give us perfect instructions quickly and easily with your order!


Please understand that this personalized item is handmade to order especially for you and cannot be returned! Read all details in our general terms and conditions.
Some product pictures show how to combine this hair piece with other hair jewelry, clip-in hair pieces etc.. These items must be purchased extra.

We only use Kanekalon hair - best quality in synthetic hair! 
Kanekalon hair has a real touch feeling, a natural shine and is very carefree.

All hair pieces are delivered with detailed instructions for attachment, use and care. 


Attachment
Basic Attachment = strong hair tie
The basic attachment works for you if your hair is minimum shoulder long and if you don't have super fine/ thin hair. The hair fall is pulled over your own ponytail. Your own hair is used to counter-secure the hair fall by being wrapped around the attachment and being secured with hair pins (see first row with braid). You can also braid your hair before wrapping it around (see second row with open hair falls). This makes an even nicer finish and it is easier to secure and less stressful for your own hair.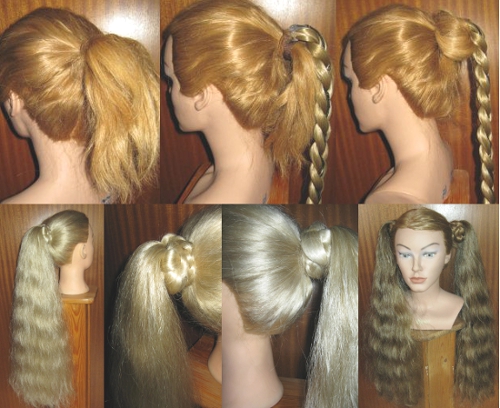 Hair Color
One's own hair usually consists of 2-3 colors, but for technical reasons with this extra long hair, we can only offer a mix of maximum 2 colors. So we include up 1-2 colors in the price. Colors can only be roughly blended, which results in a highlight mix when you choose two colors. If you don't want that, choose 1 color only. 
This means we might not be able to match your hair color for this extra long hair piece 100 %, but we can get very close. Feel free to check before your order how close we can get with our match. If you are not happy with that, you can still choose a shorter fall - we can always offer a 100 % match for 55 cm/ 22 inches hair falls!
How to give us perfect color instruction in 3 steps only, with the help of the menus above
The price includes a custom mix of up to 2 basic colors.


1st menu HAIR COLOR, choose your colors or enter "advice needed".
Press Ctrl and click 1 or two colors you wish to choose for your hair piece. You cannot choose more than 2 colors for this hair piece length. 
Option: If you want to make your purchase, but still need our support in choosing the best color match, choose "Advice needed!" instead. In this case delivery time cannot be met, because we can only start making your order when all information is complete. If extra costs because of a special colors occur, we will send you a manual invoice and delivery time will only start after payment for this second invoice has been effected.


2nd box for optional color proportions "Insert proportions for colors if desired here"
If you wish more of one color and less of another use the little message box to insert desired proportions (e.g. 2/3 of color 8 and 1/3 of color 30). When you leave this box free, we will use equal proportions of all colors.
Put the hair piece in your cart to safe your choice!
 
Do you need any help? Feel free to send us a picture of your hair and we will give advice! Naturall you can also order color matches to check color details yourself.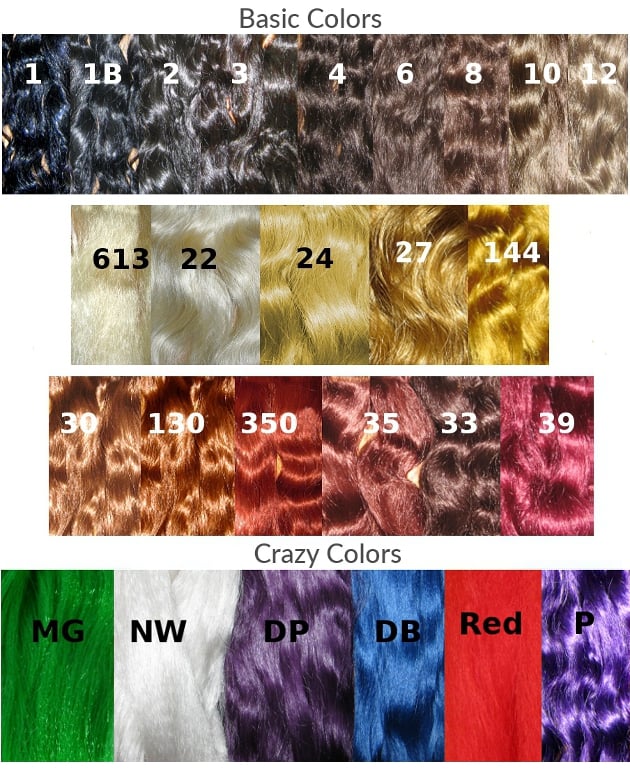 Please contact us for any questions about our Magician braids hair falls!