Braided headband Countess, handmade to order in your and any hair color or a contrasting one, just as you like it!
This hairband tiara is about 2 cm/ 0.8 inches wide and comes with a nice and natural braiding pattern - no-one will think you are wearing a hair piece of synthetic hair! Perfect for all occasions from formal to everyday hair fashion and hair styles!
Professional Slip-Stop!
This braided headband tiara of synthetic hair has our professional slip stop like all our wider headbands. This slip stop provides high wearing comfort, because it makes the headband stay in place. Moreover it makes your braid headband a long life item, because the friction when putting headbands on and off would pull out too much hair too quickly without such a supportive layer. Naturally the slip stop cannot be seen when you wear the hairband as it is on the inside only! Our slip stop is similar to the one of hold-up stockings or strapless bras.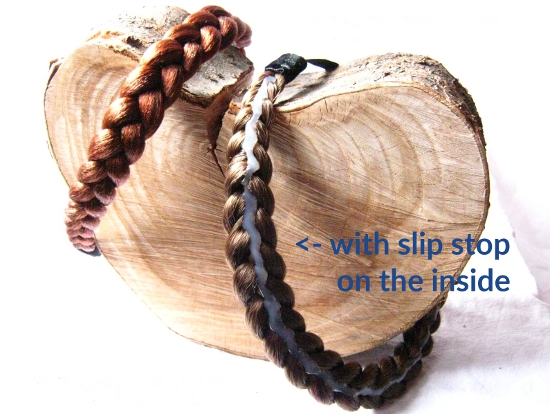 Our braid headbands fit every head!
The braided headband comes with a generous elastic part, so it will not be too small. If the hairband is too big, you can simply and quickly sew it smaller by hand with just a few stitches on the elastic part! Did you know that headbands slipping to the back of your head usually simply are too small for your head? Most women who know this problem assume that the shape of their head causes the headband to slip, but in most cases the headband is just too small. That is why we have you adapt the fit and deliver it rather a bit too loose than too tight!


We only use Kanekalon hair - best quality in synthetic hair! 
Kanekalon hair has a real touch feeling, a natural shine and is very carefree. You can wash your headband in lukewarm water with a mild shampoo. Put the shampoo in the basin and let the headband soak in the shampoed water, don't rub or squeeze it. Put it on a thick towel to let it drip-dry.

Please understand that this personalized item is made to order especially for you and cannot be returned! Read all details in our general terms and conditions.

Some product pictures show how to combine this hair piece with other hair jewelry or hair pieces. These items must be purchased extra.


Hair Color
Your hair color can be matched perfectly including highlights, lowlights and all shades, because all braided headbands are made to order exclusively! One's own hair usually contains 2-3 colors (only dark hair often consists of 1 color only), hence we include up to 3 colors in the price. Headbands should be matched to the upper parts of your hair only, because that is the part of your own hair they meet when you wear them.
Click here for extra large color charts!

Click here for more information about choosing the right color mix!
How to give us perfect color instruction in 3 steps only, with the help of the menus above
The price includes a custom mix of up to 3 basic colors, a fourth or fifth color can be added at extra costs. Some special colors also cost extra, you will see this in the menu.


1st menu HAIR COLOR, choose your colors or enter "advice needed".
Press Ctrl and click all the colors you wish to choose for your hair piece. If you need more than 3 colors, choose the upgrades 4th or 4th and 5th color from the drop down menu, so the extra fees are added. If you forget this, we will send you a manual invoice for the extra fees and delivery will be delayed, because we can only start making your hair piece after this second invoice has been paid.
Option: If you want to make your purchase, but still need our support in choosing the best color match, choose "Advice needed!" instead. In this case delivery time cannot be met, because we can only start making your order when all information is complete. If extra costs because of a 4th or 5th color or special colors occur, we will send you a manual invoice and delivery time will only start after payment for this second invoice has been effected.


2nd box for optional color proportions "Insert proportions for colors if desired here"
If you wish more of one color and less of another use the little message box to insert desired proportions (e.g. 2/3 of color 8 and 1/3 of color 30). When you leave this box free, we will use equal proportions of all colors.


3rd menu "details for color mix"
Tick one of the checkboxes. If you wish several colors in a fine blend and one to be added as highlights, use the message box for proportions to tell us which one the hightlight color is.


Put the hair piece in your cart to safe your choice!
Do you need any help? Feel free to send us a picture of your hair and we will give advice! Naturall you can also order color matches to check color details yourself.

Click here for all information about appropriate pictures and sample orders!
Color charts for all Magic Tribal Hair basic and special hair colors we mix to obtain/ imitate your hair color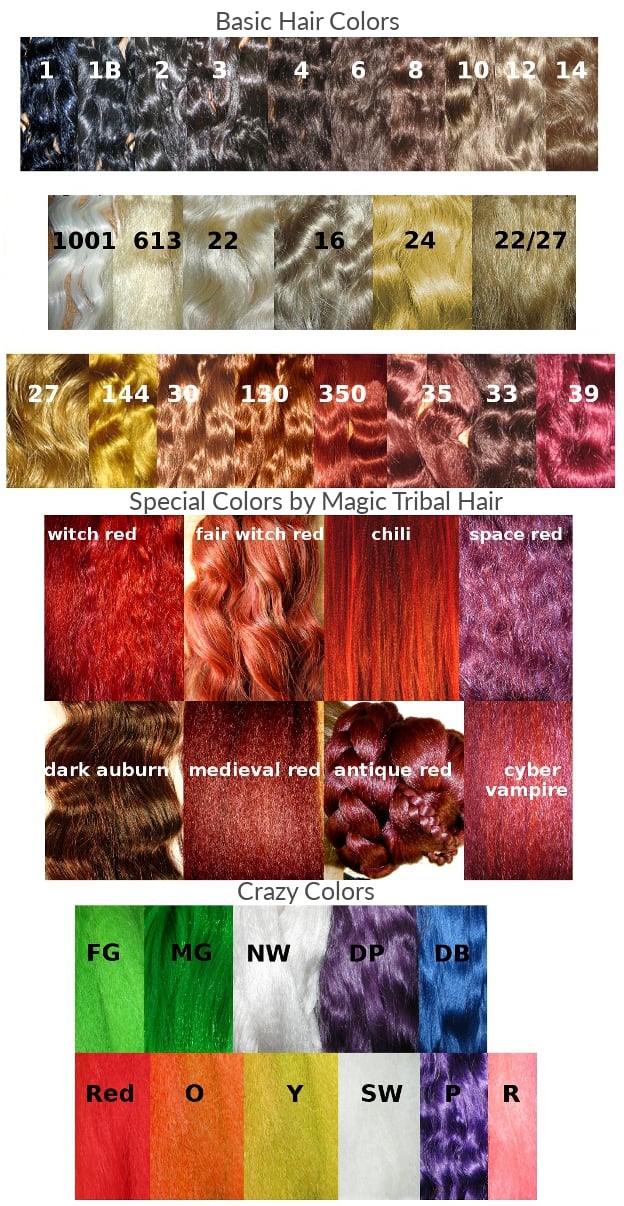 Contact us for any questions about our custom color braid headbands/ hairbands!
Reviews are published only upon authentication. Reviews which cannot be linked to an order are not published, so please insert the mail address of your order with your review! Naturally your mail address won't be published. All details here!
Jolie tresse, la couleur est parfaitement adaptée ! livraison rapide. Entièrement satisfaite. Merci beaucoup :)
I love this headband so much. It's beautiful & comfortable
Das Haarband ist zauberhaft und wunderbar. Die Farbe ist perfekt. Das Geflochtene ist total schön und es sitzt fantastisch. Durch das Silikon verruscht nichts. Ich liebe es.
Ich habe meiner Frau eins bestellt.
War echt überrascht wie gut die Farben (Haarband und die Haare meiner Frau) harmonieren.
Aus meiner Sicht wirklich gute Arbeit die du hier gemacht hast!

Zu Zufriedenheit meiner Frau sage ich nur, dass Sie das Haarband sehr oft trägt!
Das Haarband sitz wirklich gut. Ich hab bei meiner Kopfform immer das Problem, dass es nicht hält. Egal ob Tuch oder Band, ich kann nur Haarreifen tragen. Aber dieses Haarband hält mit 2 Haarnadeln auf meinem Kopf und ich bin darüber total begeistern. Von der Kunsthaarqualität brauchen wir nicht sprechen,die ist wie immer tadellos.

Anmerkung von Melanie, Magic Tribal Hair: Vielen Dank für die tolle Bewertung! Meistens liegt es nicht an der Kopfform, wenn ein Haarband nicht hält, wir denken nur immer, unsere Köpfe seien Schuld ;)! Es liegt eher an rutschigem Material, daher haben die breiten Haarbänder bei Magic Tribal Hair den Rutschstop, unter die schmalen passt der leider nicht drunter, sonst hätten die ihn auch. Oder das Haarband rutscht, weil es zu klein gearbeitet sind und daher zu eng sitzt. Daher mache ich alle Haarbänder gerne etwas großzügiger und sitzt eins bei der Kundin zu locker, dann kann sie das elastische Gummiband mit wenigen Stichen von Hand einnähen, sodass es perfekt passt ;). Ich habe auch schon verstellbare Haarbänder gesehen, das wäre natürlich noch besser und praktischer! Leider verschleißen die mir bekannten Mechanismen aber zu schnell, sie werden dann locker und lösen sich beim Tragen. Das wäre ärgerlich, weil unsere Flechthaarbänder sehr lange halten und daher möchte ich nicht so ein Verschleißteil einbauen, denn wenn das Gummi verschleißt = schwächer wird, näht man einfach wieder ein Stück ein ;). Ich habe es lieber, wenn Kundinnen wieder kommen, weil sie noch ein anderes Haarteil oder eins zum Kombinieren möchten und nicht, weil beim ersten nach wenigem Tragen der Verschluss nicht mehr hält.