Braided headband Snow White, slim size, made to order in your hair color or a contrasting one, just as you like it!
The playful braid pattern in this braid headband is very special and makes it a wonderful hair accessory for Renaissance/ Medieval wedding hairdos but this slim variant is also very popular as bride tiara with formal weddings. We offer this braid hairband in three widths/ thicknesses, this is the slimmest variant which is abbout 2 cm/ 0.8 inches wide.


Professional Slip-Stop!
This braided headband tiara of synthetic hair has our professional slip stop like all our wider headbands. This slip stop provides high wearing comfort, because it makes the headband stay in place. Moreover it makes your braid headband a long life item, because the friction when putting headbands on and off would pull out too much hair too quickly without such a supportive layer. Naturally the slip stop cannot be seen when you wear the hairband as it is on the inside only! Our slip stop is similar to the one of hold-up stockings or strapless bras.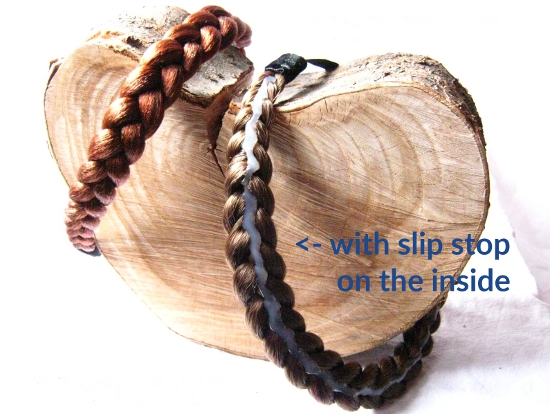 Our braid headbands fit every head!
The braided headband comes with a generous elastic part, so it will not be too small. If the hairband is too big, you can simply and quickly sew it smaller by hand with just a few stitches on the elastic part! Did you know that headbands slipping to the back of your head usually simply are too small for your head? Most women who know this problem assume that the shape of their head causes the headband to slip, but in most cases the headband is just too small. That is why we have you adapt the fit and deliver it rather a bit too loose than too tight!


We only use Kanekalon hair - best quality in synthetic hair! 
Kanekalon hair has a real touch feeling, a natural shine and is very carefree. You can wash your headband in lukewarm water with a mild shampoo. Put the shampoo in the basin and let the headband soak in the shampoed water, don't rub or squeeze it. Put it on a thick towel to let it drip-dry.

Please understand that this personalized item is made to order especially for you and cannot be returned! Read all details in our general terms and conditions.

Some product pictures show how to combine this hair piece with other hair jewelry or hair pieces. These items must be purchased extra.


Hair Color
Your hair color can be matched perfectly including highlights, lowlights and all shades, because all braided headbands are made to order exclusively! One's own hair usually contains 2-3 colors (only dark hair often consists of 1 color only), hence we include up to 3 colors in the price. Headbands should be matched to the upper parts of your hair only, because that is the part of your own hair they meet when you wear them.
Click here for extra large color charts!

Click here for more information about choosing the right color mix!
How to give us perfect color instruction in 3 steps only, with the help of the menus above
The price includes a custom mix of up to 3 basic colors, a fourth or fifth color can be added at extra costs. Some special colors also cost extra, you will see this in the menu.


1st menu HAIR COLOR, choose your colors or enter "advice needed".
Press Ctrl and click all the colors you wish to choose for your hair piece. If you need more than 3 colors, choose the upgrades 4th or 4th and 5th color from the drop down menu, so the extra fees are added. If you forget this, we will send you a manual invoice for the extra fees and delivery will be delayed, because we can only start making your hair piece after this second invoice has been paid.
Option: If you want to make your purchase, but still need our support in choosing the best color match, choose "Advice needed!" instead. In this case delivery time cannot be met, because we can only start making your order when all information is complete. If extra costs because of a 4th or 5th color or special colors occur, we will send you a manual invoice and delivery time will only start after payment for this second invoice has been effected.


2nd box for optional color proportions "Insert proportions for colors if desired here"
If you wish more of one color and less of another use the little message box to insert desired proportions (e.g. 2/3 of color 8 and 1/3 of color 30). When you leave this box free, we will use equal proportions of all colors.


3rd menu "details for color mix"
Tick one of the checkboxes. If you wish several colors in a fine blend and one to be added as highlights, use the message box for proportions to tell us which one the hightlight color is.


Put the hair piece in your cart to safe your choice!
Do you need any help? Feel free to send us a picture of your hair and we will give advice! Naturall you can also order color matches to check color details yourself.

Click here for all information about appropriate pictures and sample orders!
Color charts for all Magic Tribal Hair basic and special hair colors we mix to obtain/ imitate your hair color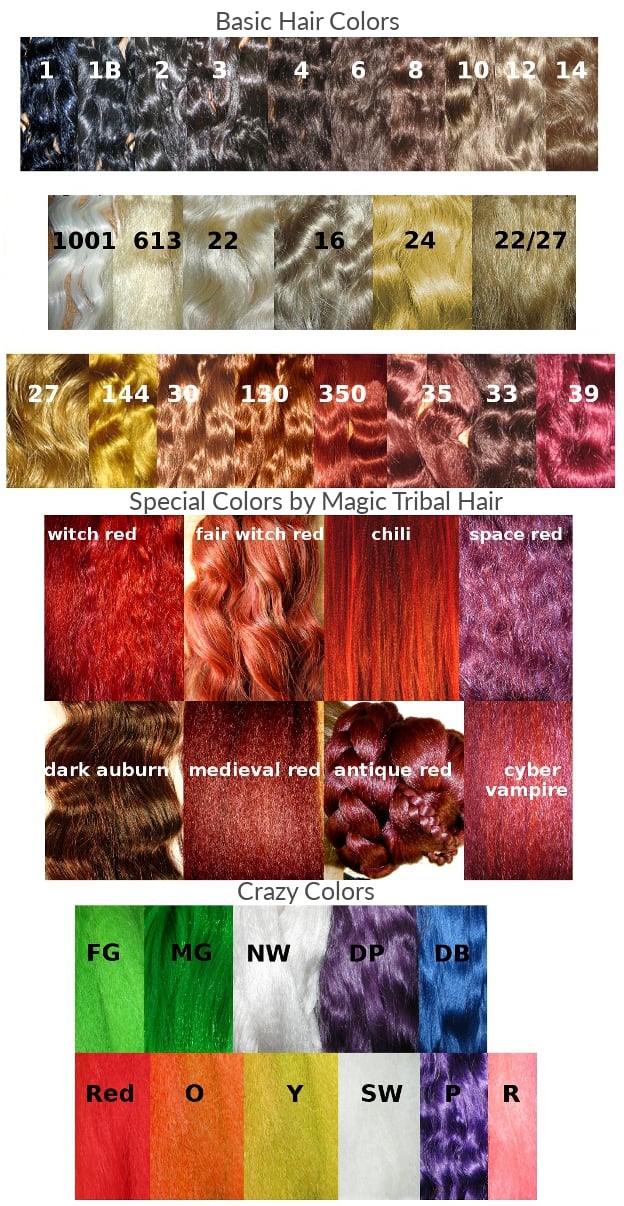 Contact us for any questions about our custom color braid headbands/ hairbands!
Reviews are published only upon authentication. Reviews which cannot be linked to an order are not published, so please insert the mail address of your order with your review! Naturally your mail address won't be published. All details here!
Das Haarteil ist wunderschön! Es ist von vorzüglicher Qualität und sieht mit der richtig bestimmten Haarfarbe wunderbar und einzigartig aus. Man macht hier alles richtig, wenn man einen besonderen Effekt in seiner Frisur haben möchte.
Amazing!!! I did the custom hair matching and she matched it perfectly to my red to blonde balayage color. Really pretty!!
Das Haarband ist wunderschön und durch die Farbberatung sieht es so echt aus, dass mich immer wieder Leute fragen, wie ich es schaffe, so schön zu flechten. Durch die rutschfeste Auflage unten rutscht es nicht. Absolute Kaufempfehlung!
Das Haarband passt aufgrund der professionellen Beratung perfekt zu meinem echten Haar. Vielen Dank!
Wieder einmal absolut begeistert. Es passt super, die Farbe ist exakt getroffen und es passt einfach zu allem. Egal ob im Alltag im Büro oder aber in Kombination zur eleganten Hochsteckfrisur: Bad Hair-days gehören der Vergangenheit an! Vielen lieben Dank Melanie!
This hairband is beautiful! The colour is perfectly matched to my hair and this hairband will dress up any hairstyle. It will even make straight, openly-worn hair classy.
Haarfarbe passt perfekt zu meinem natürlichen Haar. Ich trage das Haarband immer mit offenem Haar, dann sieht man das Gummi nicht und es sieht noch natürlicher aus.

Anmerkung von Melanie - Magic Tribal Hair: Danke für die tolle Bewertung, Ulrike! Mit Gummi ist der kurze, elastische Teil im Nacken des Haarbands gemeint. Wir nehmen natürlich Gummi passend zur Haarfarbe für maximale Tarnung, aber nur unter offenem Haar verschwindet der elastische Teil zu 100 %, das stimmt!