Deluxe Version with color choice!
Each Tribal Fusion surprise bag contains accessories of double to triple value of the purchase price of the surprise bag. This surprise bag contains accessories fpr belly dance like hip & hair tassels, hair flowers, peacock and other feather hair jewelry/ fascinators, headbands, yarn and dread falls and hip scarves.

All hair jewelry is attached to professional metal hair clips for very strong hold  each (minimum hair length: 5 cm/ 2 inches). You can see this attachment with the example of the hair flowers in the picture below! All hip scarves are very large and can be worn by women of many sizes. All other accessories are not bound to any size.

Please choose 3 color themes in the drop down menu above with your order! Your set will be made of the 3 color themes you chose, so if you pick 1 or 2 color themes only, we must add flowers from matching color themes. If there are several colors in one theme, you might not receive a flower of each color in the theme.

Our Tribal Fusion surprise bags are a special offer and our stock is limited, so these little treasures are limited to 1 surprise bag per order. We do this because we want many customers to have the chance to get a surprise bag.
The pictures show surprise bags with English and German labels. Naturally you will get the English label when you order through the English site!
Magic Tribal Hair exclusively uses strong, professional hair clips which provide very strong hold. Moreover these clips do not have any teeth, so they can be worn on all fabrics without pulling threads. This means you can wear all our hair clips as shoe clips, brooches on a collar or shoulder strap, as bag clip and even on flat jewelry like larger earrings and flat rings as well - they are many in one items! And last but not least, the clip is alway entirely covered by the decoration, so it does not shine through, see the picture below for details. 

Some pictures show this item in combination with further hair jewelry, hair pieces etc.. These other items are not part of this offer but can be found in different ones in our shop!

All hair jewelry surprise bags are hand-made to order.
Hair jewelry cannot be returned for hygienic reasons.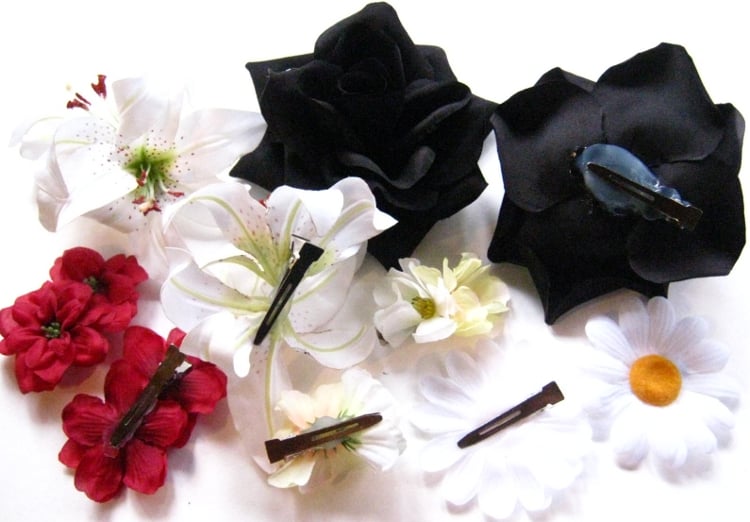 Reviews are published only upon authentication. Reviews which cannot be linked to an order are not published, so please insert the mail address of your order with your review! Naturally your mail address won't be published. All details here!
Colours were spot on. Someone had co-ordinated the colours with my other items so everything worked perfectly. Fast international delivery. I would definitely use again. Many thanks.
Dies war ein Nikolausgeschenk. Habe die Person damit glücklich gemacht.
Ich fand am besten, dass man vorab die Farbwahl beeinflussen konnte. Liebevoll zusammengestellt. Hauptteil meiner Wundertüte ist ein wunderbares Haarteil in schönen Rottönen mit einer richtig guten Klemme! Auch alles andere kann ich beim Tanzen (ATS) gut brauchen.Preis-Leistung ist super! Ich werde mich bestimmt nochmal mit einer Wundertüte überraschen!