Braided french braid style headband, thin and very wide, handmade of highest quality synthetic hair in your hair color! This is the perfect large headband for fine and very straight to slightly wavy hair (for example beach waves), it's an eye-catcher with a very natural look!
This model is about 5.5 cm/ 2.2 inches wide. These headband braids are really amazing, they look like you have french braided your own hair around your head but you save so much time because putting the headband on doesn't even take a minute!

This flat french braid style is a perfect match for straight and wavy hair, since a braid of your own hair would look very much alike. For curly and hair with strong waves I recommend choosing a messy style or Gretel braid, both models come in extra flat as well. 


Professional Slip-Stop!
This braided headband tiara of synthetic hair has our professional slip stop like all our wider headbands. This slip stop provides high wearing comfort, because it makes the headband stay in place. Moreover it makes your braid headband a long life item, because the friction when putting headbands on and off would pull out too much hair too quickly without such a supportive layer. Naturally the slip stop cannot be seen when you wear the hairband as it is on the inside only! Our slip stop is similar to the one of hold-up stockings or strapless bras.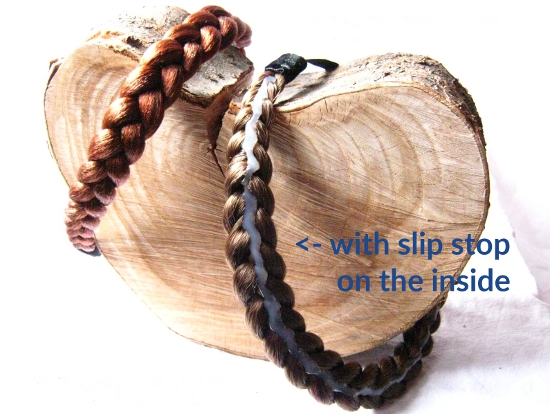 Our braid headbands fit every head!
The braided headband comes with a generous elastic part, so it will not be too small. If the hairband is too big, you can simply and quickly sew it smaller by hand with just a few stitches on the elastic part! Did you know that headbands slipping to the back of your head usually simply are too small for your head? Most women who know this problem assume that the shape of their head causes the headband to slip, but in most cases the headband is just too small. That is why we have you adapt the fit and deliver it rather a bit too loose than too tight!


We only use Kanekalon hair - best quality in synthetic hair! 
Kanekalon hair has a real touch feeling, a natural shine and is very carefree. You can wash your headband in lukewarm water with a mild shampoo. Put the shampoo in the basin and let the headband soak in the shampoed water, don't rub or squeeze it. Put it on a thick towel to let it drip-dry.

Please understand that this personalized item is made to order especially for you and cannot be returned! Read all details in our general terms and conditions.

Some product pictures show how to combine this hair piece with other hair jewelry or hair pieces. These items must be purchased extra.


Hair Color
Your hair color can be matched perfectly including highlights, lowlights and all shades, because all braided headbands are made to order exclusively! One's own hair usually contains 2-3 colors (only dark hair often consists of 1 color only), hence we include up to 3 colors in the price. Headbands should be matched to the upper parts of your hair only, because that is the part of your own hair they meet when you wear them.
Click here for extra large color charts!

Click here for more information about choosing the right color mix!
How to give us perfect color instruction in 3 steps only, with the help of the menus above
The price includes a custom mix of up to 3 basic colors, a fourth or fifth color can be added at extra costs. Some special colors also cost extra, you will see this in the menu.


1st menu HAIR COLOR, choose your colors or enter "advice needed".
Press Ctrl and click all the colors you wish to choose for your hair piece. If you need more than 3 colors, choose the upgrades 4th or 4th and 5th color from the drop down menu, so the extra fees are added. If you forget this, we will send you a manual invoice for the extra fees and delivery will be delayed, because we can only start making your hair piece after this second invoice has been paid.
Option: If you want to make your purchase, but still need our support in choosing the best color match, choose "Advice needed!" instead. In this case delivery time cannot be met, because we can only start making your order when all information is complete. If extra costs because of a 4th or 5th color or special colors occur, we will send you a manual invoice and delivery time will only start after payment for this second invoice has been effected.


2nd box for optional color proportions "Insert proportions for colors if desired here"
If you wish more of one color and less of another use the little message box to insert desired proportions (e.g. 2/3 of color 8 and 1/3 of color 30). When you leave this box free, we will use equal proportions of all colors.


3rd menu "details for color mix"
Tick one of the checkboxes. If you wish several colors in a fine blend and one to be added as highlights, use the message box for proportions to tell us which one the hightlight color is.


Put the hair piece in your cart to safe your choice!
Do you need any help? Feel free to send us a picture of your hair and we will give advice! Naturall you can also order color matches to check color details yourself.

Click here for all information about appropriate pictures and sample orders!
Color charts for all Magic Tribal Hair basic and special hair colors we mix to obtain/ imitate your hair color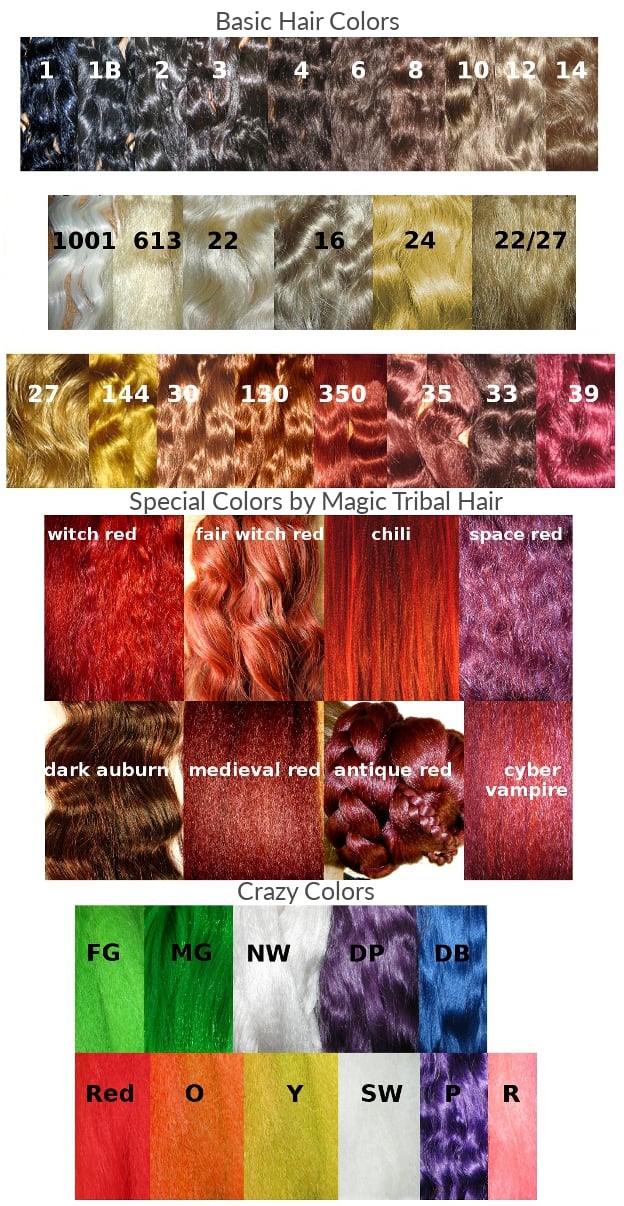 Contact us for any questions about our custom color braid headbands/ hairbands!
Reviews are published only upon authentication. Reviews which cannot be linked to an order are not published, so please insert the mail address of your order with your review! Naturally your mail address won't be published. All details here!
The quality of the braided headband seems good and would probably last a long time. I used purple shampoo twice to make my silver gray hair less yellow, and apparently that was enough to make the headband not match during the four weeks it took to receive it from the time of order. It was a custom order and shipped internationally, so I think the delay was reasonable given the circumstances. The communication of the seller was good and she tried to help me with the custom color blend. I just wish it wasn't such an expensive mistake. Tried a second time to get it right. The 2nd try wasn't right and too yellow. The coupon offered on the next order didn't work to get a discount on the second. Even after the second order I still didn't receive a discount coupon. $120 and 2 months later, very disappointed not to have a braid.

Melanie responded on Oct 9, 2022
You placed your order on Sept 9, it shipped on Sept 20. It takes several days to fix hair color and wavy texture, I truly make all Magic Tribal Hair myself by hand. Still shipment was 4 days ahead of schedule. Delivery was on Sept 29, there wasn't any delay either. You had taken a perfect picture for color matching to my instructions, but had a balayage dye in brown color 10 on your blonde-gray hair thereafter and while I was making your item! You only showed me your new hair color on Sept 30 after receipt! It could have been perfect if you hadn't changed your hair color post order! For the first order you had picked colors all by yourself. I really love going above and beyond for my customers, but I can only match to what you show me BEFORE I make your item. I messaged you twice about how to use the coupon code. :(
It's a nice braided headband but the wrong colors for me and doesn't match my natural hair whatsoever. I'll order another color blend and try again.

Melanie responded on Sep 5, 2022
I am sorry to hear you've made the wrong color choice. Please use my picture color check before your next order so I can give you advise on which colors to pick. I am sure we will get a perfect match for you this way! I will send you a convo with instructions to take the picture for color recognotion in the right light, size etc., to make sure you won't miss this option. The color blend you picked is not unsusual for people with gray hair who use silver shampoo a lot and get purple effects and you also gave so precise instructions. I do doublecheck when a choice seems very unusual or when someone has ordered from me before and with different colors though. But this wasn't the case with your order. Thank you for giving me 5 stars anyway and I hope to hear from you again! Melanie at Magic Tribal Hair
Outstanding! LOOK AT THIS COLOR MATCH! It's just beautiful and looks so natural! Shipping was even sooner than expected. Will 100% buy more! It makes me look so pulled together!
Ein wunderschönes Haarband! Genau meine Haarfarbe! Gerne wieder!
Seriously amazing! I cannot tell this is not my own hair. The braid is not too small and not too big. It is perfection!
Das Haarband ist super, es ist gut verarbeitet und sieht wirklich echt aus. Es passt (fast) perfekt zu meiner Haarfarbe :-). Melanie ist unglaublich freundlich und hilfsbereit, und vor allem schnell. Ich habe das Haarband über eine Woche früher erhalten als geplant. Vielen Dank für den tollen Service! Ich würde hier jederzeit wieder kaufen! Es ist zwar ein wenig groß, aber das lässt sich ganz einfach lösen, indem ich das Band unten etwas zusammennähe. Ich freue mich schon sehr darauf, es zu tragen!