Gothic Belly Dance Surprise Bag
Delivery time:
Category 2: I am handmade to order esp. 4 U! Europe & UK: 8-12 BD, USA: 10-16 BD, CA/ AU/ NZ: 12-18 BD, BD=business days, applies only if you pay & note hair color details promptly with your order. Ordering 2 or more items? Please check info in policies!
Deluxe belly dance surprise bag - Gothic themed!
Available again for the holiday season, respectively as long as stock lasts (maximum 5 pieces)!
Gothic themed surprise bag means nostalgic and skull hair jewelry, hair jewelry with cameos and feathers, peacock feather hair jewelry, belt tassels, yarn falls and dreadlocks, hair and hip scarves and other hair and costume accessories in typical Goth colors like black, white, purple, blue, red, wine red and silver.

Each Gothic Belly Dance surprise bag contains accessories of double to triple value of the purchase price of the surprise bag.

All hair jewelry is attached to professional metal hair clips for very strong hold each (minimum hair length: 5 cm/ 2 inches). You can see this attachment with the example of the hair flowers in the picture below! All hip scarves are very large and can be worn by women of many sizes. All other accessories are not bound to any size.

Our Gothic Belly Dance surprise bags are a special offer and our stock is limited, so these little treasures are limited to 1 surprise bag per order. We do this because we want many customers to have the chance to get a surprise bag.
Magic Tribal Hair exclusively uses strong, professional hair clips which provide very strong hold. Moreover these clips do not have any teeth, so they can be worn on all fabrics without pulling threads. This means you can wear all our hair clips as shoe clips, brooches on a collar or shoulder strap, as bag clip and even on flat jewelry like larger earrings and flat rings as well - they are many in one items! And last but not least, the clip is alway entirely covered by the decoration, so it does not shine through, see the picture below for details. 

All costume accessories & hair jewelry surprise bags are hand-made to order.
Hair jewelry and costume accessories cannot be returned for hygienic reasons.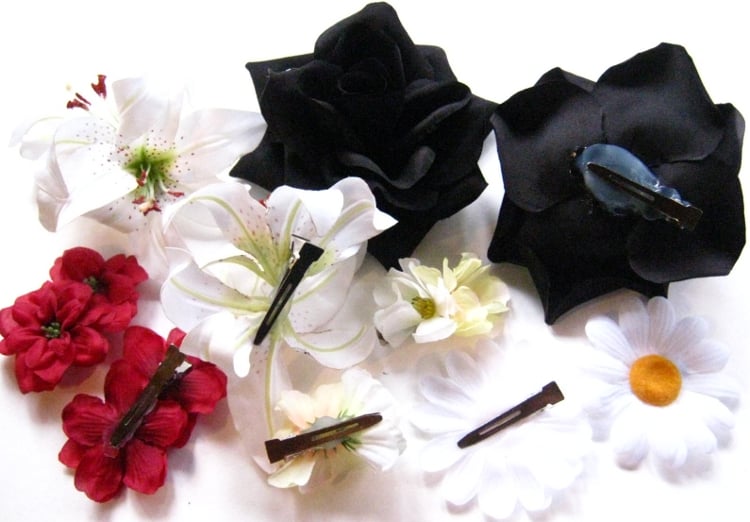 Reviews are published only upon authentication. Reviews which cannot be linked to an order are not published, so please insert the mail address of your order with your review! Naturally your mail address won't be published. All details here!
Müller-Burkhardt Alexandra Posted on 30 May 2022 at 18:17
Auch diese Überraschungstüte war super!