Each Vintage surprise bag contains hair jewelry of double to triple and quadruple value of the purchase price of the surprise bag. This surprise bag contains for example hair flowers, peacock, ostrich and other feather hair jewelry/ fascinators in shabby chic style which means colors like cream, brown, rose, apricot, ivory, white, rust, beige... and also special hair jewelry with rhinestones, cameos etc.... All hair jewelry is attached to professional metal hair clips for very strong hold  each (minimum hair length: 5 cm/ 2 inches). You can see this attachment with the example of the hair flowers in the picture below!

Our Vintage surprise bags are a special offer and our stock is limited, so these little treasures are limited to 3 surprise bags per order. We do this because we want many customers to have the chance to get a surprise bag.
The pictures show surprise bags with English and German labels. Naturally you will get the English label when you order through the English site!
Magic Tribal Hair exclusively uses strong, professional hair clips which provide very strong hold. Moreover these clips do not have any teeth, so they can be worn on all fabrics without pulling threads. This means you can wear all our hair clips as shoe clips, brooches on a collar or shoulder strap, as bag clip and even on flat jewelry like larger earrings and flat rings as well - they are many in one items! And last but not least, the clip is alway entirely covered by the decoration, so it does not shine through, see the picture below for details. 

Some pictures show this item in combination with further hair jewelry, hair pieces etc.. These other items are not part of this offer but can be found in different ones in our shop!

All hair jewelry surprise bags are hand-made to order.
Hair jewelry cannot be returned for hygienic reasons.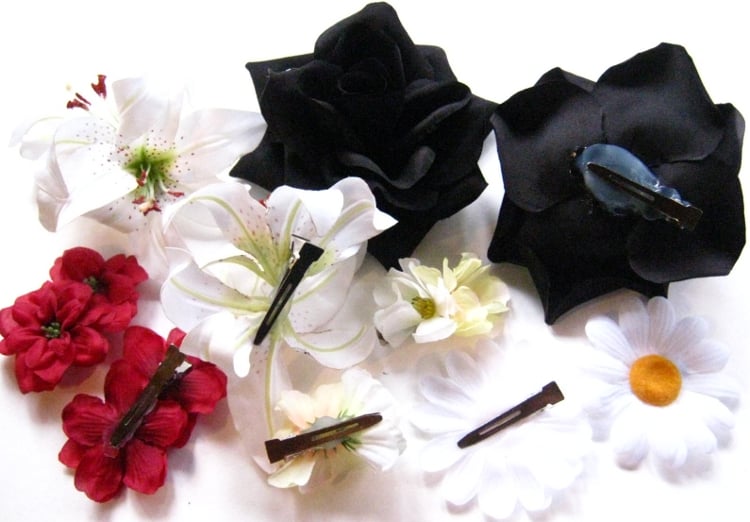 Reviews are published only upon authentication. Reviews which cannot be linked to an order are not published, so please insert the mail address of your order with your review! Naturally your mail address won't be published. All details here!
Tolle Zusammenstellung, hat mich motiviert mal was neues auszuprobieren.
Habe mich sehr über den Inhalt gefreut. Super Qualität.
Ich habe diese Wundertüte bewusst als Geschenk gekauft, weil ich immer wieder auf meine Accessoires angesprochen wurde. Und in der Wundertüte waren soviele schöne Haarclips, dass ich manche selbst behalten habe und die anderen als kleinen Bonus an Geschenke zum Geburtstag von Freundinnen hinzugefügt haben und sie waren genauso begeistert wie ich.!
Wundertüten machen einfach Spaß und erinnern an Kindertage. Ich liebe sie und war vom Inhalt begeistert.
Und wieder war ich begeistert und mit dem Inhalt absolut zufrieden.
Ein Geschenk an mich selbst....die Zusammenstellung war sehr ausgesucht und gut einsetzbar.
Wer Blüten in allen Farben liebt und gerne Neues ausprobiert, sollte unbedingt diese Wundertüte bestellen.